Academic Progression GCSEs STEMM
Level
Level 2

Duration
1 year

Start Date
September 2023

Venue
CCN-Main Campus

Course Code
A0376
Start Date
September 2023, Full Time
Summary
This course gives a concentrated one-year programme for students who need to improve their GCSE grades or increase how many they have in order to access A-levels, Access to HE and Level 3 courses. This is for students who have high ambitions. It is a bespoke course aimed at students who want to improve their grades, need more GCSEs, had difficulty in taking exams, or have international qualifications that are not accepted by UK Sixth Form colleges. Students will be supported and challenged by highly qualified teaching staff to attain good grades. Students will meet Sixth Form staff and students for taster sessions to better prepare for Sixth Form.
On the GCSE STEMM course, students will complete a selection of 3 GCSEs, including English and Maths if they do not have them at a C or 4 grade. Alongside academic study, you will do Enrichment where you develop vital learning skills such as independent study, revision and proactivity in your education.
Subjects available in the academic year 2022/2023 are provisionally as follows:
English
Maths
Science (A choice of one or two sciences from Biology, Chemistry and Physics GCSEs)
Psychology
Sociology
History
Citizenship Studies
Please note that these are subject to change depending on subscription by students.
Entry Requirements
3 GCSEs at grade 3 or above, including English Language and Maths. (If GCSE exams are not being taken, an Academic Progression assessment in Maths and English will need to be carried out, prior to an offer being made)
Provide an appropriate academic reference.
Assessment
All GCSE subjects available have exam assessments in May and June 2023. Depending on your subject choices, there may be coursework modules as part of your assessment.
Progression
Students who achieve a minimum of 6 A*-C/9-5 GCSEs, with a minimum points score of 5.0, can progress onto Sixth Form courses.
Students who wish to do Science or Maths A-levels will be required to achieve A*-B/ 6- 9 in Maths and their chosen Science subjects.
If students are over 19 after finishing GCSE STEMM they may wish to progress onto Access to HE courses.
It also provides a progression route to Level 2 and Level 3 vocational courses and Apprenticeships.
Career Progression
Students with six or more good GCSE grades can go on to A'Levels. Five or more GCSEs may be needed for Level 3 Apprenticeships and Vocational qualifications, or enter straight into the workforce.
Good GCSE grades are essential for progression onto competitive Higher Education courses and associated careers.
Fees
If you are a UK or home fee status student and aged 16-18 on the 31st August before the start of your course, tuition fees are free. If you are aged 19 or over please contact the Advice Shop There will be costs for equipment, uniform and trips. These include costs for text books, stationery and subject relevant materials. Trips can be organised as part of the for study and enrichment purposes which will be subject to cost. For example a trip to see a show at Theatre Royal for GCSE Drama the students will be expected to pay the price of the ticket. Compulsory visits are announced with enough notice to help secure any additional finance needs as required. Please check our Finance pages for information on financial support, fee information and student travel offers that are available. Alternatively please contact the Advice Shop.
Latest News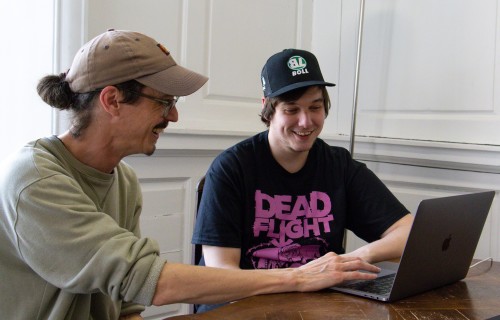 Young people working with MINT have created animations inspired by the 250-year history of the Norfolk & Norwich Festival.
Read more
31st May 2023