Enrolment FAQs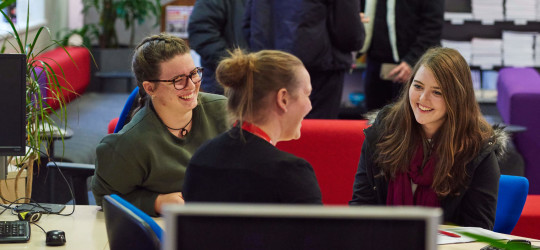 We're looking forward to meeting you!
Check our enrolment FAQs for new students
If you're starting at City College Norwich this September we'll be writing to you soon to let you know about enrolment. This is when you come into college to let us know about your exam results and so that we can make sure you're on the right course for you. You'll also get your student ID and details of when your course starts.
Watch out for a letter from college - you should be hearing from us during week beginning 8 August. If you don't receive your letter you can contact us on 01603 773008 or email admissions@ccn.ac.uk
---
If you are returning to college, most enrolments will be remote: check your enrolment letter carefully to make sure.
---
Enrolment FAQs
What do I have to do between now and my enrolment appointment?
Simple: just one thing! Make 100 per cent sure you can come in at your scheduled date and time of enrolment: it is really important that you come in on the day and time we send you.If you don't your college place could be at risk.
Inform us immediately if you cannot make your appointment (on  01603 773008 or email admissions@ccn.ac.uk).

What do I bring to enrolment? 
You need to bring the enrolment appointment letter we're sending you and any exams results or certificates you have already received, in particular Maths and English. You will also need to bring some form of ID like a birth certificate, driving licence or passport.  

If you are applying for a course which requires a Disclosure and Barring Service (DBS) check (normally Health and Childcare related courses), we will also need to see documents that have your current address (and that is not older than three months). We'll let you know if this applies to you.   

Who will I meet at enrolment? 
 You will meet with the academic staff from your chosen course and our enrolment team who will deal with the admin side of your enrolment.

How long will the enrolment appointment take? 
Enrolment usually takes around 30 minutes but please allow up to 2 hours to complete your enrolment.

Do I have to attend or can someone else attend in my absence?  
You will need to attend your appointment yourself to complete your enrolment and collect your student lanyard.     

Do I have to pay to park on the City College Norwich site? 
No, parking will be free on the City College Norwich site for enrolment. 
What if I want to change courses?  
Please still attend your enrolment appointment as this will give you the opportunity to discuss the course you want to change to as well as any other relevant options.  

When do I start the course?  
College term starts  week  commencing  5  September. At enrolment your teacher will let you know the start date of your course and the arrangements for your induction.   
What do I need to do when I arrive for enrolment? 
When you get here just report to the nearest information point (easy to spot!) with your enrolment letter. Someone will meet you and direct you to your enrolment appointment. Our staff will be available to support you throughout the process and answer any  queries you may have.