Digital Arts & Animation Extended Diploma Level 3
Level
Level 3

Duration
2 years

Start Date
September 2023

Venue
CCN-Main Campus

Course Code
A0227
Start Date
September 2023, Full Time
Summary
Students study the UAL Level 3 Applied General Extended Diploma in Art and Design over two years. They are designed to provide post-16 students with the skills, knowledge and understanding necessary to progress into further, higher education and training or employment.
The Extended Diploma are graded at Pass, High Pass, Merit, High Merit or Distinction, with the Distinction grade being worth 168 UCAS points (equivalent to 3 full A Levels at A* grade).
Digital Arts & Animation is enjoyable, varied and challenging. On this course students will study a variety of topics including, concept art, character design, 2D game art, environment design and an introduction to animation.
Follow @CCNCreativeArts on Twitter or @CCNCreative on Instagram for updates and examples of current student work.
Entry Requirements
Minimum 4 GCSEs at grade 9 - 4 including English Language, Art & Design, Graphics, or other related creative discipline. Or a relevant Level 2 Diploma at minimum Merit, plus GCSE English Language at 9 - 4. Successful completion of a pre-interview task, and a portfolio of creative work or sketchbook, and a reference, all of which will be discussed at interview.
Objective
Students will continue to develop their Maths, English and ICT alongside employability skills. Students who do not have a grade C/4 in Maths, but are accepted on to the course because of the quality of their portfolio and other qualifications, will undertake a maths GCSE qualification alongside their main programme of study.
Assessment
The University of the Arts London (UAL) Level 3 Applied General Extended Diploma in Art & Design is assessed through a series of projects that are designed to broaden your skills, experience and expertise. The projects are multi-disciplinary and require you to work collaboratively and pro-actively with fellow students as well as external clients and stakeholders.
A final end point assessment (commonly referred to as the Final Major Project) decides your overall grade for the year which is graded at: PASS/MERIT or DISTINCTION. The first year (Diploma) is allocated the following UCAS points: PASS (36), MERIT (60), DISTINCTION (84). The second year (Extended Diploma) is allocated the following UCAS points: PASS (72), MERIT (120), DISTINCTION (168). Student work is externally assessed and scrutinised by External Verifiers from the University of the Arts London to ensure that academic standards are adhered maintained.
Progression
Successful completion of the Level 3 Applied General Diploma in Art & Design will provide direct entry onto the Level 3 Extended Diploma in Art & Design in the second year. The design and structure of the University of the Arts London (UAL) Level 3 Applied General Diploma in Art & Design will allow you to further extend your learning by choosing an alternative Creative Arts pathway in your second year. For example, provided that you meet the entry requirements, you could follow the Digital Art, Animation and Games Design pathway in your first year and then choose to follow the 3D Spatial Design, Photography, Digital Art, Fashion Textiles, Art & Design or Graphics and Illustration pathway in your second year. This multi-disciplinary route is becoming increasingly popular with our students who recognise that they need a broad portfolio of skills to thrive in the creative sector.
Career Progression
City College Norwich is a member of the University of the Arts London Progression Partnership to promote the recruitment of talented, creative students from high quality further education institutions to UAL higher education degree level courses. The course team also work with local and national higher education providers such as NUA, London College of Communication and Central St Martins to ensure that our students are ready and prepared for their next step. We also work collaboratively with local, national and international artists and creative agencies to provide fantastic experience of work for our students and also to ensure that our courses prepare students well for their future careers in the industry. City College Norwich also has an outstanding Apprenticeship team who can provide advice and guidance for students wishing to follow an Apprenticeship route into the industry.
For those students who choose not to pursue careers within the creative industries, this course provides fantastic opportunities to develop collaborative working skills, problem-solving, creative and the higher order evaluative skills demanded by universities and employers.
Fees
If you are a UK or home fee status student and aged 16-18 on the 31st August before the start of your course, tuition fees are free. If you are aged 19 and over fees may be payable.
Latest News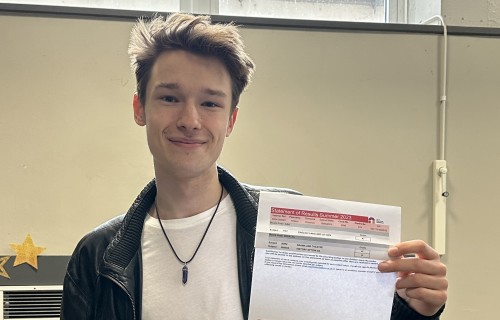 City College Norwich students have been celebrating impressive results in their A Levels, T Levels and other technical and vocational qualifications.
Read more
17th August 2023