Richard Bainbridge returns to inspire the next generation of chefs
11th May 2023 – Tags: Hospitality
Hospitality and catering students from City College Norwich had an evening to remember when they worked alongside top chef Richard Bainbridge in the college's Debut Restaurant.
Diners at the special event, which sold out in just 24 hours, were treated to a menu featuring some of the signature dishes from Mr Bainbridge's renowned Benedicts restaurant in Norwich.
Guests enjoyed the famous Benedicts Prawn Cocktail for their starter, before savouring courses that included an Apline cheese soup with wild garlic Tortellini, Pot Roasted Sutton Hoo Chicken, and rounded off with a zesty lemon tart served with white pepper and crème fraiche sorbet.
For the 15-strong student team of Level 3 Professional Cookery students in the kitchen, and Level 2 Food & Beverage students working front of house, it was an incredible opportunity to learn from one of Norfolk's most celebrated chefs.
Completing the team was Joseph Faulkner who is currently working as an Apprentice Chef at Benedicts, who was Sous Chef for the night.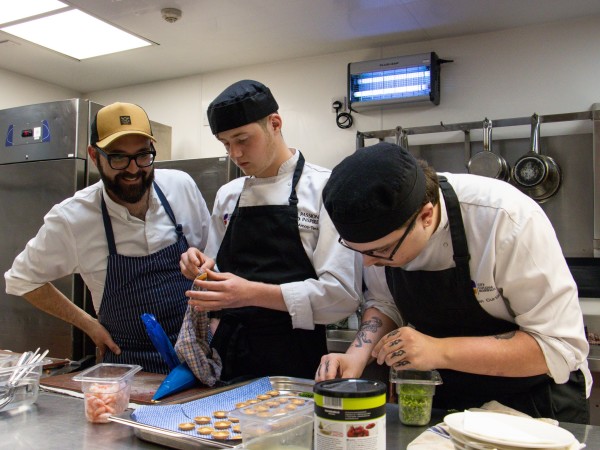 Inspiring the next generation
Richard Bainbridge said that being asked back to the college to be guest chef for the evening "is almost like everything coming full circle for me". Mr Bainbridge continues:
It was a true pleasure to come back to where it all started, to inspire the next generation of chefs to go out and explore the incredible industry that is hospitality.

From working alongside the kitchen as well as the front of house staff, to serving the lemon tart at the end which was the first dish I ever really cooked at City College Norwich all those years ago - it was like a dream come true.

I hope that this relationship will continue to grow as we support the next generation of hospitality staff."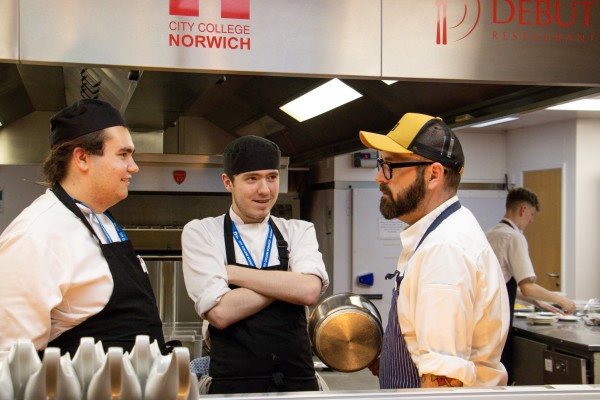 A great role model for hospitality students
Reflecting on a fantastic evening, Level 2 Food and Beverage student Nathan Sandall said:
It was great to experience how one of the best-known chefs in the country runs his kitchen during service".
Also working front of house was fellow Level 2 Food and Beverage student Hannah Blanch, who adds:
It was a new interesting way of doing service and putting a nice creative spin on it".
Joe Mulhall, Head of Hospitality, Catering, Tourism, Hair & Beauty, who once taught Richard Bainbridge whilst he was a student at City College Norwich, commented:
Richard is a real asset to Norwich and to Norfolk, and to the hospitality industry. Despite his many commitments, he has consistently maintained his connection to the college and makes time to come in and help inspire the next generation.

Richard is a great model and the evening was such an enriching experience and a brilliant learning opportunity for all the students who were fortunate enough to be able to work alongside him."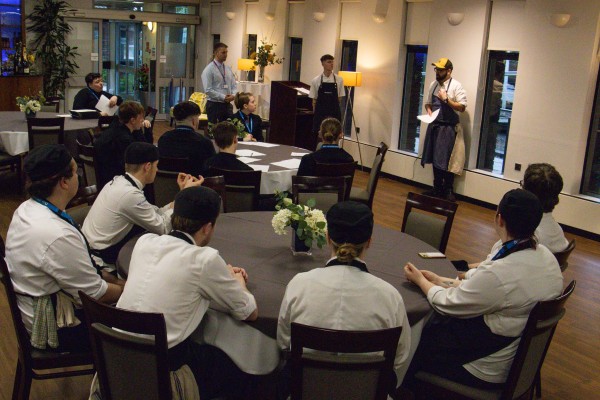 Hard work opens a world of opportunity in an "amazing industry"
Since studying Hospitality and Catering at City College Norwich, Mr Bainbridge has had an illustrious career in the industry.
After finishing college, he worked at Michelin-starred Morston Hall, Holt, and then for Michel Roux Senior at the 3 Michelin-starred Waterside Inn in Bray, Berkshire.
During his career he has worked in some of the most prestigious kitchens in the UK, US, New Zealand and Ireland, before opening Benedicts in 2015.
In the same year, he was a winner of the BBC's 'Great British Menu', producing both the starter and dessert course.
Addressing the students ahead of the evening's service, Mr Bainbridge stressed that they too could go on to enjoy outstanding careers in hospitality:
I want to show you what an amazing industry this is. I came from a council estate and hospitality has taken me all around the world. If you invest into it, it will come back to you ten-fold."