Premier League assistant referee shares sports psychology insights with degree students
14th December 2022 – Tags: Degrees and Higher Education, Sport
Students on our BSc (Hons) Sport, Health and Exercise Science degree had the chance to delve into the psychology of elite-level sport with Premier League assistant referee Lee Betts.
Mr Betts shared his experiences of officiating in the most-watched sports league in the world, and the relevance of sports psychology to his own performance as an assistant referee.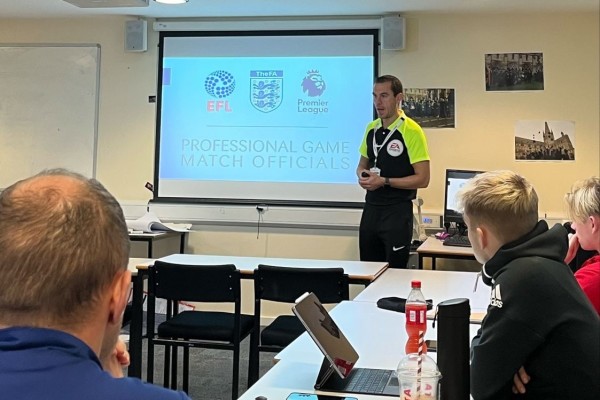 Lee Betts is no stranger to high pressure situations in football, where every decision the officials make is subjected to intense scrutiny.
Already this season, Lee has officiated domestic fixtures including Man United v Arsenal, Arsenal v Tottenham, and Tottenham v Liverpool, as well as Europa League and Champions League matches featuring the likes of Roma, Porto, and Olympiacos.
Mr Betts talked the students through the different psychological challenges that can affect referees before, during, and after matches.
With players, managers, spectators and TV pundits all expressing their views on whether match officials have got the big decisions right, Lee talked through the need for helpful and constructive self-analysis and avoiding the pitfalls of a disproportionate focus on negative thoughts.
He went on to talk through some of the psychological techniques that he uses to make sure he is fully prepared for games, to help him remain calm, confident and focused during matches, and in reviewing his performance after the final whistle has been blown.
Mr Betts stressed the importance of staying 'in the moment' during games. If a refereeing decision has proven contentious, he stressed that officials need to 'park it and move on' in order to keep their focus and remain calm and confident, ready for the next big decision they will be required to make.
Following the talk, the second-year students put their questions to Mr Betts on a range of topics, including the role of VAR in the modern game.
Sport, Health and Exercise Science degree student Melanie Leyer said she had taken a lot from the talk:
It's so easy to blame the ref. No one really thinks about the person when it comes to criticizing refereeing decisions. They just see the game. They don't care about the officials and how they are going to feel. At the end of the day, they are only human.

Lee gave one example of where he made a wrong call for offside. It went to VAR, and it was one of the first times VAR had been used in a big game. He talked about the thoughts that went through his head whilst they were checking. They were checking for a long time, and he was doubting himself. But he said you have to remain strong in front of crowds of people and trust your decisions."
Melanie says that the psychological tips shared by Lee, and the 'growth mindset' approach, can be usefully applied in many other walks of life:
It is so easy to focus on the one negative thing, instead of the hundreds of positive decisions that you've made. When you make one bad judgement, that's all you focus on and that's all everyone focuses on. But they don't point out the good things. Lee said he reflects on his own mistakes, briefly, but then he also reflects on the good things he's done, to stop himself getting into a self-doubting mindset."
Sport, Health and Exercise Science lecturer Murray Grant, who is a football referee himself in the National League, added that it had been invaluable for the students to get Lee's first-hand perspective.
Sports psychology is a growing area,' says Murray, 'which is applicable to a wide range of careers in sport that our students will go on to."