CIPD Level 3 Foundation Certificate in People Practice
Level
Level 3

Start Date
January 2024

Venue
Norfolk House, Exchange Street

Course Code
H0781
Summary
The CIPD Foundation Level 3 Certificate in People Practice qualification is designed to support your career development in Human Resources (HR).
CIPD Foundation Level qualifications are suitable for those who are looking to gain the essential knowledge and skills required to move into HR, working in an HR or L&D support role but who do not hold a formal HR qualification, line managers with responsibility for people management and development or looking to become a professional member of the CIPD as an Associate member.
The qualification is a total of 28 credits (three core units of 10 credits in total and 18 credits taken from optional units). The core units include:
Developing Yourself as an Effective Human Resources Practitioner.
Understanding Organizations and the Role of Human Resources.
Recording, analyzing and sing Human Resources information.
In addition, you will take 18 credits from optional units. These are likely to be:
Resourcing Talent,
Supporting Good Practice in Managing Employment relations
Delivering Learning and Development Activities.
Please check the CIPD website for further information. This course may require some Saturday workshops and takes 18 months to complete. It will be based at Norfolk House on Exchange Street.
Entry Requirements
Enrolment on to the course is subject to an initial interview with the delivery team
There are no formal entry requirements but applicants should have the support of their employer. In exceptional circumstances, individuals who are not supported by their employer may be offered places on the programme at the discretion of the course director.
Learning Outcomes
Business, culture and change in context.
Principles of analytics
Core behaviours for people professionals
Essentials of people practice.
Objective
The primary purpose of this qualification is to develop learners' knowledge and skills to build their expertise, inspiring them to undertake tactical tasks that deliver value. Learners will build their confidence and knowledge aimed at being able to contribute to immediate colleagues, customers, and the organisation; supporting change and driving impact, to create immediate and short-term value. They will gather information to use in their role and use this to understand their work, organisation, and profession more deeply. This can then be applied to the world of work as well as being used as a vehicle to start their journey to CIPD (Chartered Institute of Personnel and Development) membership at the appropriate level to complement career and professional development.
This qualification introduces the learner to a wide range of relevant knowledge and expertise in people practice. It is suited to those learners who:
are studying, aspiring to, or embarking on, a career in people practice
are working in a people practice support role and wish to develop their knowledge and deliver immediate and short-term value for their organisation
wish to develop the specialist knowledge, skills and understanding required to be a people professional.
Assessment
The CIPD set assignments for all core units, there are 4 assessment briefs assessment takes place through case studies, presentations, simulated activities, and self-reflection.
Progression
L5 – Associate Diploma in People Management
L5 – Organisational Learning and Development
Career Progression
Successful achievement of the CIPD Level 3 Foundation Certificate in People Practice will allow progression onto the CIPD Level 5 Associate Diploma in People Management or the CIPD Level 5 Associate Diploma in Organisational Learning and Development
Fees
Tuition fees £1950
Textbook required (not provided by City College Norwich) : Introduction to Human Resource Management, A guide to HR in Practice 4th Edition. Charles Leatherbarrow, Janet Fletcher
All students must apply for CIPD student membership and maintain that membership for the duration of the programme. Please apply via the CIPD website for current costs.


Latest News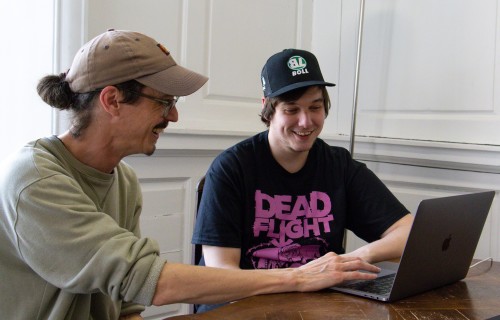 Young people working with MINT have created animations inspired by the 250-year history of the Norfolk & Norwich Festival.
Read more
31st May 2023