A Taste of the Middle East
Level
Other

Venue
CCN-Main Campus

Course Code
H0363
Summary
This course will provide you with an appreciation and understanding of exotic flavours and cooking techniques used in the preparation of Middle Eastern dishes. It will enable you to prepare and serve these dishes with confidence in a home kitchen environment.
You will be encouraged to adapt recipes to suit your personal preference, the course would be suitable for vegetarians and meat eaters. The course content will be as follows;
Week 1 - Meze dishes - a look at the breads and dips that make up an integral part of any social occasion in the Middle East - Flatbreads, Pittas, Hummus, Tatziki, Beetroot and Feta dip(demo), Green tahini (demo)
Week 2 - Tagines - provide background to the main flavours used in the dishes of the region. Balancing dried fruits and fresh herbs - Moroccan lamb or butterbeans tagine, Persian Rice and spiced garlic cabbage
Week 3 - Grilling skewers and salads - building on the use of herbs and spices to make marinades and dressings for meat, cheese and vegetables- Chicken Shwarama, Tabboulah (demo), Feta and Spinach Filo Pie
Week 4 - Fish - to make a rich fish stew and pan based bread to accompany it - Chreime (fish stew), Yeminite crumpet bread, Seasame Brittle
Week 5 - Sweet treats - Harisa - Arabic semolina and coconut cake and Baklava - sweet nut and filo pastry treat
Dates:
Time : 6.00-9.00pm
Please note - you will be asked each week to bring in a few additional ingredients.
Location: City College Norwich main campus - Ipswich Road. Cooks Club courses are held in the kitchens of the Hotel School in the Cromer building. Map available on our website.
Please note that courses may be cancelled if minimum numbers are not met. Please be aware that if you are no longer able to attend your course you will be offered an alternative date where available, however no refunds are available unless this course is cancelled by City College Norwich.
Latest News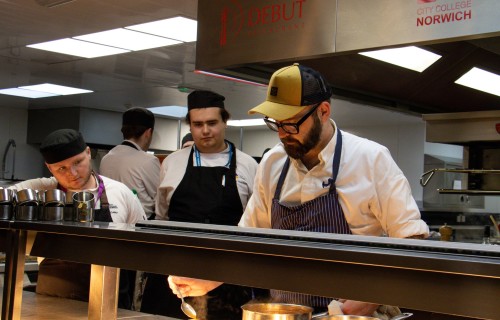 Our Hospitality and catering students had an evening to remember when they worked alongside top chef Richard Bainbridge in the Debut Restaurant.
Read more
11th May 2023