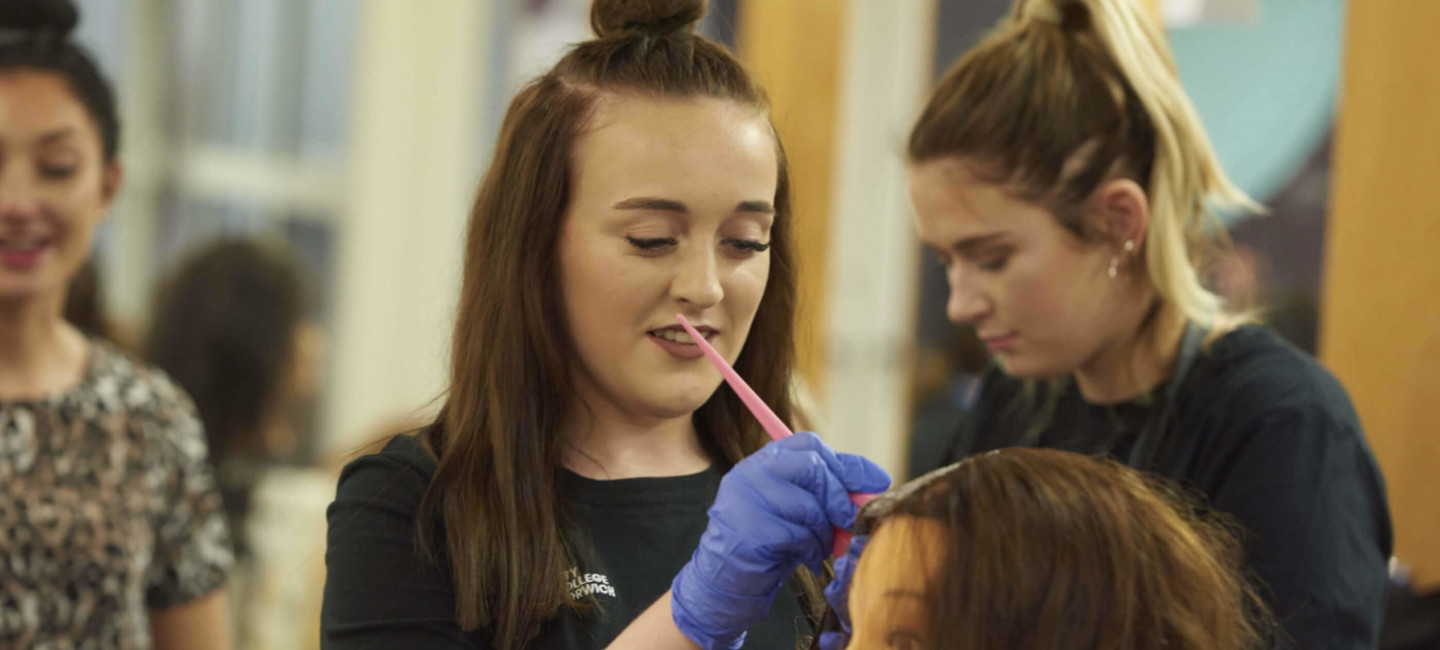 Level
Level 2

Duration
1 year

Start Date
September 2023

Venue
CCN-Main Campus

Course Code
A5434
Start Date
September 2023, Full Time
Summary
The course introduces the essential technical skills and underpinning knowledge which are included in the following units;
These are covered within class based and salon sessions.
Health & Safety
Advise and consult with clients
Shampoo and condition to treat the hair and scalp
The art of dressing hair
Cut hair using basic techniques
Colour and lighten hair
Students are expected to attend 100% of college classes, timetables are usually offered over 3-4 days per week. Unless you are committed to regular attendance this will affect progress of your course, success in your exams and progression to further courses.
Please note 'any' part time job commitments must not impact on your studies or classes.
Salon Work Experience: All students will be expected to engage in 30 hours of work experience throughout the course to enhance your skills and awareness of our industry. Support is provided to help approach suitable salons in the local area. A Placement Journal is used to record your experiences and comments from your salon trainer.
Please note this is a mandatory element of the course; which can be carried out once your college course has started. These hours will need to be fitted in around your usual course commitments.
There is an approved list of salons which you will be provided with; but you can also approach any salon you may know. However, please note a member of our team will need to visit to confirm, public liability insurance and health & safety arrangements are in place before you start!
You will have opportunities to participate in College events such as fashion shows, the Royal Norfolk Show, and other off-site activities to build practical experience. There are additional opportunities to visit national hair and beauty exhibitions where the latest fashions, styles and trends from the cosmetics industry are exclusively showcased. Also workshops held within college by manufactures and / or employers take place during the year.
Why Our College?
Real Salon Environment
Our training salons are open to the public which gives you the chance to experience working on real clients before you start work.
Entry Requirements
4 GCSE's at grades 9-4, preferably in English, Maths, ideally a Science.
You will need to demonstrate interest and commitment to the subject. This will include both practical, written , team building tasks.
Applicants who have previously studied at Level 1 or a suitable schools based programme may also be suitable applicants; however this is subject to interview, reference and attendance records.
Any previous salon experience is naturally also considered an advantage. A positive progress report from school including high attendance , good motivation is also expected.
Please note all students will be expected to continue in their GCSE Maths , English development unless they have already achieved grades 9-4.
Assessment
The course is assessed both practical and theoretical based assessments
The practical assessments are on a continual basis as skills develop throughout the course in which students are take responsibility to find suitable female models, with a range of hair types and lengths.
Practical assessments and mock assessments will be undertaken throughout the course and later on paying clients and must be completed in a commercially acceptable timescale.
Theoretical knowledge is assessed by completing assignments, following class input and development and/or a series of online Evolve tests via the City and Guilds website.
Progression
This Level 2 VRQ Certificate in Hairdressing aims to provide you with a range of essential and practical skills and knowledge, which will equip you to progress on to the Level VRQ Certificate in Hairdressing, seek employment or further training within the hairdressing Industry. Following successful completion of this qualification you will be qualified to work in a number of employment destinations such as: hairdressing salons, hotels
Successful students may otherwise enter, Beauty or Hair and Media Make Up.
Future options at City College Norwich are also possible in related Hair and Beauty Therapy.
Career Progression
The hair and beauty industry is a vibrant, dynamic and creative sector offering fantastic employment and training opportunities. This sector alone employs nearly a quarter of a million people and is worth over £6 billion to the UK economy.
There are a wide variety of jobs for qualified hairdressers, including salon and spa work both in the UK and abroad. Hairdressers also work in hotels, on cruise liners, in hospitals and health clubs. With further experience, they can also become salon owners or follow careers in hair design for photography and fashion, teaching and training and work for manufacturers of hairdressing products as a technical advisor.
Students could also look at becoming self-employed.
For further information check:
National Careers Service - Hairdresser job profile
Hairdressing and Beauty Industry Authority (HABIA)
Fees
For UK students aged under 19 years old on the 31st August prior to the start of your course, your tuition fees are free of charge.
Materials Costs TBC annually.
• Hairdressing kit (£244 in 2021)
• *Salon Dress: plain black, smart casual clothes which are comfortable and appropriate for the industry.
The above materials are essential to you starting the course and must be ordered without delay, as there is heavy demand on suppliers across the country at the start of term. Ordering forms will be provided for you at enrolment in August; these should be ordered through our approved stockists to ensure good quality. Equipment is despatched to your home address.

Please check our Finance pages for fee information and any financial help that may be available.
Why Our College?
Real Salon Environment
Our training salons are open to the public which gives you the chance to experience working on real clients before you start work.
Latest News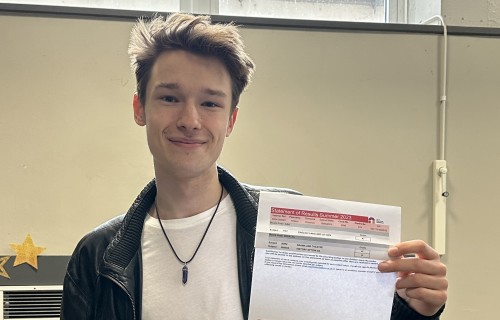 City College Norwich students have been celebrating impressive results in their A Levels, T Levels and other technical and vocational qualifications.
Read more
17th August 2023