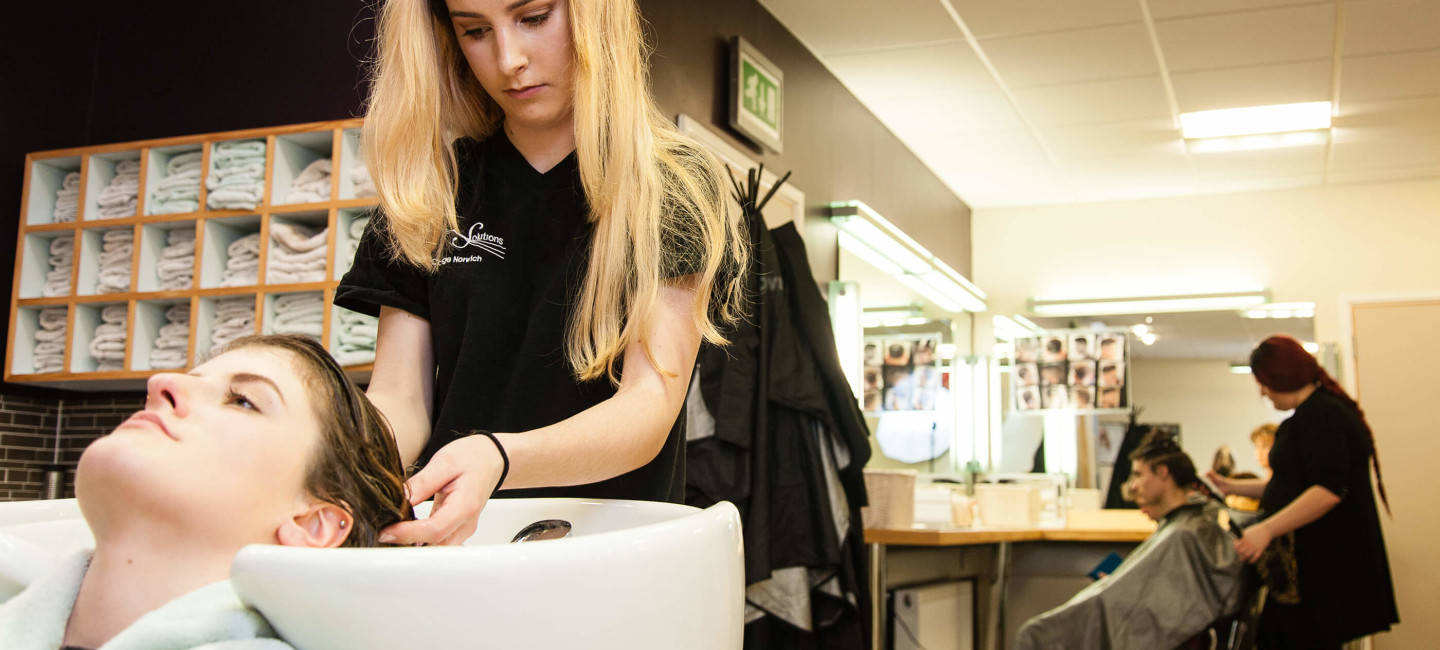 Solutions Hair and Beauty Salons
Christmas closing
Our salons close on Friday 15th December and re-open Thursday 4th January 2024
Wishing all our clients seasons greetings and New Year!
At City College Norwich, our hairdressing, barbering and beauty students train in specialist salons. These facilities offer a range of low priced treatments available to the public, as well as staff and students.
Hair dressing students provide a wide range of cuts, styling, colours and strengthening treatments. Our barbering students offer a complete range of male grooming services including cutting, hot towel shaves, waxing and perming, and our beauty students offer facials, massages, nail care, waxing, tanning and tinting treatments
All treatments are carried out by our students under the supervision of qualified and experienced staff. However, as this is a training establishment, our primary purpose is to train students, so availability of services is subject to our student's timetables. Some treatments may take a little longer on occasions and our prices reflect this.
PARKING CHANGES - To make our services more accessible for clients, if you have an appointment in either Hairdressing, Beauty Therapy or Barbering parking on site will be free of charge.
Please park in a space at the front of our main reception and collect a parking pass from the Hair & Beauty reception desk. This must then be displayed clearly in your vehicle whilst you attend your appointment.
BEAUTY - Level 3
Thursdays and Fridays.
Appointment times 10am, 11.15am, or 1.45pm
Advanced Electrical Facial,
Gel Polish,
Lash Lift** & Tint**
Waxing,
Manual Tanning**
Back massage
Full Body Swedish Massage
Hot Stone Massage and Microderabrasion Facials will be coming soon.
BEAUTY - Level 2
Every Monday from 15th January
Appointments Times 1.30pm or 2pm
Luxury Manicure or Pedicure
Standard Manicure or Pedicure
Gel Polish Application
Lash and/or Brow Tinting*
HAIRDRESSING - Level 3
Tuesday and Friday mornings .
Colour appointments are at 9.30am .
Cutting appointments are at 10am or 11am
Shampoo & Finish,
Shampoo, Cut & Finish,
Full Head Colour* - to add tone,
Root Retouch*
Partial highlights* or Lowlights*
Full head highlights* or Lowlights*
Bleach Roots*, Complete Colour Change*, Colour Correction* Vivid Colourwork*, Strengthening Treatments will be offered later in the year
HAIRDRESSING - Level 2
No information as yet.
THE BARBERS SHOP
Level 3 - For cuts, fades, beard care, waxing and hot towel shaves
Mondays: 12:30pm to 2pm
Tuesdays: 1pm to 3pm
Wednesdays: 9.45am to 11am
Thursdays: 9am to 11am
Level 2 - For cuts and beard care (no fades)
Wednesdays: 1pm to 3pm
Thursdays: 1pm to 3pm
Fridays: 1pm to 3pm
~ ~ ~ ~ ~ ~ ~ ~ ~ ~
How to Book
Please call 01603 773228 to book and appointment or make an enquiry.
Reception, and the phone line, is not manned on Mondays or Fridays.
If you leave a message we will return your call as soon as we can.
Please include your name and a contact number.
We look forward to seeing you!
Health & Safety
Skin tests are essential, and needed to comply with manufacturers instructions and City College Norwich's Health & Safety Policy
* A Skin Test for hair colour is required before your first appointment with us, then annually .Condition apply. Please ask at reception
** A Skin Test for beauty treatments is required before your first appointment with us and then every 6 months. Conditions apply. Please ask at reception.
NOTE: All skin test will be restarted at the start of our academic year, every September.