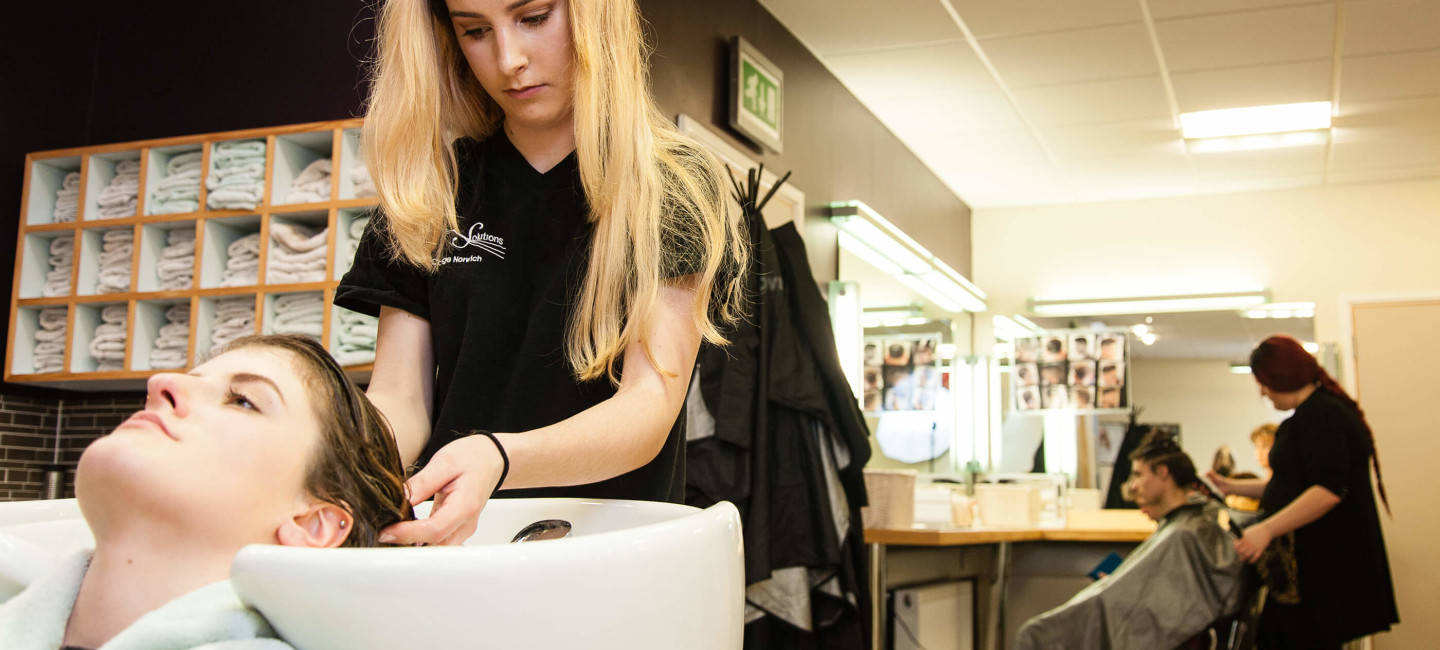 Solutions Beauty and Hair Salon
Welcome to Hairdressing, Barbering and Beauty
We would like to thank our clients for their support and assistance in the contribution, development and learning of our students.
Covid policy
Please do not come into college if you are showing any Covid-19 symptoms or have tested positive in the 8 days prior to your appointment.
You must have 2 clear days of a negative LFD before attending an appointment.
Following Government recommendations you will need to wear a face covering in all areas of the College and whilst your treatment is being carried out (if practically possible and unless exempt)
BEAUTY
Level 3 - Thursday & Fridays mornings and afternoons
We are offering the following - Full Body Massage, Back Massage, High Frequency Facials, Classic Facial, Manicure, Pedicure, Waxing, Lash/Brow tint,*
Further services will be offered later in the year.
Level 2 - Tuesday mornings from 22nd February
Classic Facial, Manicure, Pedicure, Luxury Manicure, Luxury Pedicure, Waxing, Lash/Brow Tinting*
Sienna X Manual Tanning*
HAIRDRESSING
Level 3 - Tuesday and Thursday mornings
We are currently offering - Styling services, Cutting services, Root re-touch* Foiling* Full head colour*
Coming soon -Colour correction* Fashion colours*, Asymmetric cuts
THE BARBERS SHOP - For complete male grooming
Level 3 - Monday & Tuesday mornings, Wednesday afternoons
Hair cuts and styling, skin fades, hot towel shaving, beard trimming and shaving, hot waxing of eyebrows, nostrils, ears, face and hands.
Level 2 - Thursday & Friday mornings and afternoons
Hair cuts and styling, skin fades, beard trimming and shaving.
All these services are FREE of charge. Please call to make your appointment. See flyer
Our Level 3 and Level2 students also offer perming for a small fee of £5
~ ~ ~ ~ ~ ~ ~ ~ ~ ~
In all our salons you will receive an individual consultation in a vibrant and friendly environment – all at a great discount to high street prices.
Treatments are subject to students learning and timetable, so for more information on current services available, or to book an appointment call us on 01603 773228 where we will be happy to help.
How to Book
Please call 01603 773228 to speak to someone.
If we are away from the desk, please leave a message and we will return your call as soon as possible.
* skin test required a minimum of 48 hours before appointment which will expire by the 7th day.