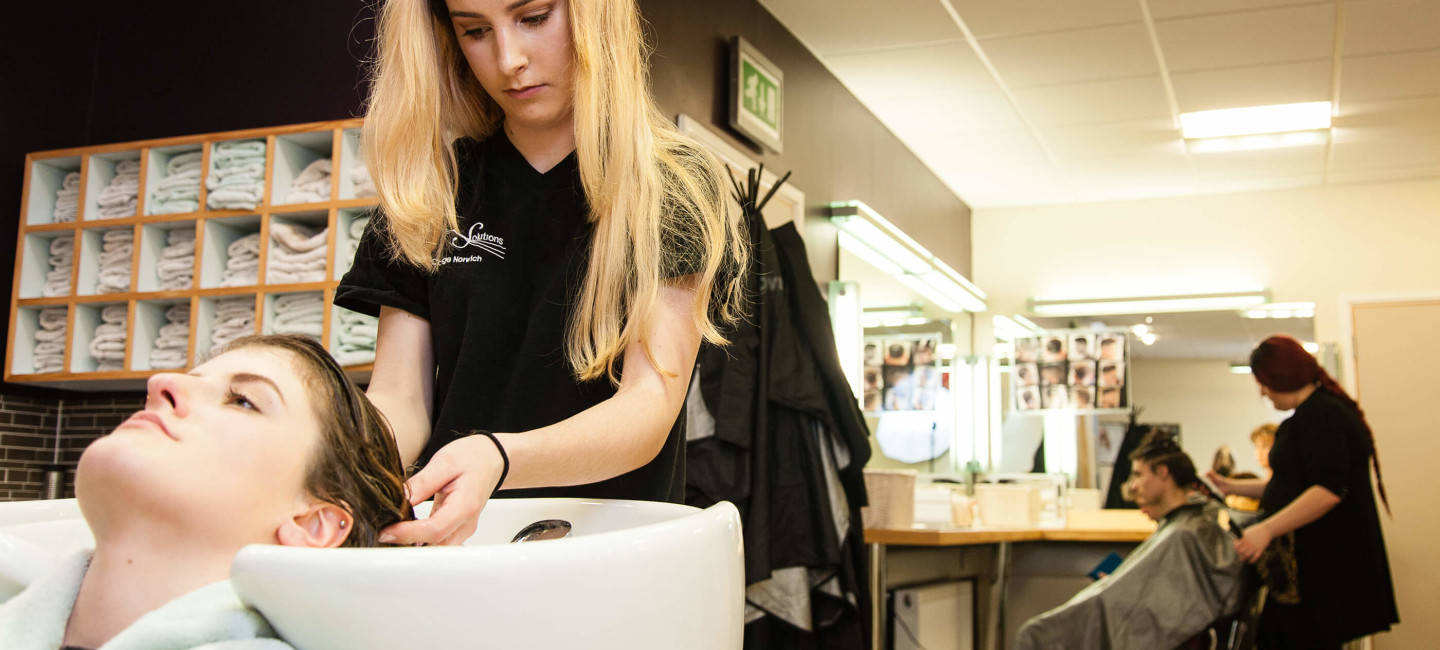 Solutions Beauty and Hair Salon
Our salons have reopened!
ALL CLIENTS MUST BRING AND WEAR THEIR OWN FACE MASK THROUGHOUT THEIR SERVICE.
We will now be asking clients to provide us with an email address, if possible, along with a current contact number to adhere to Track & Trace. If you would prefer, you can scan the QR code.
Times between client appointments will increase to allow for deep cleaning of the treatment area and ask for your patience with this if your appointment does not run to time.
When arriving at the Salon, please wait OUTSIDE to be booked in. We are unable to use our waiting area inside, so please bring suitable clothing to allow for the weather and only arrive 5 minutes before your appointment time.
We are unable to supply clients with a face mask and will be unable to carry out any treatments if one is not worn.
We thank you for all your support and assistance in the contribution, development and learning of our students in these unusual times.
BEAUTY
Level 3 treatments - Unavailable at the moment as students are currently undergoing training for these services
Swedish Full Body Massage, Aroma Massage, Decleor Facials, High Frequency/Faradic/Galvanic Facials, Microdermabrasion, Microcurrent, Hot Stone Massage, Seaweed Body Wrap, Chocolate Back Wrap, Gel Polish Application
Restricted Level 2 treatments - Carried out by Level 3 students on Thursdays and Fridays.
Classic facial, Gel polish application, Manicure and luxury manicure, pedicure and luxury pedicure ,waxing and lash and brow tint*
***Limited special offer** All luxury or standard manicures and pedicures are only £2.50 each see flyer!
HAIRDRESSING
Level 3 services - Tuesdays and Thursdays
Our Level 3 students are offering colour* services from permanent and semi permanent colours and foiling . Alongside this we offer cutting services, conditioning treatments.... or why not just come in and have a wash and finish!
Coming soon; Colour change, colour correction, advanced cutting, perming, hair strengthening and smoothing.
Level 2 services - Unavailable at the moment
THE BARBERS SHOP -
Now open!!
For complete male grooming. We offer hair cuts and styling; skin fades; hot towel shaving (please allow 1 hour); beard trimming and shaving; hot waxing of eyebrows, nostrils, ears, face and hands. All these services are FREE of charge.
We also offer male hair perming for £5
Please see attached flyer
~ ~ ~ ~ ~ ~ ~ ~ ~ ~
In all our salons you will receive an individual consultation in a vibrant and friendly environment – all at a great discount to high street prices.
Treatments are subject to students learning and timetable, so for more information on current services available, or to book an appointment call us on 01603 773228 where we will be happy to help.
Beauty and Hair Salon Opening Times
BEAUTY
Thursdays and Fridays 9.30 to 1pm
HAIRDRESSING
Tuesdays and Thursdays 9.15 to 1pm
BARBERING
Monday and Tuesdays am and pm please see flyer
Book an appointment
Please call us on 01603 773228
Reception is manned Tuesdays, Wednesdays and Thursdays
* skin test required a minimum of 48 hours before appointment up to a max of 7 days