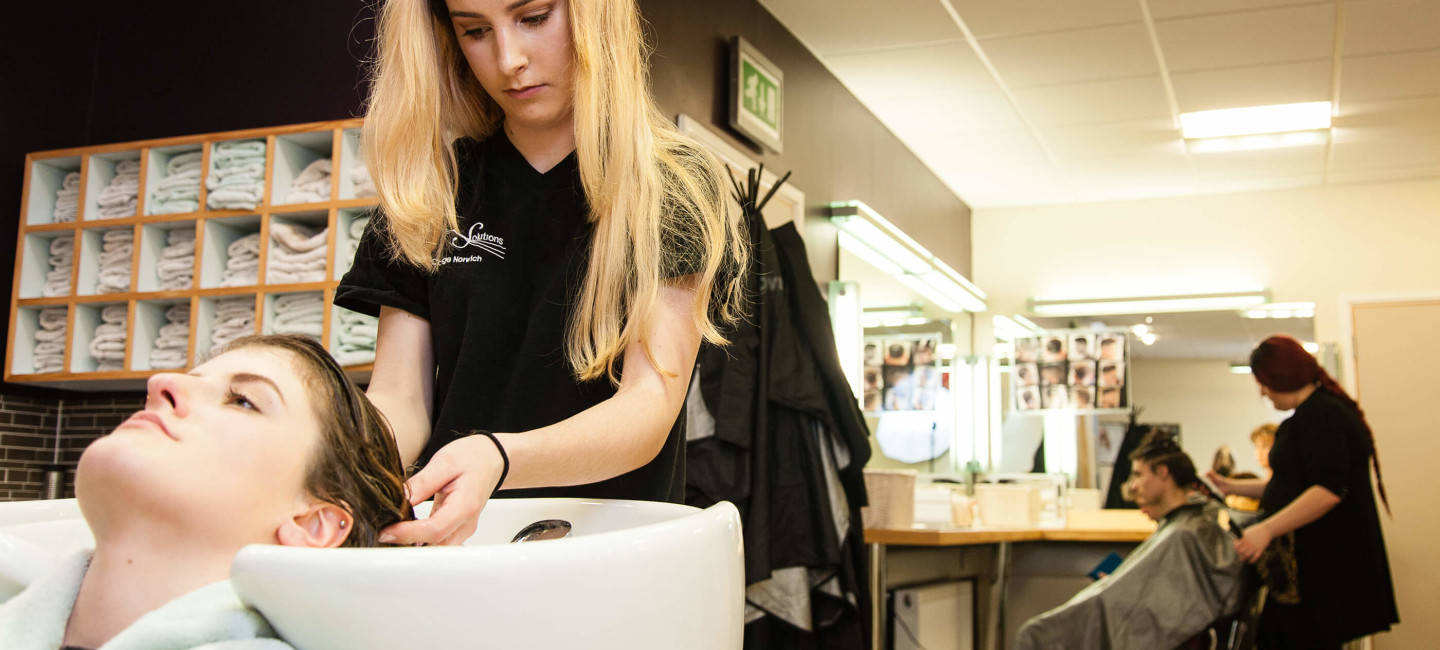 Solutions Beauty and Hair Salon
19th March 2020
Following current government advice all our hair, barbering and beauty salons are currently closed until further notice.
We apologise for any inconvenience.
BEAUTY
Level 3 treatments
Currently our Level 3 students are offering: Swedish Full Body Massage, High Frequency Facial, Galvanic Facial, Seaweed Wrap, Chocolate Back Wrap,Classic facial, Manicures, Pedicures, Waxing, Gel polish application, Lash & Brow tinting*
Over the coming months these students will be working hard and soon we will be offering; hot stone massage, further electrical facials and body treatments.
Level 2 treatments
Our Level 2 beauty students can offer: Classic Facial, Manicure and Luxury Manicure, Pedicure and Luxury Pedicure and Waxing
Please see our flyer for our current Level 2 Beauty offers!!
HAIRDRESSING
Level 3 services
Our Level 3 students are offering full colour* services from permanent and semi permanent colours and foiling . Alongside this we offer a full range of cutting services from complete restyle to trims or why not just come in and have a wash and finish!
Services coming soon include Balayage, colour correction and complete colour change.
We now have some hairdressing services available Tuesday and Thursday evenings. Please see flyer
Level 2 services
Starting in 2020 our Level 2 students will initially be offering a limited range of services which include; full head colour* to add tone, root retouch*, intensive conditioning treatments and wash and finish.
Please see our flyer for our current Level 2 Hairdressing offers!!
BARBERS SHOP
For the gents, we offer a Barbers Shop. Specialising in fades to longer styles all types of male hairstyles are offered as well as beard/goatee trimming and shaping. Currently our barbering appointments are free of charge!
In all our salons you will receive an individual consultation in a vibrant and friendly environment – all at a great discount to high street prices.
Treatments are subject to students learning and timetable, so for more information on current services available, or to book an appointment call us on 01603 773228 where we will be happy to help.
Beauty and Hair Salon Opening Times
Level 3 Beauty salon is open on Thursdays and Fridays.
Appointment times are;
9:30 10:45 1:15 or 2:30
Level 2 Beauty Salon is open Mondays and Tuesdays
Appointment times are;
9.30 or 1pm
Level 3 Hair salon is open on Tuesdays and Fridays.
Opening times are
9:15am to 3pm.
Level 2 Hair salon is open Wednesdays and Thursdays
Appointment times are ;
9:30am or 1pm
Barbering services are available
Mondays 9am - 10.30am and 12pm - 3pm,
Tuesdays 1pm - 4pm
Thursdays 1pm - 4pm
Book an appointment
Call 01603 773 228.
Reception is manned Monday and Tuesday mornings only, and from 8am - 4pm Wednesdays, Thursdays and Fridays
If we are unable to answer your call please leave a message and we will get back to you as soon as possible.
* skin test required