Former professional cookery student wins Roux Scholarship
18th November 2021 – Tags: Hospitality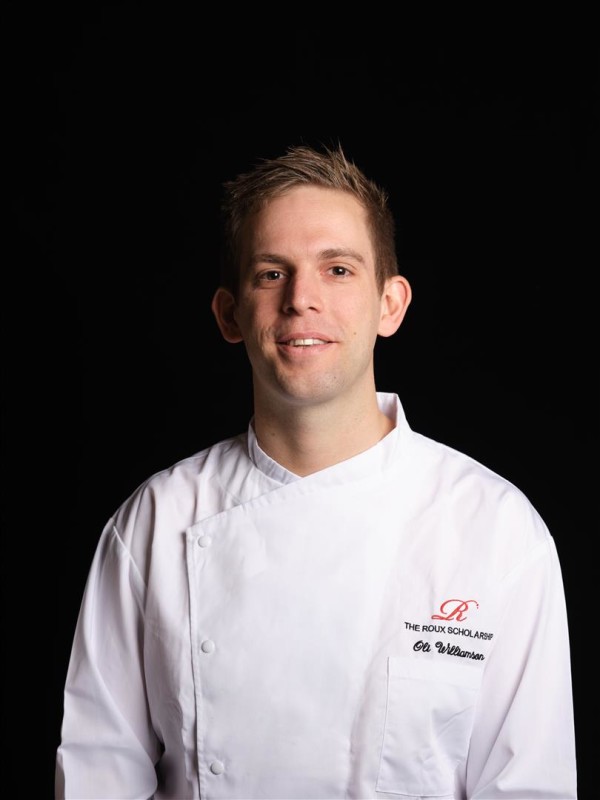 Oli Williamson, who learned the foundations of his trade at City College Norwich, has won the 2020/21 Roux Scholarship, beating five other finalists in a fiercely contested final held in London.
Oli, who grew up near Fakenham, first became interested in a career in food in his early teens when he got a weekend job working in a café on Sheringham Beach.
He recalls trying to make a risotto at home, only to boil the arborio rice and turn it into mush. Recognising Oli's enthusiasm for cooking, his parents encouraged him to develop his skills and gain some cookery qualifications at college.
It was at City College Norwich, starting with an NVQ Level 2 in Professional Cookery, that Oli mastered the basics – including how to cook risotto, which was his chosen dish for his final exam.
Since his college days, the unassuming 30-year-old Sous Chef from The Fat Duck, Bray, Berkshire, has built up an impressive CV.
During the second year of his Level 3 VRQ course, he worked for 4 days a week at The Neptune in Hunstanton. More recently, Oli has worked at Midsummer House in Cambridge, and Benu in San Francisco.

Oli's tips for aspiring chefs
Reflecting on his chef training and career to do date, Oli believes it is essential for aspiring chefs to first learn the fundamentals of cookery and to then develop their skills in the workplace alongside experienced professionals. He says:
At college I learned the fundamentals, how to make doughs, puff pastry, souffles, and was then able to put those skills into practice by learning on the job. In terms of my own journey, working with good people has been key. Everywhere I've worked, there has been someone who has helped me on to the next thing, to keep learning and developing as a chef."
Oli adds that you need perseverance to succeed in the hospitality industry:
It's not easy at times. There are moments of pressure and stress in this job. And it's down to you as an individual to keep going. If you can do that, you can emerge from testing situations not only as a better chef, but as a better person. It's also important to have the right attitude. You need to be humble, not arrogant. Listen to others as much as possible, read books, watch videos on YouTube. Begin with the fundamentals, get those right, and cooking can take you on any journey."

Judges' praise for Oli Williamson
This year was the first time the Roux Scholarship has convened since the passing of its founders Michel Roux OBE and Albert Roux OBE KFO. In memory of their fathers, Alain Roux and Michel Roux Jr asked the chefs to prepare two recipes that are held dear in the Roux Family.
The first, Eggs Albert, in honour of Albert Roux was an artichoke heart filled with smoked salmon, trout and truffle, topped with a poached egg and adorned with a slice of smoked salmon. The second, in honour of Michel Roux OBE was Little Flans with Snails in Green Coats. This comprised of snails and herb soufflé baked in a tartlet with beurre blanc sauce.
Michel Roux Jr said: "Oli Williamson presented his 'Eggs Albert' dish which would have pleased my Dad to eat. It didn't look like the original, but every part tasted brilliant."
Honorary President of Judges, Björn Frantzén said: "It's very difficult to do something so classic. In my book, it was an easy choice to pick the winner. There was one outstanding chef. I very much enjoyed the experience and seeing the chefs and other judges."
Oli Williamson, said:
It was really tough but great fun. I was very stressed at the Regional Finals and so I decided to just go for it and enjoy it and try to be less stressed. Two dishes were a lot to do, there were lots of smaller things, loads of little bits to bring together, and you needed to be smart with your ingredients."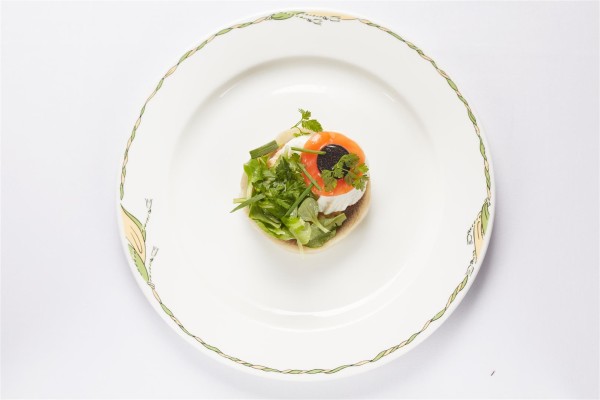 Photographs: Jodi Hinds