Professional cookery student's 'fantastic opportunity' with luxury hotel chain
31st December 2021 – Tags: Catering, FE Awards, Hospitality, Professional Cookery
Patasakorn's desire to make the most of the opportunities at college, together with his considerable determination and commitment, have been rewarded with a place on Concord Hotels' Chef Development Programme.
With his mother having run her own restaurant, it is perhaps no surprise that 22-year-old Patsakorn, from Dereham, developed a love of cooking and had his sights set on a career as a chef.
What is more remarkable about Patsakorn's story is that 6 years ago, after his family moved from Thailand to the UK, he didn't speak a word of English.
Despite English being his second language, Patsakorn successfully moved through the levels of his Professional Cookery courses at City College Norwich, finishing at Advanced Level 3. In addition, Patsakorn studied Maths and English GCSEs at college.
His commitment to his studies, reflected in his 100% attendance record, led to him passing both GCSEs with very good grades.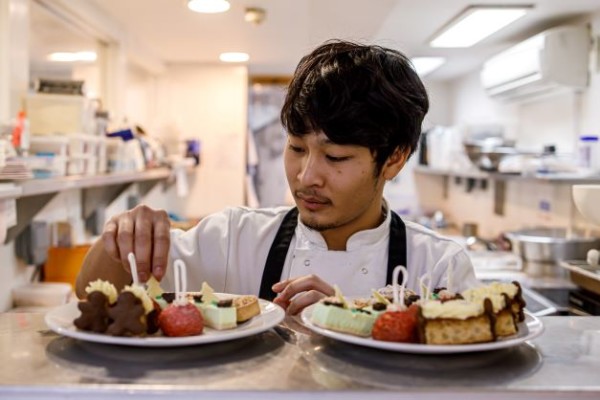 Patsakorn worked part-time at a Thai restaurant throughout his time at college, helping to supplement his family's income.
To enable him to gain as much knowledge as he could before entering the hospitality industry, Patsakorn financed his last year of study through an Advanced Learner Loan.
In addition to his part time work, Patsakorn sought to broaden his experiences by taking part in extra-curricular work experience opportunities. As well as working in City College Norwich's Debut Restaurant, he also gained valuable experience at events including the Royal Norfolk Show and the Lord Lieutenant's retirement celebration.
Patsakorn's outstanding commitment as a student was recognised by Concord Hotels, who offered him a place on their highly-regarded Chef Development Programme.
Through the programme Patsakorn is now working at the luxury four red star Great Fosters, near Windsor. The Hotel has two acclaimed restaurants, the Michelin-star Tony Parkin at The Tudor Room, and the double AA Rosette-awarded Estate Grill.
Patsakorn, who eventually wants to own his own restaurant, says:
I love cooking and I just want to take it further and keep learning. Being on the Concord Hotels progamme is a fantastic opportunity for me.



I liked everything about my time at City College Norwich, the teaching staff were great, and everyone is really friendly."
Patsakorn says that winning a Further Education Student Award was "amazing", adding, "Anyone can succeed if they put their mind to it and keep going."