#NAW2021: Award for healthcare apprentice who stepped-up to the challenges of Covid-19
12th February 2021 – Tags: Apprenticeships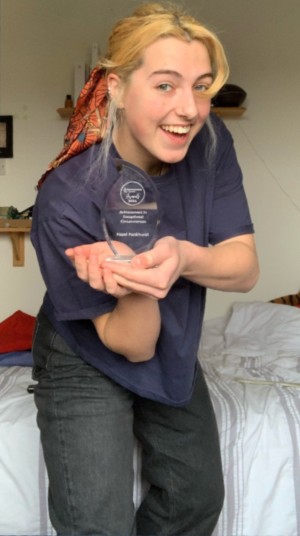 A healthcare support worker apprentice, who together with fellow apprentices stepped-up to the challenges presented by the Covid-19 pandemic, has seen her commitment and achievements recognised with an award from Apprenticeships Norfolk.
Seventeen-year-old Hazel Pankhurst, who works for Norfolk Community Health and Care NHS Trust, was announced as the winner of the Achievement in Exceptional Circumstances Award, at a virtual awards event held during National Apprenticeship Week.
Hazel began her Level 2 Healthcare Support Worker apprenticeship in 2019, and was based on a rehabilitation ward. However, after just 7 months of working in healthcare, the first wave of Covid-19 became prevalent in the area. As a result of the pandemic, the ward Hazel was working on was converted to 'End of Life' care.
Throughout this challenging time, Hazel supported her colleagues and patients, delivering safe and effective care with a compassionate and caring approach. She showed courage, asking valuable questions, challenging areas of practice, and offering practical solutions whilst taking on extra tasks.
Hazel carried out her work with a huge amount of compassion and respect for her patients. Because relatives had limited or no visiting time, she spent many hours with patients talking to them about their life, family and memories to fill their time and comfort them when they could not see their loved ones. Relatives have shared their thanks and praise for the care she provided.
Showing great maturity and an ability to balance her work, life and studies effectively, Hazel completed all of her apprenticeship work on time and prepared for her End Point Assessment within the time frames required, passing with a Merit grade. Hazel said:
Covid hit very early on in the apprenticeship and we all had to step up. We stepped into our roles really well.

The apprenticeship was a really amazing way of earning while learning, and meeting great people – I had brilliant support from people at the hospital I worked at... I've worked in an amazing hospital and I've had a very memorable start to my healthcare journey."
Hazel's employer, Norfolk Community Health and Care NHS Trust, said:
Hazel is a confident Healthcare Assistant and demonstrates person-centred care in everything she does. Hazel is keen to learn and continuously puts the knowledge she has learnt as part of her apprenticeship into clinical practice. Hazel gets stuck into each task and regularly works as a team to find solutions to any problems as they arise. Hazel embodies Norfolk Community Health and Care NHS Trust's values and behaviours."