Higher Education achievements celebrated in Norwich Cathedral
21st October 2023 – Tags: Degrees and Higher Education
City College Norwich and Easton College have celebrated the achievements of more than 200 Higher Education students at our annual graduation ceremonies in Norwich Cathedral.
Graduates were presented with awards in a wide range of vocational, career-focused courses, from aviation engineering to zoology.
These included degrees, diplomas, and certificates awarded by our Higher Education partner, UEA, as well as Higher National Certificates and Diplomas (HNCs and HNDs), teaching qualifications, and other higher-level professional qualifications.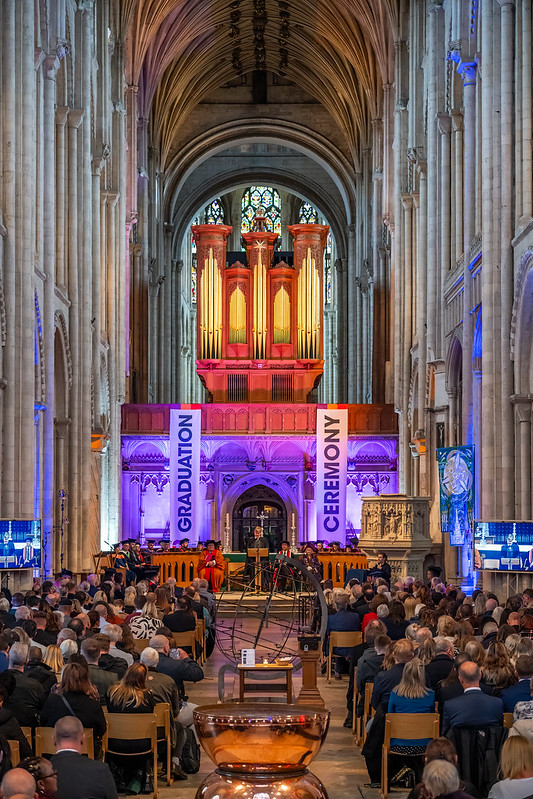 A celebration of local achievement
The colleges' graduation continues to be a celebration of local educational achievement, with the vast majority of our Higher Education students living and working in Norfolk.
Many have been supported in their studies by local employers who recognise the value of developing higher level skills within their workforce.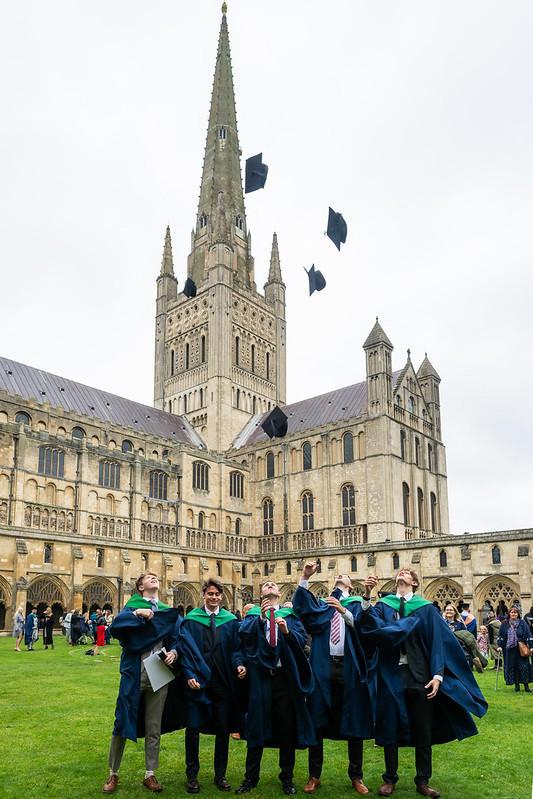 Health Studies apprentice named 'Student of the Year'
Claire Lewis, graduating with a Foundation Degree (FdSc) in Health Studies, was awarded Higher Education Student of the Year.
Claire, who works as a Therapy Assistant Practitioner in Orthopaedics at the James Paget Hospital, said: "I have been out of education for quite a long time, but I'd always had a passion that I really wanted to progress my career."
Claire's lecturers praised her for her 'modest and thoughtful approach' and for 'exuding positivity'.
Claire's dedication to her learning, and valued contributions to group discussions, marked her out as 'an exemplary student and future healthcare professional'.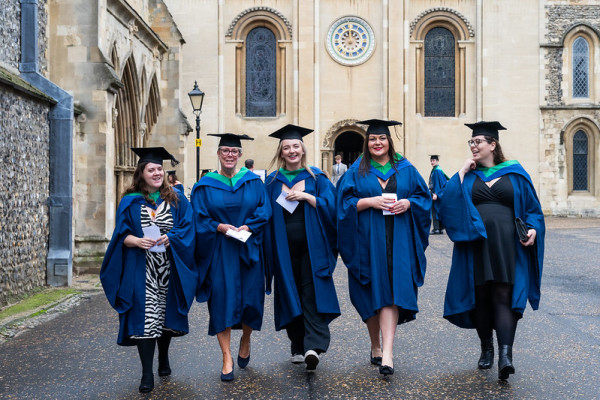 Childhood and Youth Studies graduate's outstanding academic performance
Caitlin Reeder, graduating with a BA (hons) in Childhood and Youth Studies, received the award for Outstanding Academic Performance of the Year.
She was presented with the award in recognition of having consistently achieved top-tier grades throughout her course.
Her dissertation, which looked at practitioners' perspectives on how children's mental health and emotional wellbeing is impacted in the transition to secondary school, was awarded an exceptional mark of 87%.
Caitlin said: "The lecturers' support was just incredible. The support that I got, both personally and academically, was what got me to get the high grades. They kept pushing me and it got me to where I am today."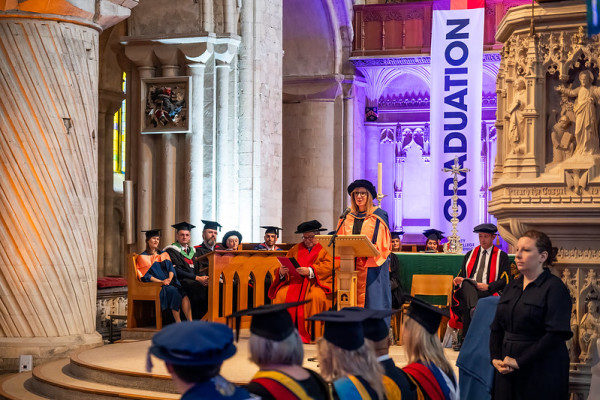 Honorary doctorate for Norfolk's Director of Children's Services
Sara Tough, Norfolk County Council's Executive Director of Children's Services, was presented with an honorary doctorate in recognition of her considerable contribution in the fields of child protection and children's services.
Sara began her career as a social worker in 1983, after gaining a postgraduate CQSW (Certificate of Qualification in Social Work) from Swansea University.
Her subsequent career has spanned the public and private sector and seen her appointed to senior roles leading services across children's social care, youth justice education, early years, and community health.
In October 2017, Sara was appointed to the role of Executive Director of Children's Services at Norfolk County Council. There were big challenges to overcome in Norfolk following six years of 'Inadequate' judgements by Ofsted.
In 2022, Norfolk Children's Services were judged as 'Good' in all areas, receiving praise for the significant transformation of services and practice that had taken place under Sara's leadership.
Congratulations to all our graduates
Jerry White, Principal of City College Norwich and Easton College, commented:
"Congratulations to all our graduates on their achievements in a wide range of career-focused degrees, apprenticeships, and higher level and professional qualifications. With so many of our students and apprentices living and working in Norfolk, this is a real celebration of local success.

Our Higher Education students' achievements have been supported every step of the way by employers who recognise the importance of higher levels skills, by family members, and by their lecturers at Easton College and City College Norwich.

Our graduates have demonstrated incredible commitment throughout their studies, with many balancing work, study, and family commitments. Graduation is our opportunity to celebrate these achievements and to wish our graduates every success with the exciting new opportunities that now lie ahead."