Everyone said 'go for it' - college-leaver starts up her own painting and decorating business
31st December 2021 – Tags: FE Awards, Painting & Decorating
During her four years at City College Norwich, Jessica Byford has grown from being a student who was initially shy and unsure of herself to a confident and very skilled painter and decorator who has now successfully set up her own business.
Jessica started her college journey on a multi-skills construction course, which appealed to her because she had "grown up around construction" as her father was in the industry. It was through this course that she discovered her love of, and talent for, painting and decorating. The 20-year-old says:
I've always been a very practical person. I find it really satisfying to go into a room and, by the time you leave, you've completely transformed it for someone into somewhere you might not even recognise. I also find it quite relaxing. When I am painting, I go onto my own world."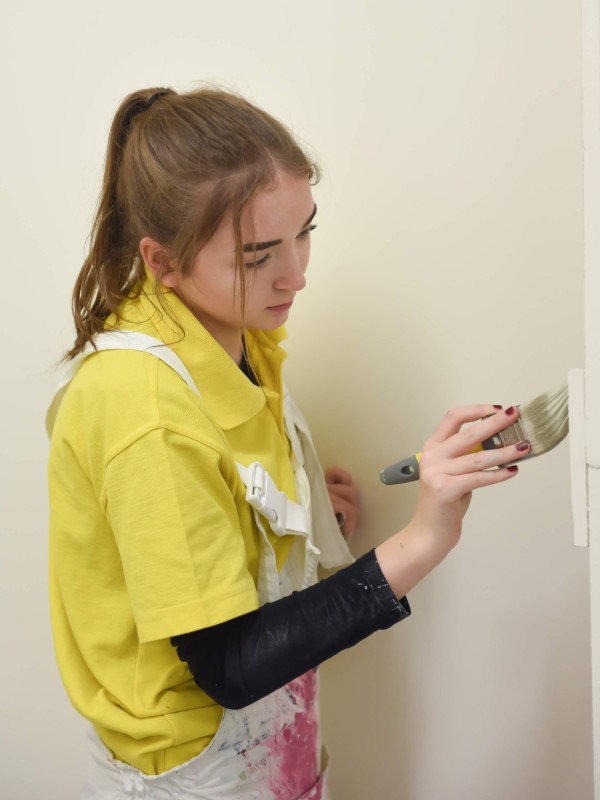 Despite her initial nervousness on starting at college, Jessica thrived on the multi-skills and painting and decorating courses, advancing to a Level 3 Advanced Technical Certificate and earning a distinction grade. Several of peer group went on the same 4-year journey – "everyone was so nice," she says, "you became like a little unit."
Whilst studying, Jessica also amassed valuable work experience working with her godfather, who is also a painter and decorator.
As she neared the end of her Level 3 course, she had all the experience she needed to go self-employed:
I spoke to my family, friends, and college tutors, and everyone basically said, 'go for it' and 'if you didn't do it now, you never will'. So I did. My tutors and parents helped me to get set up, getting a van and things like that. I couldn't have asked for me from everyone."
Six months into her new life as a self-employed painter and decorator – trading as JB Painter and Decorator - business is going well for Jessica.
It's gone really well, I am really pleased," she says, "I've had work all the way through and have work into March next year."
Her college lecturers say that the feedback from Jessica's initial customers has been "amazing". Jessica's business looks set to go from strength to strength, and being qualified to Level 3 means she has lots of options open to her for developing her career in the future.
Jessica was the winner of the 2021 Further Education Student Award for Outstanding Achievement in Construction.