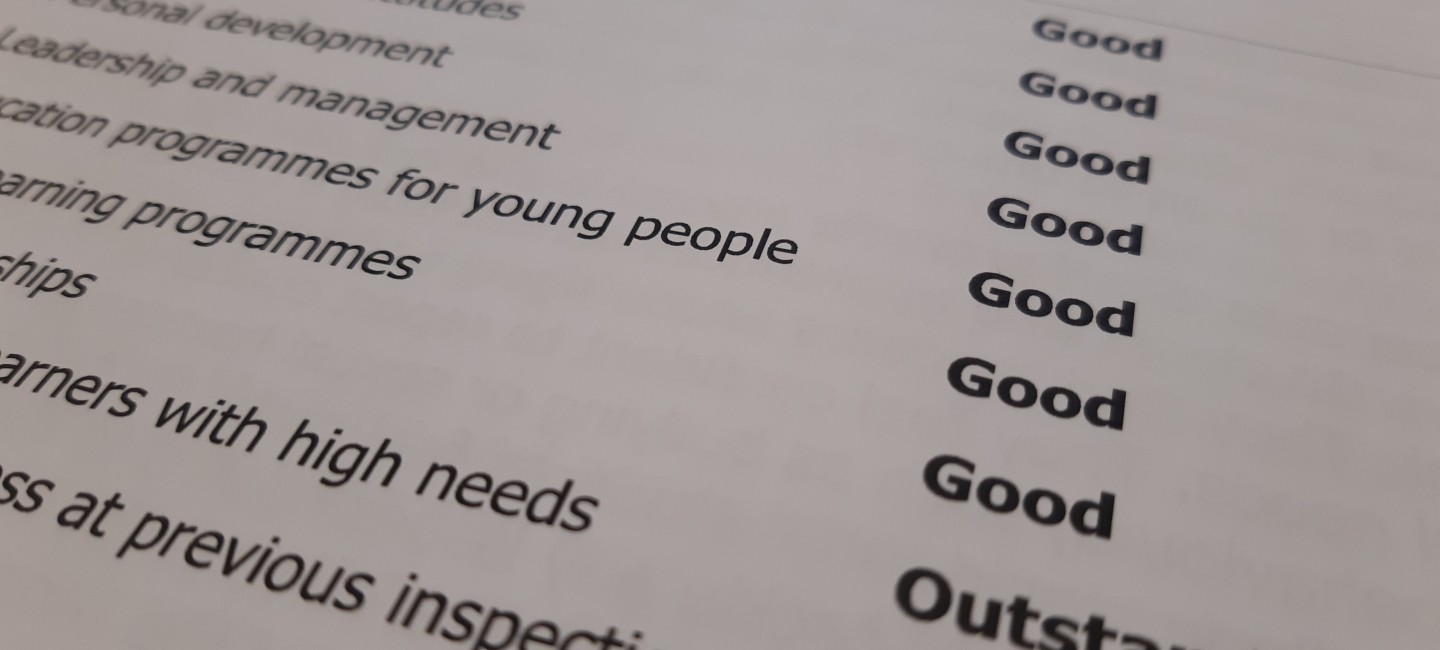 City College Norwich, Easton College and Paston College rated 'Good' by Ofsted
25th November 2021
The latest Ofsted report for City College Norwich, Easton College and Paston College has given the colleges a thumbs up with a Good rating and positive findings after an intensive inspection in October.
A team of inspectors spent four days looking into every aspect of further education at the college including the quality of courses, apprenticeships, support for students with high needs, student attitudes and behaviours and leadership and management.
'This was our first full inspection since 2017' says Principal Corrienne Peasgood OBE. 'Since then, we've seen the biggest disruption to education in living memory with the COVID pandemic, as well as two successful mergers. Our students, our teachers and our support staff can share my sense of pride that during this challenging time we've continued to deliver good teaching and learning. It's hugely rewarding to see Ofsted picking up on our students' enthusiasm, motivation and desire to succeed and the way everyone embraces a culture of tolerance and respect for all.'
Inspectors placed emphasis on the fact that the colleges have a calm and orderly learning environment where teachers encourage and support students' personal and emotional needs. They also highlighted the fact that, through two potentially disruptive mergers, the colleges have continued to strengthen and develop a rich and well-resourced curriculum.
Support for students with high needs was identified as a key strength for the colleges, with an Outstanding grade from Ofsted marking nearly a decade of top-level performance in this area.
'We've been delivering excellent support for students with high needs at City College Norwich for many years,' says Corrienne. 'Our mergers with Paston and Easton have helped us bring that expertise to a much broader area of Norfolk and support many more students.'
Ofsted found that students with high needs 'blossom and develop absolute confidence in achieving their ambitious targets.' Inspectors also reported that they were exceptionally well prepared for university, employment and independent living.
Some specialist areas of the colleges' work also attracted praise from inspectors. Serious shortcomings in health and safety practices around Easton College's land-based courses pre-merger have been 'eradicated' say inspectors, which has resulted in a dramatically improved learning experience for students.
Progress is also being made at Easton on upgraded facilities, with inspectors highlighting the fact that students are having a say in how to improve and modernise the farm estate.
'Although we've achieved a Good rating, there is still a lot of hard work ahead of us,' says Corrienne. 'Teaching at Easton College has improved since merger, but we still have more work to do. Students across all our colleges need help with spelling and grammar and with improving their academic writing skills and we need to support our students who are learning English as a second language to develop good spoken English. Overall though, this report reflects a real sense of optimism. Despite the challenges of the past 18 months Ofsted has recognised the broad and valuable contribution that our colleges are making across Norfolk and beyond.'