Certificate in Education and Training, Level 4
Level
Level 4

Start Date
January 2023

Venue
CCN-Main Campus

Course Code
H0199
Summary
This is level 4 course aimed at teachers or trainers who work in the FE and Skills sector in a role which is mainly focused on teaching skills. There is an introduction to theory. We be offering this course via 3 hours sessions on Tuesday afternoons. Candidates in an hourly-paid role (of less than 0.6 FTE/3 days per week), and candidates employed in dual roles such as Lecturer/Assessor or Tutor/Assessor are likely to find this programme better suited to their job role (and the opportunities within it) than the Level 5 Diploma in Education & Training. This is an in-service programme; candidates must have a job-role that supports the Units and assessment of the Level 4 CET on enrolment to the course.
This course starts Tuesday January 10th 2023, 2-5pm
Entry Requirements
Employed as a teacher, trainer or instructor for at least 30 hours throughout the course. Qualifications at level 3 in the subject you wish to teach (or considerable experience). Qualifications in English and maths at level 2. Willingness to research and complete work in your own time.
Learning Outcomes
Units:
Understanding roles, responsibilities and relationships in education & training.
PLANNING to meet the needs of learners
DELIVERING education & training
ASSESSING learners in education & training
USING RESOURCES for education & training
Teaching in a specialist area
Assessment
There will be a range of assessment activities for this course, to include 3 hours observation of teaching practice & at least 1 mentor observation, written assignments, professional discussions and presentations, a portfolio of your teaching practice and self-assessment against the Education & Training Foundation (ETF) Professional Standards at key points during the programme.
Progression
Further qualifications in education and training, depending on the candidate's job role.
Career Progression
Some candidates may progress into employed roles relevant to the L5 Diploma in Education and Training (L5 DET). On completion of a Level 5 DET, candidates can apply for Qualified Teacher Learning & Skills (QTLS) through the Society for Education & Training.
Fees
January 2023, Part Time

£1,416
January 2023, Part Time

£1,416
Latest News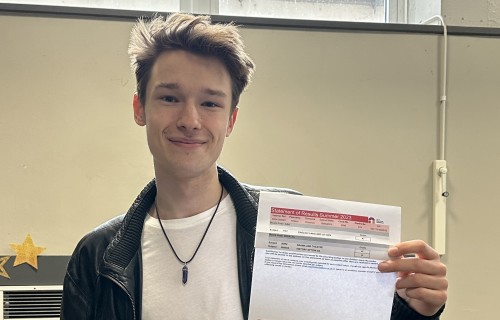 City College Norwich students have been celebrating impressive results in their A Levels, T Levels and other technical and vocational qualifications.
Read more
17th August 2023