Beauty Therapy Diploma Level 2
Level
Level 2

Duration
1 year

Start Date
September 2023

Venue
CCN-Main Campus

Course Code
B0321
Start Date
September 2023, Part Time
Summary
Your timetable includes a mixture of both practical and theory lessons. Initially you practice the treatments on each other; this is important as a beauty therapist needs to know what the treatments feel like in order to have empathy with their clients. You will then go through pre-observations and final assessments.
In this course you will study units which cover
Client care & communication,
Retailing products & services,
Client consultation,
Health & safety and reception.
Facial treatments,
Waxing,
Manicure & pedicure,
Lash & brow treatments,
Make-up
These will be a mix of theory classes including time allocated to individual tutorial to support you plus practical in one of our well-equipped salons.
The course is delivered over 2 evenings per week 6pm -9pm to also include Saturdays 9am-1pm.
Entry Requirements
Applicants will be assessed on their interest and commitment.
Assessment
The course is assessed practically by means of pre-observations and final assessments in each unit. All assessments include customer care, consultation & aftercare as well as the technical skills. Theory is assessed by on-line tests for each unit. Please note that personal appearance is an extremely important part of this course as we are preparing you for a very demanding industry.
You will need to be in full uniform for all practical lessons, this includes wearing tights, full make-up, and hair in a tight bun, with short, unvarnished nails. Nail extensions and visible piercings/ jewellery are not allowed. You will also be advised that visible tattoos will severely restrict your job opportunities in the beauty industry.
Progression
Once you have successfully completed the course, with a good attendance and disciplinary record, you could progress onto part time Level 3 Beauty Therapy. Alternatively you could find an Apprenticeship.
Future options at City College Norwich also include a level 4 qualification in Advanced Techniques and Management in Hair and Beauty Therapy.
Career Progression
The hair and beauty industry is a vibrant, dynamic and creative sector offering fantastic employment and training opportunities. This sector alone employs nearly a quarter of a million people and is worth over £6 billion to the UK economy.
There are a wide variety of jobs for qualified beauty therapists, including salon and spa work both in the UK and abroad. Beauty therapists also work in hotels, on cruise liners, in hospitals and health clubs. With further experience, they can also become salon owners or follow careers in photography and fashion, teaching and training and work for manufacturers of beauty products as a technical advisor. Students could also look for an Apprenticeship for further training or set up as self-employed.
For further information please check:
National Careers Service - Beauty Therpaist job profile
Hairdressing and Beauty Industry Authority (HABIA)
Fees
This course is a government funded course and depending on your circumstances there may be help with the fees if you are in receipt of benefits or on a low wage. Please see the Finance pages on our website for more information or call the Advice Shop for further information.
Latest News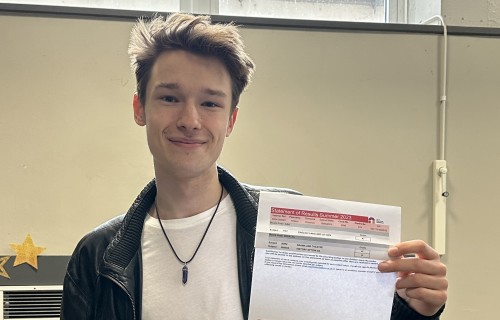 City College Norwich students have been celebrating impressive results in their A Levels, T Levels and other technical and vocational qualifications.
Read more
17th August 2023