Entry to the Uniformed Services Extended Diploma, Level 3
Level
Level 3

Duration
2 years

Start Date
September 2023

Venue
CCN-Main Campus

Course Code
A0258
Start Date
September 2023, Full Time
Summary
You will gain an insight into the various careers within the public services, what they involve and personal qualities required so that you will be able to make a good choice for your next step. We have close links with the Police Force, Fire Service, Military, Prison Service and other public sector organisations and includes visits, guest speakers. You may also have the opportunity to take part in residential trips and development days with the armed forces involving field craft (the skill to move undetected), assault courses, team activities, workshops and talks to give you a good understanding of the role and fitness levels required.
In past years the course has included:
Visit to the courts, prison and Norfolk Constabulary in Wymondham
Speakers from probation teams, prison service, UK Immigration
Major incident planning with Norfolk Resilience Forum
Norfolk Fire and Rescue Service and Norfolk Constabulary hosting a variety of activities
During the second year you will take part in an expedition in the Lake District with the Outward Bound Trust which brings together all the skills and qualities you have developed over the two years.
Why Our College?
Real Experiences
Put your skills into practice by taking part in a variety of activities including our Outward Bound expedition & Armed Forces Development Days.
Entry Requirements
5 GCSEs at Grade 4 (or equivalent) including Maths and English Language or a relevant Level 2 Diploma at Merit level or above (and English Language Grade 4 ).
Students must be prepared to participate in physical and practical sessions, which at times will emulate industry standards. You will need to demonstrate a keen interest in the course and have an understanding of work carried out by the Uniformed Public Services. Students suitability will be assessed on an individual basis.
Learning Outcomes
Personal development is also an important aspect of the course to improve your self-confidence. You will develop a range of essential skills in communication, team work, leadership skills, problem solving and presentation skills that are transferable across a wide range of career choices.
Your level of fitness will improve through team sports, canoeing, climbing, off-road biking at Eaton Vale. Many of uniformed services require a certain level of fitness and you will learn how to improve this for entry into these services. You must therefore be willing to participate in practical element of the course.
This course is delivered through a mixture of lectures, workshops, tutorials, practical activities, outside visits and visiting specialist speakers from the public services. There is approximately 10% practical work and 90% classroom based.
In addition to your main programme, you will study English and Maths. Depending on your grades on entry, you will study either Functional Skills or GCSEs English and Maths. Please check our English and Maths page for further information.
Assessment
Assessment is carried out throughout the academic year by the departmental staff and verified externally by the awarding body. Students will be expected to compile reports, carry out individual research, present information to both their peers and teaching staff and complete both practical based activities and scenarios. This varied approach to assessment is designed to promote independence and encourage individuals to take ownership of their own learning.
Students will study and be assessed on units such as:
Year 1:
Prepare for a career in a chosen uniformed service.
Develop aspects of physical fitness for entry to the uniformed services.
Develop leadership skills.
Equality, diversity and inclusion.
Mental and Physical Wellbeing.
Understand conflict management and personal protection.
Influence of UK government, international organisations and the media on the uniformed services.
Understand the impact of war and conflict on the uniformed services.
UK legal systems and uniformed services.
Year 2:
Carry out map reading and navigation across open country.
Emergency planning and response in the uniformed services.
Skills for land-based outdoor and adventurous activities.
Skills for water-based outdoor and adventurous activities.
Outdoor and adventurous expeditions.
Understanding discipline in the uniformed services.
Crime Scene Investigation.
Volunteering in the uniformed services.
Security procedure in the uniformed services.
Please note that units are reviewed every year and are subject to change.
Progression
Upon successful completion of this course, students can progress to Higher Education (UCAS point depending) including our own:
BA (Hons) Professional Policing
BA (Hons) Public Sector Leadership (Crime, Strategy and International Relations)
Career Progression
The public services mainly involve working for the Police, Fire and Rescue Services, Prison Service as well as the Armed Forces. All of these careers are in the public sector, which is also includes jobs in the courts, local councils, schools and national government. There are a wide range of jobs, many of which where you can make a positive impact on society and your local community. Providing you meet their entry requirements, you can enter employment with the Public Services sector.
For further information please see the National Careers Service website for:
Police Officer
HM Forces
Fire Fighter
Prison Officer
Public Sector Employment
Fees
For UK students aged under 19 years old on the 31st August prior to the start of your course, your tuition fees are free.
There will be costs for equipment, uniform and trips. Uniform and kits tbc.

Please check our Finance pages for fee information and any financial help that may be available.
Why Our College?
Real Experiences
Put your skills into practice by taking part in a variety of activities including our Outward Bound expedition & Armed Forces Development Days.
Latest News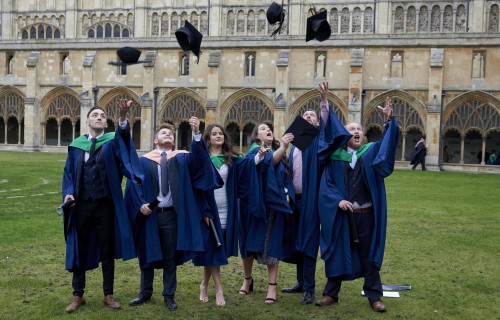 City College Norwich has been given a 'Silver' rating for the quality of our Higher Education teaching in the Office for Students' Teaching Excellence Framework (TEF).
Read more
28th September 2023