Level
Level 3

Duration
2 years

Start Date
September 2023

Venue
CCN-Main Campus

Course Code
SB501
Start Date
September 2023, Full Time
Summary
A Level English Language considers how and why the written and spoken word is used for different purposes, in different formats and to represent events and people in different ways. You will read a wide variety of non- fiction texts including newspaper and magazine articles, advertisements, blogs, speeches, song lyrics and spoken language transcripts which will be explored though a range of linguistic approaches. As part of the course, you will be encouraged to think about how the writer represents themselves, how they represent a topic and how the reader is positioned.
Alongside this, you will consider how writers and speakers represent the factors which influence our language choices: gender, sexuality, region, social background, occupation and consider the linguistic theories which underpin these ideas.
Entry Requirements
Applicants should have a minimum of a grade 5 in GCSE English Language. Applicants should also have a minimum of six GCSEs at grades 9-4.
Students are not able to study English Language and English Language & Literature (combined) A Levels together.
Assessment
In the second year, you will produce a piece of NEA coursework (20% of the course) which includes a short piece of free -choice creative writing and an investigation into an area of linguistic variation. In addition to this, students will sit two 2.5-hour exams worth 40% each, at the end of the 2-year course.
Progression
A Level English Language combines well with the majority of other A Levels, but in particular those that are essay based by nature. Achieving an A level in English Language can lead onto a wide variety of related degree courses.
Career Progression
Whilst this course provides particularly good grounding for those aiming for a career in Journalism, Media or Creative Writing, it also offers a wide variety of transferable skills that will be an asset in any career that requires good language, communication and analytical skills.
Fees
If you are a UK or home fee status student and aged 16-18 on the 31st August before the start of your course, tuition fees are free. If you are aged 19 and over please contact the Advice Shop
Latest News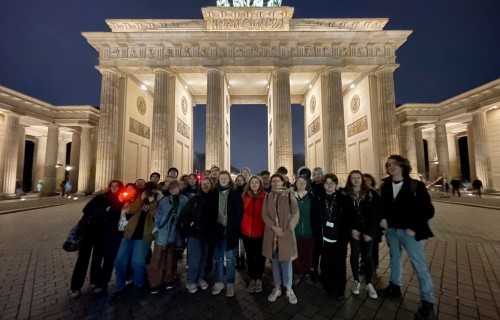 Seventy-five A Level students from City College Norwich and Paston College enjoyed a 5-day trip to Berlin, packing in sightseeing and visits linked to their subject learning.
Read more
1st March 2023