Level
Level 3

Duration
2 years

Start Date
September 2023

Venue
CCN-Main Campus

Course Code
SA072
Start Date
September 2023, Full Time
Summary
Are you fascinated by chemical reactions? Do you want to explore the world of atoms and molecules? If so, chemistry is for you.
A Level Chemistry will help you explain the material world. Why does ice float on water? Why is copper sulphate blue? How do proteins stay together? Many aspects of Chemistry touch on your life and link with other subjects, especially Biology, Physics, Maths and Psychology. The course will also develop your practical skills to carry out, interpret, analyse and evaluate experiments.
First year topics include:
The structure of atoms and how they form bonds
Chemical reactions
The periodic table and more in depth study of groups within it
Quantities and the mole concept
Groups of organic chemicals
Making new chemicals
Analysing the structure or unknown substances
Second year topics include:
Rates if reaction and equillibria
Avids and Bases
Further organic chemistry and Analysis
Electrochemistry and batteries
Transition metals and compounds
You are likely to enjoy this subject if you enjoy practical laboratory work and mathematics and would like to use number work in problem solving. It is also ideal for students who are intrigued by the science that they have studied so far and are prepared to work hard to find out more. To do well you will need to stay actively engaged in theory and practical lessons, work hard and recall a lot of facts and understand a number of abstract concepts To sum up, chemistry best suits students who can do abstract thinking, who are numerate, whole love to solve problems and who can retain information.
Entry Requirements
Applicants require a minimum of a grade 5 in Mathematics, and a minimum of a grade 6,5 in GCSE Combined Science: Trilogy or a grade 6 in GCSE Chemistry. Applicants should also have a minimum of six GCSEs at grades 9-4 including English Language.
Learning Outcomes
Work on the course includes lectures, note taking, question and answer sessions, problem solving, completing work sheets, writing answers and model building. All of this will be backed up by regular homework.
Assessment
You will be formally assessed through three written examinations at the end of the second year. Practical's carried out during the two years will be assessed in one of the written exams at the end of the course and on the quality of your lab book.
Progression
Successful students could go on to study for a degree (or possible HND) in a variety of subjects including chemistry, environmental science, medicine, pharmacy, dentistry, veterinary science, biology, or some related area, or use it as a general academic qualification. Some universities have identified chemistry as one of the subjects they prefer applicants to have studied at A level.
Career Progression
Students could enter employment in healthcare, research science, forensic science, medicine, dentistry and veterinary science. An AS or A-Level in Chemistry develops and demonstrates many transferable skills appreciated by many employers in non-chemical careers as well as science-based careers.
Fees
If you are a UK or home fee status student and aged 16-18 on the 31st August before the start of your course, tuition fees are free. If you are aged 19 and over please contact the Advice Shop.
Textbooks tailored to this course are available and we will be able to advise you on the most suitable books. You will need to buy a lab-coat. This can be done at the beginning of the course.
Latest News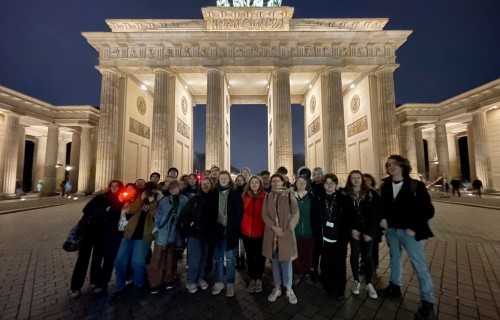 Seventy-five A Level students from City College Norwich and Paston College enjoyed a 5-day trip to Berlin, packing in sightseeing and visits linked to their subject learning.
Read more
1st March 2023