How to travel safely
Social distancing on public transport has cut capacity significantly, which provides a challenge in getting to college. Nearly half of all journeys made in the morning peak hour are for education, so we need alternative travel options. These rules and guidance are designed to keep you safe when you're travelling to College.
Travelling by bus and train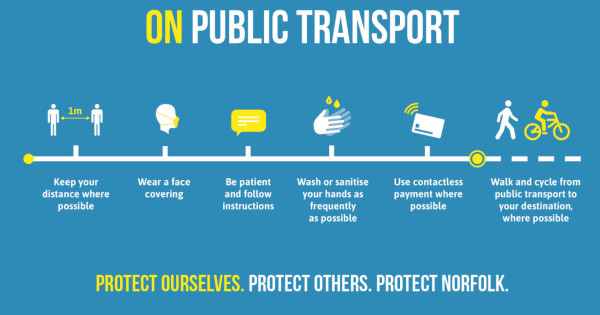 You must wear a face covering on public transport and in substantially enclosed areas of transport hubs.
Some people don't have to wear a face covering for health, age or disability reasons.
It is important to wash or sanitise your hands before and after touching your face covering.
Wait for passengers to get off first before you board.
If you need to dispose of your face covering, use 'black bag' waste bins or litter bins. You should not use a recycling bin.
Where possible, use contactless payments or buy your ticket in advance.
Treat transport staff with respect and follow instructions from your transport operator. This may include:
Notices about which seats to use or how to queue.
Additional screens, barriers or floor markings.
Requests to board through different doors or to move to less busy areas.
Travelling on contracted/dedicated bus routes
Social distancing guidelines do not apply to dedicated college transport. This is because students will not be sharing with members of the general public and will mostly, if not always, be with the same group of students each day.
Face coverings are not a legal requirement, but we have asked all students to wear a face covering.
Remember that some young people may have an exemption from wearing a face covering.
You should bring hand sanitiser with you to use before and after your journey and where possible wash your hands when you get to college.
Taxi
You should wear a face covering when using taxis or private hire vehicles. A taxi driver or private hire vehicle operator may be entitled to refuse to accept you if you do not wear a face covering.
The risk of transmission is small at 2 metres and where possible, you should maintain 2 metres distance.
If you cannot keep a 2-metre distance, reduce the risk to yourself and others by maintaining a 1 metre distance where possible, and taking suitable precautions.
Follow the advice of the driver. For example, you may be asked to sit in the back left-hand seat if travelling alone. You may want to check with your taxi or private hire operator before travelling if they have put any additional measures in place.
You should use contactless payment if possible or find out if you can pay online in advance.
Be aware of the surfaces you touch. Be careful not to touch your face. Cover your mouth and nose with a tissue or the inside of your elbow when coughing or sneezing.
When finishing your journey wash your hands for at least 20 seconds or sanitise your hands as soon as possible.
We encourage everyone to walk or cycle to college where it is safe and appropriate to do so. Switching to cycling and walking for shorter journeys helps to make capacity available for those with longer journeys.
Cycling
The Government is offering £50 to fix your bike to make it road worthy www.gov.uk/guidance/fix-your-bike-voucher
Our Colleges are well equipped with undercover cycle storage and racks dotted around the campuses.
See a map of the main cycle routes in and around Norwich here.
Wash your hands for at least 20 seconds or sanitise your hands before and after cycling.
Walking
Walking will reduce pressure on public transport and the road network.
Where possible, keep a suitable distance from other people. For example, when waiting at crossings and traffic lights. Take precautions where this is not possible.
Car
Check that your vehicle is safe and road worthy if you haven't used it for several weeks.
People from a household or support bubble can travel together in a vehicle but don't offer other people a lift (see car sharing below)
Capacity in the student carpark at City College Norwich has been significantly reduced due to building works. We recommend using the Park and Ride Harford site at £1.90 a day (wear a face covering on bus unless you are exempt, use contactless payments or buy your ticket in advance)
You should also bring hand sanitiser with you to use before and after your journey and where possible wash your hands.
Car sharing
Please avoid sharing a vehicle with students outside your household or support bubble if at all possible. If you have to share a car, try to:
Share the transport with the same people each time.
Keep to small groups of people at any one time.
Open windows for ventilation.
Consider seating arrangements to maximise distance between people in the vehicle.
Travel side by side or behind other people, rather than facing them, where seating arrangements allow.
Face away from each other.
Clean your car between journeys using standard cleaning products - make sure you clean door handles and other areas that people may touch.
Everyone must wear a face covering.