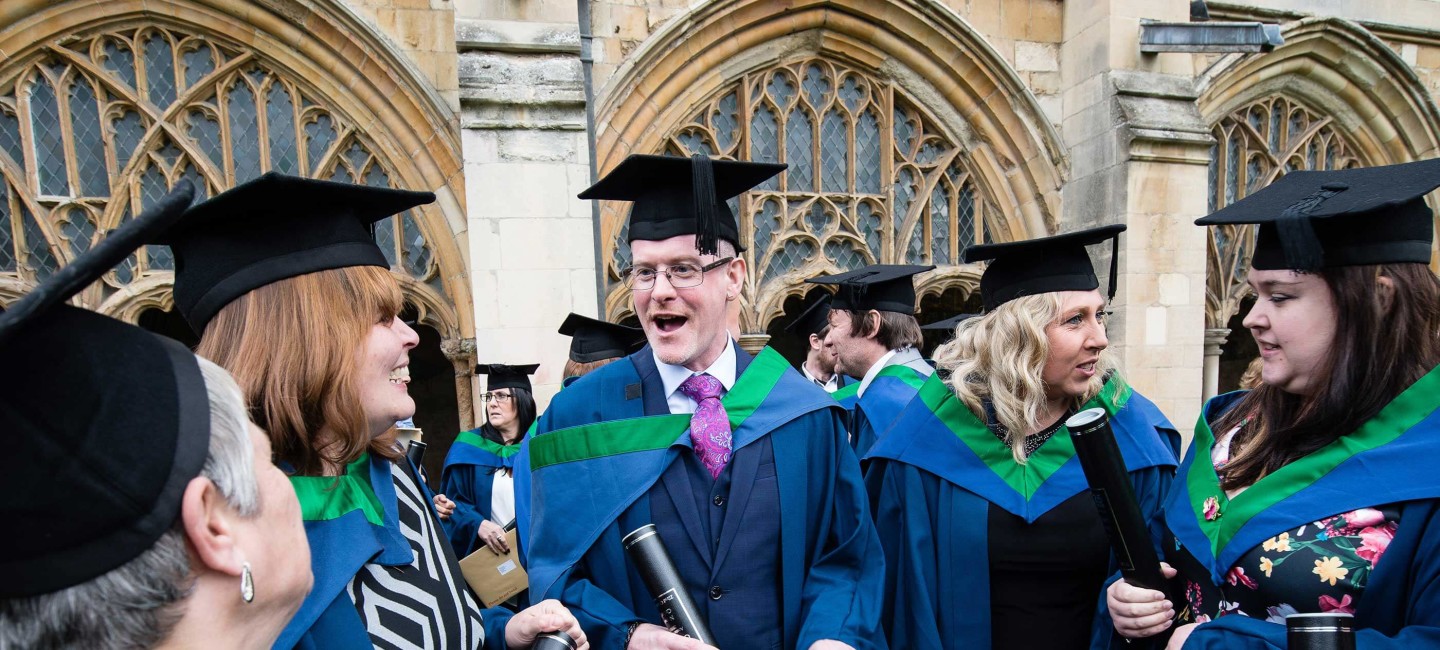 Preparing for Graduation
Eligibility to attend
You must have had your award confirmed by the City College Norwich Awards Board to be eligible to graduate and attend the ceremony. You should have received an awards letter confirming the completion of your award, if not please contact the HE Office on the details below.
You must be clear of any outstanding debts owed to the College.
If you are unsure of your award status, please contact the HE Office on 01603 773012 or he_office@ccn.ac.uk to clarify. If you need to discuss any monies owed to the college, please contact our Finance department (finance1@ccn.ac.uk).
Booking your tickets and gown
This link will take you to the Ede and Ravenscroft website where you can:
book your place
buy your guest tickets
hire your gown
pre-book your photograph
The closing date for bookings is Sunday 24 September 2023.
---
Book tickets for ceremony 1: 10.00 - 11.15 am, 21 October 2023
Agriculture
Animal Science
Wildlife and Conservation
Zoology
Land Based Science
Crime, Terrorism and Global Security
Leadership in the Public Sector
Sport
Humanities
Business and Leadership
Education and Training
Accountancy
Media Learning Company
Childhood Studies and Early Years
Ceremony timings can be found here
---
Book tickets for ceremony 2: 12.30 - 13.45 pm, 21 October 2023
Mental Health Practice
Health Studies
Trainee Nursing Associate
Social Work
Aviation Engineering
Construction and Engineering
Ceremony timings can be found here
---
Gown Hire
Academic gowns are mandatory attire for all graduands. You must hire your gown from Ede and Ravenscroft using the link above. Please order your gowns well in advance of the ceremony (at least three weeks beforehand). A small number may be available to hire on the day in case of emergency, but availability cannot be guaranteed.
You will be able to collect your gown on the day of the ceremony from the academic gowning marquee. Please ensure this is returned by 4pm on the day.
Photography
There will be an opportunity for you to have official photographs taken by our graduation photographers either before or after your ceremony. You can book a time slot and pre-order your photographs via the Ede and Ravenscroft website.
You can order and pay for photographs on the day, but please be aware this may result in you having to queue.
Our Marketing Team will also be taking pictures to document the day on social media, website etc. The images may be used to advertise future events and the colleges' Higher Education courses. The event will also be live streamed by our media department.
Please note, by booking your ticket you consent to being photographed and filmed at the event.
Publications
To celebrate your achievements we will be publishing the names of all of our graduates in a special Graduation Brochure for the event. We will also send this to the Eastern Daily Press who traditionally publish a special graduation edition of the local daily paper and Campus Clothing who produce souvenirs of your big day.
If you do not want your details included in the Graduation Brochure or published by the local media, please ensure you select this option when booking your tickets.
If you are not attending graduation and do not want your details to be included, please contact the HE Office on he_office@ccn.ac.uk by Friday 22 September 2023.