What's it like to do a Painting and Decorating course at City College Norwich?
22nd February 2019 – Tags: Painting & Decorating
Painting and Decorating at City College Norwich is going from strength to strength, but what's it like to be a student on the course? We went along to the college's new Painting & Decorating workshop to find out.
Why choose Painting and Decorating?
Painting and Decorating is a great trade to get into and it brings a very high level of job satisfaction. CCN lecturer Nigel Etteridge, who wallpapered his first living room at the age of 12(!), says that nothing beats the feeling of a job well done:
'Students work in their own pods in the workshop and get free reign over colour schemes, they can create their own design, and make the job as good as they can possibly make it. When you've finished a job, and you step back and go "I really like it" - you can't beat that feeling.'
Another key attraction is the excellent career opportunities that exist for painters and decorators. There is a general shortage across all construction skills, so demand for people who are well-trained in a trade is high. The money can be good too. Once you've mastered your trade as a painter and decorator you can expand your skills further, with numerous opportunities to develop a career in the construction industry.

Your time in college
Students on the Level 1 course spend two and a half days in college each week. This is made up of two days of practical work in the Painting and Decorating workshop, and half a day of theory. 'It's nice to have that balance', Michael (one of the students) told us, as the practical work can be quite physically demanding and there's lots to learn about different paints, techniques, and getting the preparation right for each different situation.
This leaves plenty of time for students to gain work experience. While it is not a requirement of the course, lots of Painting and Decorating students look for outside opportunities to put their skills into practice – either by taking on painting and decorating jobs for family and friends, or by going out to work for painters and decorators they know. It's a handy way to earn some extra money too!
What you learn on the course
Michael continues, 'There's a lot more to painting and decorating than people think, there's a lot of different aspects to it. Preparing before you paint is vital, obviously you've got to prepare your wall according to the surface you've got.'
Learning how to get this preparation right is a key focus of the Level 1 Painting and Decorating Diploma, which also covers techniques for applying paints by brush and roller to straightforward surfaces, as well as producing specialist decorative finishes.
By the end of the 1-year course students will have the basic skills needed to go out and gain work as a painter and decorator, although many will look to take their skills to a more advanced level by staying on to do the Level 2 Painting and Decorating Diploma.

Student experience on the course
Painting and Decorating attracts students from many different backgrounds. Some have done a bit of painting and decorating previously, while others are completely new to it. There is a healthy mix of male and female students. Some come to the course from construction (multi-skills) courses, whereas others have come from studying completely unrelated courses.
Painting and decorating might seem to be a very individual discipline – after all, students work in their own pods and they are assessed on the work they produce within them. The reality is very different though. The students we talked to described a very supportive atmosphere and lots of teamwork on the course.
Jessica commented: 'The best things about the course are the things we do and how we all work together. I think a lot of people think it's individual, but actually you do all work together quite well and help each other out a lot.' Hattie adds: 'The group I work in is really supportive. They're like a mini family, always here to help.'
The students also value the opportunities they are given to be creative in their work. Michael says: "We all have our individual pods so we can be creative however we want."
Career opportunities
There are more opportunities for skilled painters and decorators than you might imagine. After college, the next step for many will be to go into a job or an Apprenticeship with a small painting and decorating firm or within a larger construction company. Self-employment can also be an option, either straight away or further down the line.
In terms of progression within the construction industry, most employers are looking for college leavers with a strong primary trade (as opposed to a general multi-skills qualification). Once you are working in construction there will be opportunities for you to broaden your skills and pave the way for you to take on more responsibilities – whether that's for whole projects, construction sites, or major areas of an entire business.
Property development is another attractive area of work that painters and decorating students can go on to. Thanks to City College Norwich's developing work as a centre for heritage skills, restoration projects is another exciting and varied option for painting and decorating students to consider.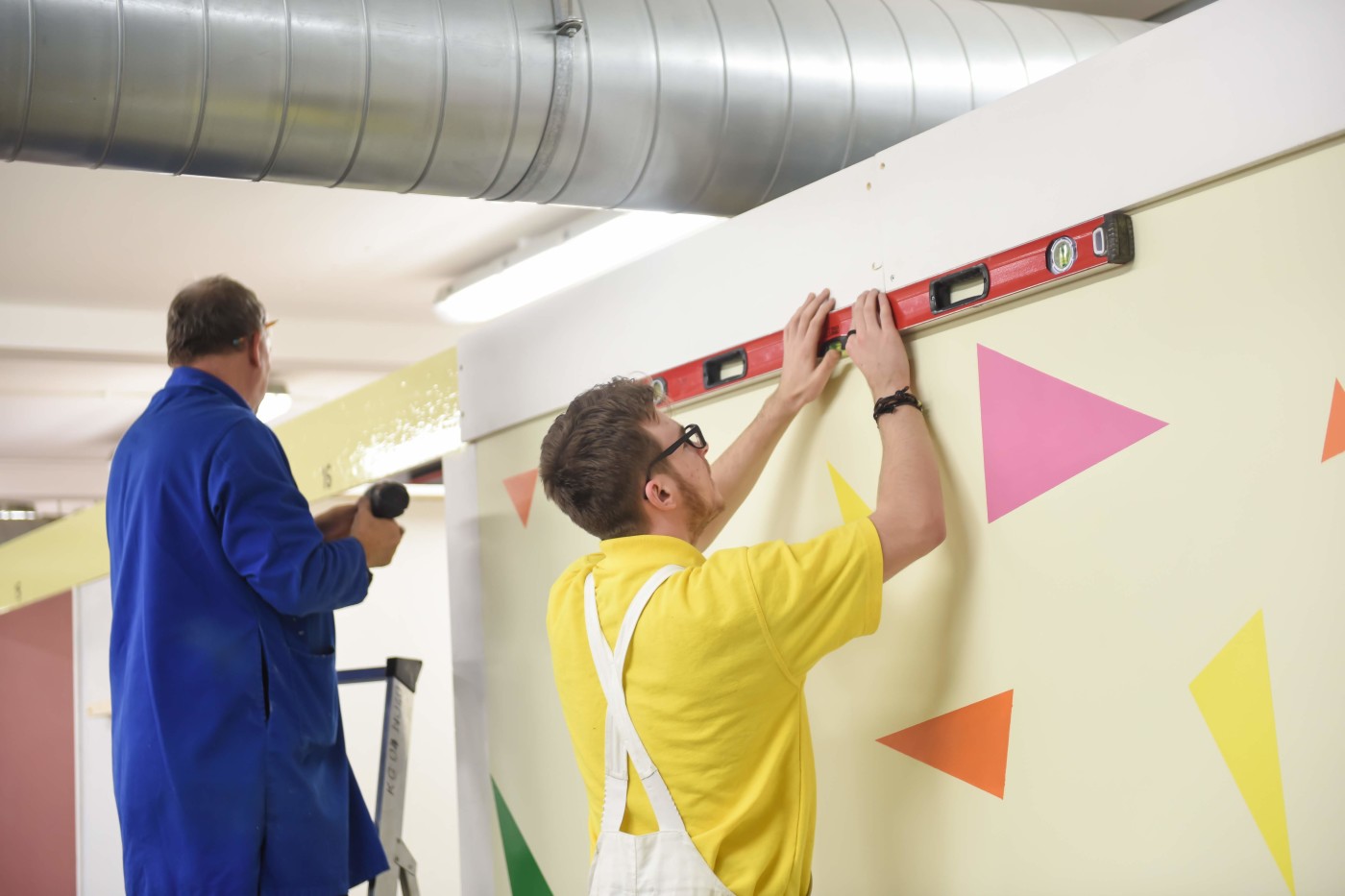 Find out more and apply
To find out more about Painting and Decorating at City College Norwich, come along to one of our Open events or Information Evenings, where you will be able to talk to staff from the area. You can also speak to a course advisor from our Advice Shop at any time – we are open Monday to Friday during both term time and the school holidays.
Or you can click here to apply online today for this course.