#NAW2021: Jamie makes the most of furlough to help others and complete his Apprenticeship
6th February 2021 – Tags: Apprenticeships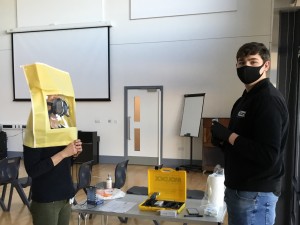 Jamie Currie, a Business Administrator with Attleborough-based Anglian Demolition and Asbestos Ltd, made the most of 15 weeks on furlough – giving his time and skills to help with the Covid-19 response, whilst accelerating the completion of his Apprenticeship coursework.
When the pandemic struck, Jamie was working towards a Level 2 Apprenticeship in Business Administration. He was thriving on the Apprenticeship and had already established himself as a highly valued member of staff. Anglian's Training Manager,
Clare, Hill says of Jamie:
He is very much a team player and his colleagues at Anglian think very highly of him. Any job we ask him to do, he will always take on the challenge. He will always give 100% to any task."
Jamie's positive attitude, work ethic, and desire to make a difference were seen outside the company when he was placed on furlough. Having learnt how to correctly fit facemasks – vital in a business involved in the handling of asbestos – Jamie was keen to use these skills to help with the fitting of masks for NHS staff on the frontline of the Covid-19 pandemic.
He joined up with a group of volunteers who gave their services to NHS staff in different hospitals in Norfolk and Suffolk, something Jamie describes as having been "a really humbling experience."
This wasn't the only example of Jamie helping others during this time. He also helped out with his family's business, The Wagon & Horses in Griston, as they moved from normal opening to providing takeaway meals during the pandemic. This included providing free meals to the elderly and vulnerable thanks to donations from the local community.
Jamie also got involved in fundraising by the local rugby club he plays for, running 5Km every day for a month and contributing to the team's fundraising efforts for the NHS and to keep the club's facilities available.
On top of all of that, and whilst helping to look after two younger siblings at home, Jamie used the time whilst he was furloughed to complete the remaining coursework for his Apprenticeship. Jamie, who is looking forward to starting a management qualification as the next stage in his learning, says:
I had some outstanding coursework to get on with and the time on furlough was the perfect opportunity to crack on with it."
He adds that the support he received from Anglian and the Apprenticeship team at City College Norwich was a great help during this unusual and challenging time:
The support network was amazing. Clare [Anglian's Training Manager] kept in touch with me throughout furlough. Everyone was more than happy to help, which made keeping on track with my Apprenticeship as easy as it could be – it was a really positive experience."