First chefs complete new Commis Chef Apprenticeship
5th August 2019 – Tags: Apprenticeships, Catering, Commis Chef, Hospitality
Two young Norfolk chefs have become the first Apprentices to complete a new Apprenticeship with City College Norwich. Alex Sawyer, who works at the Kings Arms, Fleggburgh, and Ellie Bland, who works for Delia's Canary Catering, recently passed their endpoint assessments to achieve the Commis Chef Apprenticeship standard.
The Commis Chef Apprenticeship standard sees Apprentices work for four days a week with their employer, whilst spending a day a week at college honing their skills and developing their all-round culinary knowledge and understanding of the hospitality industry
The rigorous new standard covers in-depth knowledge of food preparation, including the impact of seasonality on the availability and quality of ingredients, as well as areas such as food safety, costing dishes, and the professional behaviours required as part of a restaurant team.
Apprentices must pass a timed culinary challenge in which they have to produce a 2-course meal under exam conditions. They are also required to create a recipe book detailing the extensive range of dishes they have learned to prepare
Molly Todd, Delia's Canary Catering Back of House Manager, who has had Apprentices under the old framework and the new standard, welcomes the requirements of the new Apprenticeship
I feel that the new standard is harder, insofar as there is an exam at the end, but I feel that it's also more reflective of the profession we have: you've got to make things to a particular time, there's time management; you've got to serve things correctly, in a particular way. The Apprenticeship standard is more reflective of live service in restaurants, so I think it's better and more appropriate to the industry."
"There are so many opportunities"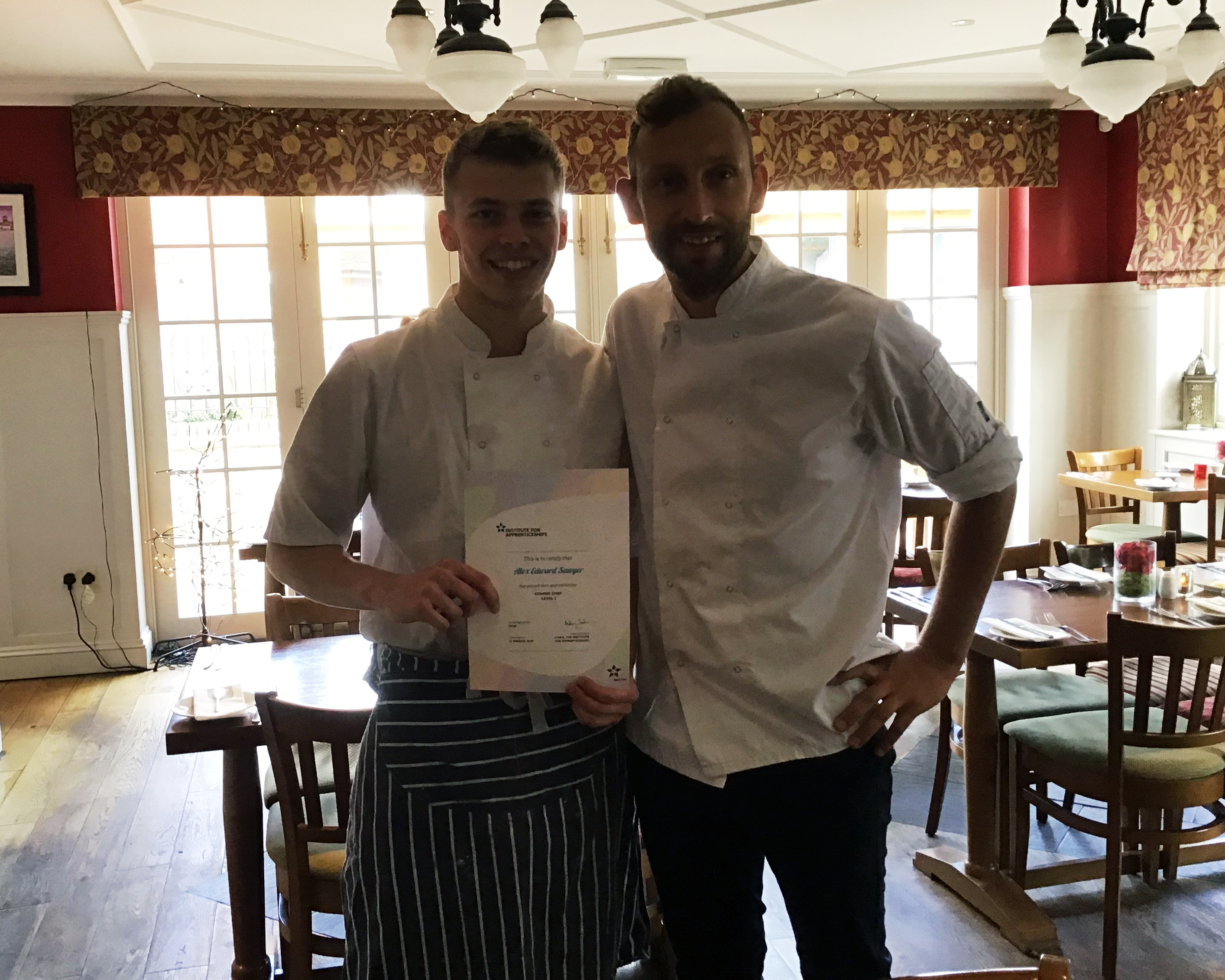 Alex Sawyer, 19, from Great Yarmouth, works in the kitchens of the Kings Arms, Fleggburgh, under the tutelage of award-winning head chef Mark Dixon. The former Paston College student originally went to work there as a pot washer, as a part-time and summer job during his A Levels. However, a year into his A Level studies, Alex realised that the opportunity to train to be a chef in a fine dining restaurant held a lot of appeal for him. He says
There's camaraderie in the kitchen, it's a high standard of dining, and everyone's always pushing each other to make sure we're improving. That's what I wanted. Every day is different - you might be making consommés, veloutés, emulsions – you don't get bored of it. I like how intricate it all is, that really interests me, the fact that it takes time and that people really appreciate your work."
Alex says that he couldn't have had more support with the Apprenticeship, from his employer and the City College Norwich staff. He now plans to take his training to the next level through, a Level 3 Apprenticeship, and sees an exciting future ahead in the industry:
There are so many opportunities. I would like to travel the world and learn as many different cuisines as I can, go to China and learn Asian cuisine, go to Spain and learn Spanish cuisine. People always need to eat, so you've always got a job as a chef and you can learn in so many different environments and travel with this profession."
Head Chef, Mark Dixon, is in no doubt that Alex can realise all of his ambitions
Alex never seemed like an Apprentice, because he was that good from the start, and he quickly took on new responsibilities within the kitchen. Through the Apprenticeship he now understands everything in the recipes, why we do what we do: the importance of using the best ingredients, from scratch; the methods; getting the times and temperatures exactly right. He'll only get better and I am sure that one day he will have his own place."
"I have developed massively"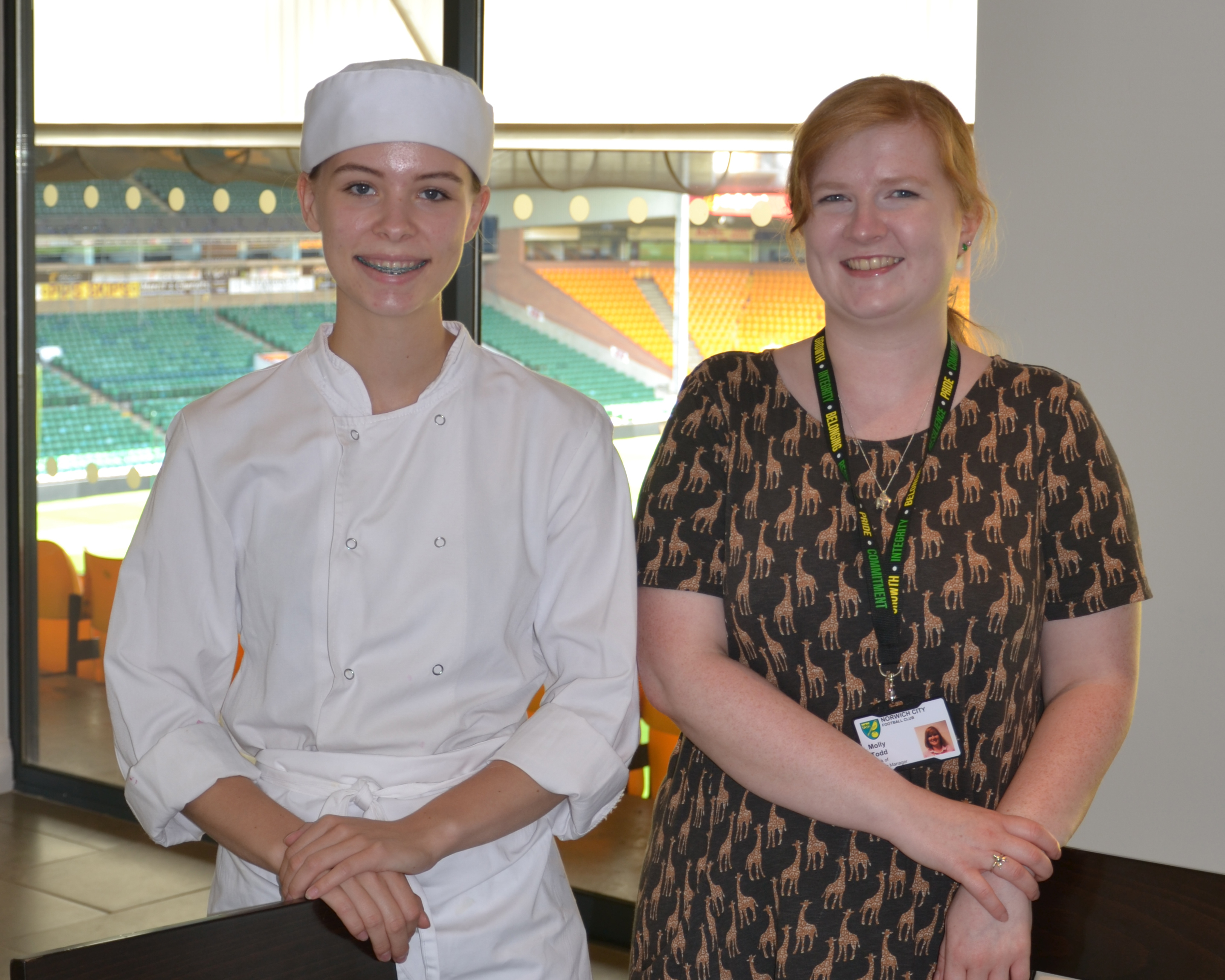 Ellie Bland, 18, from Norwich, works in the pastry kitchen at Delia's Canary Catering, preparing dishes for Delia's Restaurant & Bar and the wide range of events held at Norwich City Football Club. Ellie says the variety of experiences has been a real benefit and that she has "developed massively" as a result of doing the Apprenticeship
When I first came here I was quite quiet. I could make a basic cake, but then you need to know the allergens in it, how to make that cake off by heart, you need time management skills as well, and you learn to work as part of a team - I've definitely improved in all of those."
She describes the endpoint assessment as "like being on MasterChef"
It was very strange when it's just someone watching you for the whole time, but at the same time I really enjoyed it because I'd worked hard on my dish and I feel like it was a good opportunity to show my skills at the end of the Apprenticeship."
Employers have risen to the challenge
Caron Goreham, Apprenticeship Delivery Manager, City College Norwich, said:
The new Commis Chef Apprenticeship standard is a robust and worthwhile qualification that demands more from the Apprentice, as it really stretches them. It also requires more of employers in terms of supporting their Apprentice and giving them opportunities to practice their dishes. Our employer partners have risen to this challenge and the end result is that they get a really well-trained team member - something that employers recognise and value."