Electrical apprentice makes SPARKS Apprentice of Year final
18th March 2020 – Tags: Apprenticeships, Construction, Electrical installation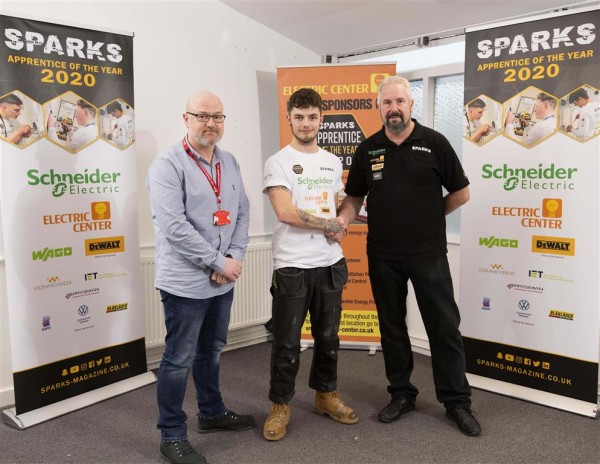 City College Norwich Electrical Apprentice Isaac Duffield, who works for Wymondham-based PES Electrical Installations, has won the South East regional heat of the SPARKS Magazine Electrical Apprentice of the Year.
This success means that 19-year-old Isaac, from Framingham Earl, will compete in the national final in April.
Isaac was up against five other competitors in the regional heat, which was hosted at Buckinghamshire College Group's Wycombe campus.
The Apprentices had to work against the clock to mount and wire a consumer unit, a radial socket circuit, a ring final socket circuit, a lighting circuit, and cooker supply circuit.
Although this was Isaac's first experience of a skills competition, the Level 3 Electrotechnical Apprentice kept his cool and eventually won out in a close contest. Speaking after the heat, Isaac said:
I always knew it was going to be a good experience. Winning was pretty surreal to be honest. The judge said it was very, very close. When he said my name, I was fully expecting it to be someone else. The time pressure was the biggest factor – towards the last half an hour it gets very hot in there and you have to really keep focused."
A talented footballer, Isaac had the option of taking up a football scholarship in the United States – but he says he is glad he is pursuing his career in construction:
I always wanted to be in construction, I've always found it fascinating. It's something that you can take home in actual life and do a few things for yourself. It's very varied in what you can do and how far you can take it."
Mark Watling, Electrical Lecturer at City College Norwich, commented:
I am proud of Isaac for winning the competition. His work was very accurate and I was impressed that he was able to overcome his initial nerves to work at his true ability level. Skills competitions provide invaluable experience for our students and Apprentices. They get to meet others who are on the same journey, share their experiences, and pool their knowledge. The pride in their finished work is evident and it's a great achievement to be able to add to their C.V."