"Attending City College Norwich has pushed me out of my comfort zone, and has helped me to grow and develop as a person"
15th February 2019 – Tags: Student Stories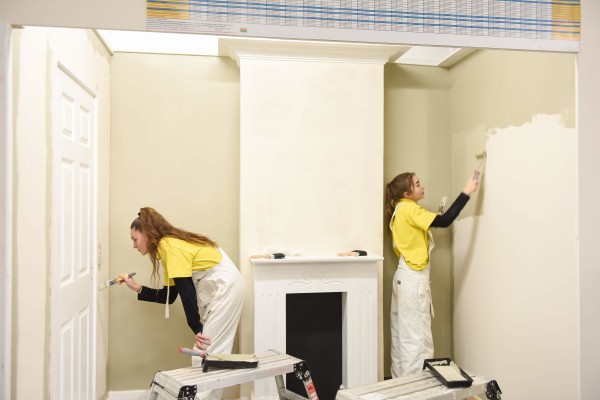 Before attending City College Norwich, I was studying Textiles, Childhood Development, and Business Studies GCSE's at Hethersett Academy. I'd heard good things about CCN, so decided to study Travel and Tourism initially, as I wanted to be a Rep at a Holiday Park.
Finding my path
Halfway through my first year, I realised that Travel & Tourism was not the route for me. I'd always been interested in Painting and Art, so switched to a Multiskilled Course. When the Painting and Decorating course became available, I was really excited, as it was exactly what I wanted to study.
Confidence
Studying Painting & Decorating has been a fantastic experience. It's pushed me out of my comfort zone and helped me to grow and develop as a person. I have so much more confidence now.
Support & Encouragement
The tutors on my course have been incredibly supportive and encouraging. The group I work in is also really supportive – they're like a mini family, always here to help.
The Future
I'm so proud of the work I'm doing currently. In future, I would like to work within the Design & Art area of Painting and Decorating.
Hattie Ford, Current Painting & Decorating Student
Hattie's course tutor, Nigel Etteridge, had this to say about Hattie's time studying Painting & Decorating:
Hattie joined our Level 1 Multi Skills course last year. She was shy and quiet, and had great difficulty contributing to group discussions.
Over the past months, she has visibly grown in confidence and ability, is happy to contribute to a lesson and to assist her peers; she has become a very important member of the group.
She completed both exams at her first attempt and scored one of the highest percentage marks in the Health and Safety exam. She is a pleasure to teach and an excellent role model for girls in construction; her positive attitude and good sense of humour makes her a pleasure to be around.
At the beginning of the year I asked her on a couple of occasions to represent the college, which she was not confident to do. Now, she is going to represent the course at the forthcoming Norfolk Skills event, and at the upcoming Painting and Decorating event at CCN.
Hattie's journey has been one of tremendous growth; both in her abilities and her confidence, and this has been very rewarding for me to be part of.