Junior Content Producer Apprenticeship Level 3
Level
Level 3

Duration
2 years

Start Date
September 2021

Venue
CCN-Main Campus

Course Code
E0202
Start Date
September 2021, Apprenticeship
Summary
A Junior Content Producer (also referred to as a Creative Content Assistant) is responsible for developing and creating content that can be used across a variety of media including online, screen or print.
The content they create can be used as part of advertising and marketing campaigns as well as for customer and in-house communication.
Junior Content Producers can work in design and broadcasting sectors as well as businesses reliant on e-commerce and online marketing as well as organisations regularly producing visual information material for staff and clients.
Course Content includes:
Identify & recommend the appropriate platform/s or channel/s to use for the media campaign
How to work within a budget allocation for a brief
Obtain media assets for use within content creation
Develop and maintain effective working relationships with clients, colleagues and suppliers
The regulatory and legal requirements when using media assets such as copyright, intellectual property rights, web accessibility
Develop and maintain own competence and knowledge in specialist areas
You will complete the Level 3 Junior Content Producer Apprenticeship Standard.
This Apprenticeship will involve college attendance and off the job training.
You will also develop your knowledge, skills and behaviours.
You need to have an employer to support your Apprenticeship and be employed in a relevant job role.
The typical length of this Apprenticeship course is 12-18 months.
If you already have an employer for your Apprenticeship, or would like more information on how to find an Apprenticeship, please click Apply Now. For start dates please contact ourApprenticeship Team on 01603 773365
If you are an Employer who is looking to recruit an Apprentice or already have someone you would like to enrol onto the Apprenticeship course, please contact our Apprenticeship Team on 01603 773365 or email apprenticeships@ccn.ac.uk to discuss next steps.
Entry Requirements
Individual employers will set their own entry requirements, but this will typically include English and Maths at GCSE Grade C /L4 or above.
In order to enrol onto an Apprenticeship, you need to be employed in a relevant job role and undertake a range of tasks which would enable you to complete the Apprenticeship qualification.
Learning Outcomes
For the full Apprenticeship, learners will complete:
Level 3 Junior Content Producer Apprenticeship Standard
Level 2 Functional Skills in Maths
Level 2 Functional Skills in English
Assessment
Training and assessments are delivered in the workplace and in college. Apprentices will be required to attend college-based sessions as part of their training, whilst also completing off-the-job training in the workplace. You will also complete assessments and observations in the workplace.
You will need to complete Level 2 Maths and English before End Point Assessment.
At the end of the Apprenticeship you will complete an End Point Assessment which will comprise of:
Workplace Observation 25%

The Assessor will carry out the observation in the apprentice's usual workplace. This observation will be for between 3 and 4 hours

Set Brief Test 30%

This will take place away from the normal place of work. The Assessor from the End Point Assessment Organisation will be present to ensure authenticity of the Apprentice's work.

Professional Discussion 45%
Once the Assessor has reviewed and marked the set brief test, and the Apprentice has passed Assessment methods 1 & 2, the Assessor will then carry out the Professional Discussion; this will take 1 hour and is based on the Apprentice's portfolio of work.
Progression
Junior Content Producers may progress into Content Creation/Development roles at more senior levels across the industry, including with digital agencies, broadcasters and publishers as well as creative roles in non-creative industries.
Career Progression
Workplace progression or Higher Education.
Fees
Apprenticeship course fees are subject to the age of the apprentice, the payroll of the employer and the number of employees. Course fees are paid by the employer and not the apprentice. Employers who take on an apprentice aged between 16-18 years old, or with an Educational Health Care Plan, will receive an Incentive Payment to help cover their costs. To discuss Apprenticeship course fees, employers should contact the Apprenticeship Team on 01603 773365 or email apprenticeships@ccn.ac.uk.

For more information on recruiting an apprentice or if you would like to train your existing staff please contact our ApprenticeshipsTeam on 01603 773365 or email apprenticeships@ccn.ac.uk
Latest News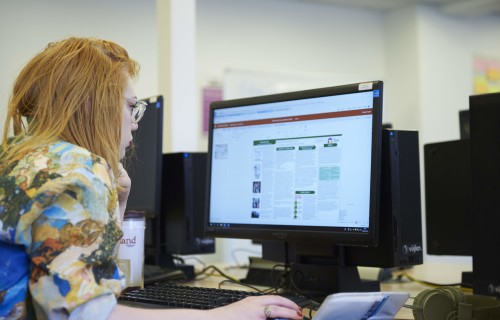 Find out how Apprenticeships can make a real difference to your business at this free online event from City College Norwich.
Read more
30th July 2021