T Level: Digital Production, Design and Development Level 3
Level
Level 3

Duration
2 years

Start Date
September 2020

Venue
Ipswich Road

Course Code
A0419
Start Date
September 2020, Full Time
Summary
This T Level is a two year course which has been developed in collaboration with employers and businesses. It has been designed to meet the needs of the digital industry and will prepare you for a career in the Digital Sector. The T level will offer you a mixture of classroom learning and 'on-the-job' experience during an industry placement of at least 45 days (315 hours) and is equivalent to three A Levels.
The Digital Production, Design and Development T Level is the right pathway if you want to start a career in software and digital design as, for example, a programmer, web designer, IT business analyst, systems designer, software development technician or digital marketer.
The course is split into 2 sections: The Core and the Occupational Specialism. The core is studied in the first year and covers a range of topics including problem solving, introduction to programming, digital environments, security, planning, testing, tools emerging issues, legislation, business context and data.
In the second year you will focus on the occupational specialism which allows you to develop the relevant skills in preparation for your career in the digital industry and will cover: analysing problems, designing software, maintain software, creating software solutions and evaluating its success within a business and legal context.
Why Our College?
Developed with Employers
Our courses have been designed with employers to ensure you get the skills and experience you need to work in the industry.
100%
of students say courses provide opportunities to help them develop their skills to get a job.
7,589
Digital Jobs in Norwich in 2019.
(Source: ONS Annual Population Survey)
Entry Requirements
A minimum of 5 GCSEs at grade C/4 and above, which must include English at grade C/4, Maths at grade C/5 and above and if taken, GCSE Computer Science at grade 5. You will also need a clear interest and passion for a career within the IT industry and have some experience of programming languages.
Please note, that should you wish to progress onto Higher Education within IT, most universities will ask for a grade B or grade 6 minimum in maths - so our advice is, aim for that initially.
Assessment
All assessment is external, written and set by the Awarding Body, Pearson.
Year 1 Core is assessed with 2 written exams plus an Employer Set project which is a brief that takes the digital user needs for you to problem solve.
Year 2 Occupational Specialism is assessed by one large 'Integration Project' that provides a business problem for you to finish with 2 sets of existing code.
Career Progression
The Digital T Level pathway will provide the knowledge and experience needed to progress into skilled employment within software development, an apprenticeship or higher-level study, including university.
Fees
If you are a UK or home fee status student and aged 16-18 on the 31st August before the start of your course, tuition fees are free. If you are aged 19 and over please contact the Advice Shop. Please check our Finance pages for information on loans, bursaries, fee information and student travel offers that are available. Alternatively please contact the Advice Shop.
Latest News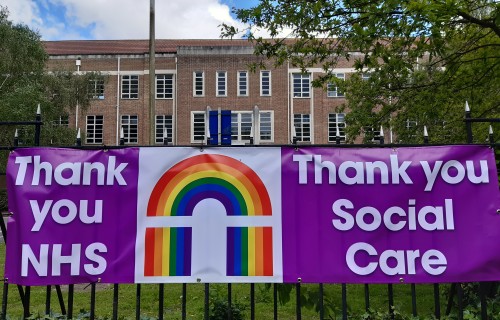 Students from our college have been playing their part in the fight against Covid-19 – to all these students we would simply like to say 'Thank you'.
Read more
19th May 2020