Gas Engineering Apprenticeship Level 3 Standard
Level
Level 3

Duration
2 years

Start Date
November 2020

Venue
Ipswich Road

Course Code
E0210
Start Date
November 2020, Apprenticeship
Summary
Gas engineering involves the safe installation, commission, decommission and the ongoing service and repair of gas appliances in either a domestic or non-domestic setting. Appliances can include, but are not limited to, a range of work categories such as central heating boilers, unvented hot water storage, ducted air heaters, cookers, space heaters, meters, alternative fuel, boosters, testing and purging for industrial pipework.
Roles in gas engineering will include explaining how installations and appliances work, providing energy efficiency advice and ensuring customer service excellence at all times.
Roles in gas engineering are physical in nature, and may involve lifting and moving of equipment, working at heights and working in confined spaces. All gas engineers must be registered on the Gas Safe® Register for each appliance in which they are competent to undertake work on.
Those who work within Gas engineering must have the core requirements below and demonstrate the technical requirements in one setting – domestic or non-domestic.
You will complete the Level 3 Gas Engineering Apprenticeship Standard.
This Apprenticeship will involve college attendance and off the job training.
You will also develop your knowledge, skills and behaviours.
You need to have an employer to support your Apprenticeship and be employed in a relevant job role.
The typical length of this Apprenticeship course is 18 months.
Contact our Apprenticeship Team to find out when our next course start date is.
If you already have an employer for your Apprenticeship, or would like more information on how to find an Apprenticeship, please click Apply Now.
If you are an Employer who is looking to recruit an Apprentice or already have someone you would like to enrol onto the Apprenticeship course, please contact our Apprenticeship Team on 01603 773365 or email EmployerPartnerships@CCN.ac.uk to discuss next steps.
Why Our College?
Specialist workshops
All construction and building services students learn in our specialist workshops using the latest tech and equipment.
Expert teaching staff
Our teaching staff are industry experts with real life experience working within their sector
Real work experience
You'll gain hands-on experience working with local and national employers
Entry Requirements
For this Level 3 Apprenticeship course, applicants will need a total of 3 to 5 GCSEs at grade (A*-C) or (9-4) which includes:
GCSE grade (A*-C) or (4-9) in English
GCSE grade (A*-C) or (4-9) in Science
GCSE grade (A*-B) or (5-9) in Maths
(or relevant experience)
Individual employers will set the selection criteria for their apprenticeship and will include a recognised background check, equivalent to Criminal Record Bureau/Disclosure and Barring Service (CRB/DBS).
In order to enrol onto an Apprenticeship, you need to be employed in a relevant job role and undertake a range of tasks which would enable you to complete the Apprenticeship qualification.
Learning Outcomes
For the full Apprenticeship, candidates will complete:
Level 3 Gas Engineering Standard
Level 2 Functional Skills in English
Level 2 Functional Skills in Maths
Assessment
Training and assessments are delivered in the workplace and in college. Apprentices will be required to attend college-based sessions as part of their training, whilst also completing off-the-job training in the workplace. You will also complete assessments and observations in the workplace.
You will need to complete Level 2 Maths and English before End Point Assessment.
At the end of the Apprenticeship you will complete an End Point Assessment which will comprise of:
Portfolio including GasSafe registration
Competency test
Work log review (70%)
Knowledge assessment (30%)
Progression
In achieving a pass or a distinction in this apprenticeship, the successful apprentice will be eligible to apply for membership with the Institution of Gas Engineers & Managers (IGEM) professional registration as an Engineering Technician (EngTech).
Career Progression
On completion of this standard, apprentice will progress to a wide range of employment opportunities, or move onto full or part-time further education.
Fees
Apprenticeship course fees are subject to the age of the apprentice, the payroll of the employer and the number of employees. Course fees are paid by the employer and not the apprentice. Employers who take on an apprentice aged between 16-18 years old, or with an Educational Health Care Plan, will receive an Incentive Payment to help cover their costs. To discuss Apprenticeship course fees, employers should contact the Apprenticeship Team on 0800 328 3616 or email employerpartnerships@ccn.ac.uk.

For more information on recruiting an apprentice or if you would like to train your existing staff please contact our Employer Partnerships Team on 0800 328 3616 or email employerpartnerships@ccn.ac.uk
Latest News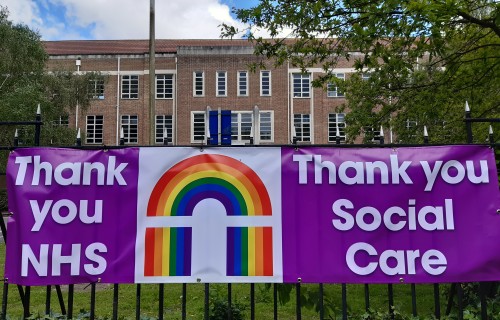 Students from our college have been playing their part in the fight against Covid-19 – to all these students we would simply like to say 'Thank you'.
Read more
19th May 2020