Travel and Tourism, Diploma Level 2
Level
Level 2

Duration
1 year

Start Date
September 2021

Venue
Ipswich Road

Course Code
A0490
Start Date
September 2021, Full Time
Summary
This course will give you an introduction to the Travel and Tourism industry. We have excellent links with employers to give you practical experience as well as many opportunities for trips and guest speakers. This course will give you the skills and knowledge to find an apprenticeship, work or progress onto study at a higher level.
Students will have the opportunity to participate in College wide events. These unique opportunities will not only give you an insight into what it is like working in the industry but introduce you to potential future employers and give you tips on how to best get a job with them. Good English and Maths skills are essential for most jobs and courses you will progress onto. The Government has made it a priority for students to improve these skills and your course programme will reflect this key aim.
The course is made up of units which will include;
Interpersonal skills for the Travel and Tourism workplace
Resort Representative
Worldwide Travel and Tourism destinations
Principles of customer service in Hospitality, Leisure, Travel and Tourism
Business Travel Planning
Why our college?
Industry standard facilities
At our college you will have access to industry-standard facilities and get to use top of the range equipment. On our campus you'll find media suites, TV studios, design labs, workshops, hair & beauty salons, working kitchens and a live theatre.
Gain real experiences of work
All of our courses will provide you with outstanding experiences of work and prepare you for your future career. You will work with real employers and customers and build connections.
A unique student experience
This is what really sets us apart. At our college you will experience the freedom to be yourself. Being part of an active Students' Union, having opportunities to travel and enjoying live entertainment are just a few of the amazing opportunities available to you.
Entry Requirements
4 GCSE's at grade 3 including Maths and English. You will need to demonstrate your interest in the course and a understanding of the Travel and Tourism industry.
Assessment
Assessment takes a variety of forms including written assignments, online tests, role plays, practical work, group work and observation
Progression
After successfully completing the course at merit level with good attendance and disciplinary record, you can progress onto the Level 3 Diploma in Travel and Tourism with Cabin Crew.
Career Progression
The Travel and Tourism sector continues to grow which means there is a huge demand for a more flexibly skilled workforce. There are lots of opportunities available and you could get to travel abroad on a regular basis.
Careers include;
Air Cabin Crew
Travel agent
Tourist guide
Holiday resort reps.
This course provides lots of opportunities to meet potential employers and many of our students have successfully secured employment with them at travel agencies, the airport and holiday resorts either on an apprenticeship basis or direct employment.
Fees
Currently for UK students aged under 19 years old on the 31st August prior to the start of your course, your tuition fees are free. In addition to this there will be costs for an atlas and visitor attraction guide, approximately £45, and trips. There may be opportunities for students to participate in a study visit, this will be advised at enrolment. All students wear a uniform of black trousers or skirt, red polo shirt and black hoodie which can be ordered and purchased at enrolment. Financial support could be available depending on your circumstances. Please check our Finance pages for fee information and any financial help that may be available.
Latest News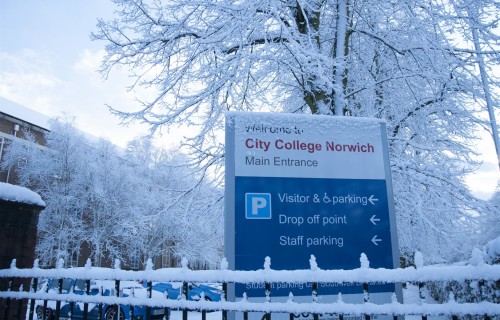 National Lockdown: "It's vital to focus on your course"A message from the Principal: I know that some of you will have been revising and preparing for your exam or controlled assessment...
Read more
11th January 2021