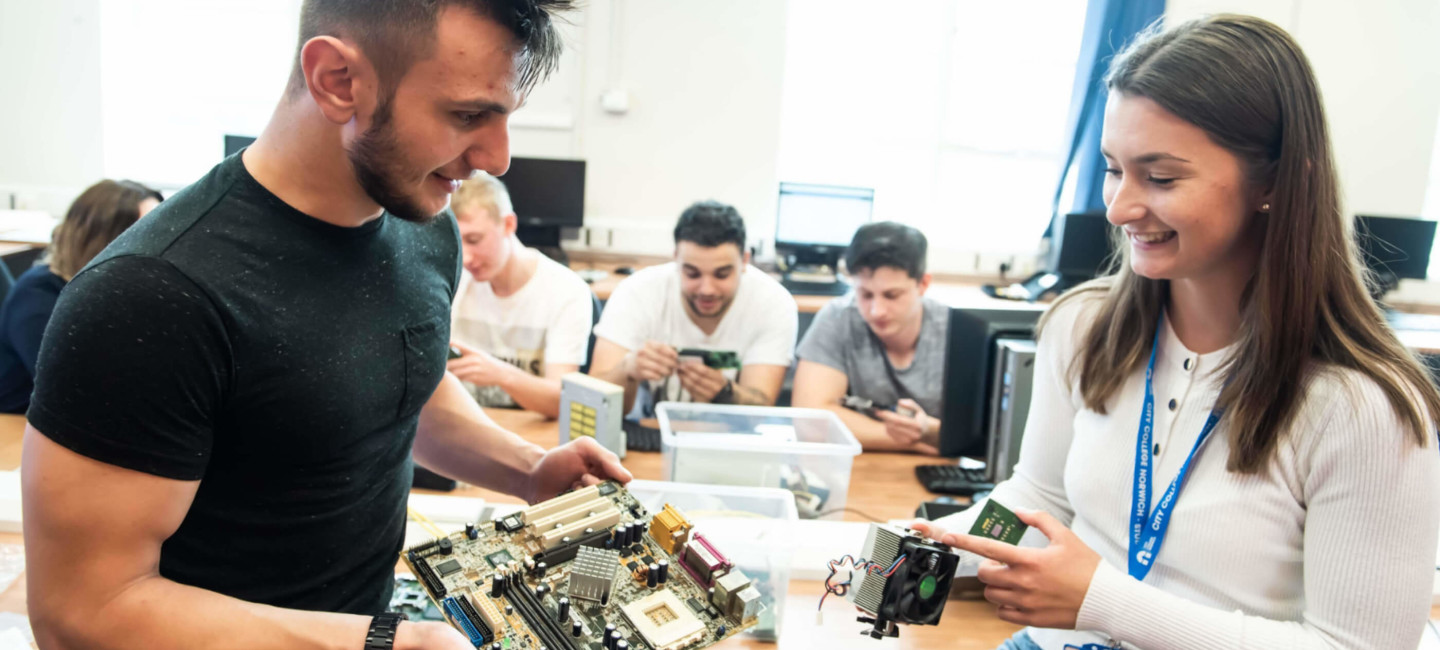 Information Technology and Computing, Level 3
Level
Level 3

Duration
1 year

Start Date
August 2021

Venue
Ipswich Road

Course Code
A0308
Summary
You will be enrolled onto a full time Programme of Study which is made up of various elements, but will fundamentally be underpinned by a main qualification. All elements of the programme are mandatory and must be attended. Your programme of study will be made up of the following: Level 3 Foundation Diploma in Information Technology (units inc: Information Technology Systems; Creating Systems to Manage Information; Using Social Media in Business; Programming; Website Development; Mobile Apps Development External work experience Employability Project Employability and enrichment activities, including bite size one-off employer experiences both onsite and offsite, and, blended individual learning experiences (e.g. Microsoft Code Academy, MTA, Comptia, A+ etc.) Soft skills development for employment (i.e. customer service, communication skills, agile development, team working, time management etc). Tutorial English (where required if you have not achieved a grade C/4 or above) The Programme of Study above has been designed and shaped with local employers to ensure that we provide young people with a pathway into this diverse and exciting sector. It's allowed us to ensure that the course content and the skills that you'll develop align with those required by employers and the industry. Having devised the programme alongside employers, it helps us to teach you the behaviours expected for work. We will constantly be referring to the workplace, making you think ahead about being in work. 'You would in the workplace' is something that the college promotes to all students. All employers expect their employees to be at work 100%, we expect the same from you in terms of your Programme of Study.
Why our college?
Industry standard facilities
At our college you will have access to industry-standard facilities and get to use top of the range equipment. On our campus you'll find media suites, TV studios, design labs, workshops, hair & beauty salons, working kitchens and a live theatre.
Gain real experiences of work
All of our courses will provide you with outstanding experiences of work and prepare you for your future career. You will work with real employers and customers and build connections.
A unique student experience
This is what really sets us apart. At our college you will experience the freedom to be yourself. Being part of an active Students' Union, having opportunities to travel and enjoying live entertainment are just a few of the amazing opportunities available to you.
Entry Requirements
A minimum of 5 GCSEs at grade C/4 and above, which must include maths at grade C/5 and above. Plus, evidence of a clear interest and passion for a career within the IT industry.
Please note, that should you wish to progress onto Higher Education within IT, most universities will ask for a grade B or grade 6 minimum in maths - so our advice is, aim for that initially.
Assessment
The main qualification, Level 3 Foundation Diploma in Information Technology is both internally and externally assessed. For the externally assessed units, the assessments are provided by the Awarding Organisation and will be conducted in exam conditions. For these externally assessed units, there is only one assessment window, so it's imperative to know your stuff for these. In terms of the internally assessed units, these are devised by your lecturer, plus you may be able to put ideas forward for your assessments, but they have to be guided by the criteria set by the Awarding Organisation. There are strict guidelines set which need to be followed and limited opportunities to resubmit work. Other elements of the Programme of Study are internally assessed, although for the work experience element, we will request feedback from the employers in relation to your performance. For those needing to study GCSE English to achieve your grade C, there will be an externally set exam in the summer term.
Progression
A successful completion of the Programme of Study, you could progress onto another 1-year Level 3 to 'top-up' to the Extended Diploma in Information and Technology. Should you choose to progress onto this provision, there will be clear progression criteria and expectations that will have to be met in terms of attendance, behaviour, etc. Our expectation is that you're here 100% as mentioned previously, as that will be the expectation of future employers. On completion of the 'top-up- to the Extended Diploma, there will be a great opportunity to progress onto Higher Education and study a degree course in areas such as computer science, computer programming and website development to name a few. Remember, if you do want to progress onto Higher Education, your application needs to be in early as UCAS set a deadline of mid January, so we encourage you to complete it by the end of November to allow your lecturer time to write your references. There will also be opportunities to progress onto an Apprenticeship if that is the preferred route suited to you.
Fees
You may be required to pay a small amount towards some learning activities that might take place on your course, or for some specific learning materials. As a college student, you will be provided with a £20 allowance for printing/photocopying, so we suggest that you really think and consider what you need to print out because once it's gone, it's gone.
Latest News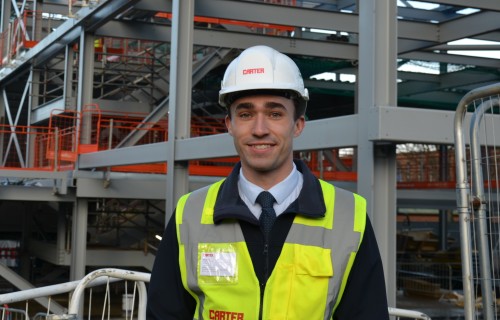 A former student is back at City College Norwich helping to oversee the building of the Digi-Tech Factory – and he is inspiring today's students to aim high in their own construction careers.
Read more
3rd December 2020