CIPD Associate Diploma in People Management Level 5
Level
Level 4

Duration
3 years

Start Date
January 2022

Venue
Norfolk House, Exchange Street

Course Code
H0492
Summary
With a CIPD Level 5 Associate Diploma in People Management, you'll no longer simply support change in your organisation – you'll help drive it. This qualification is perfect for you if you enjoy developing and managing people. You'll expand your knowledge of HR with a combination of core units and specialist areas – helping you focus on what matters most to you.
Build on your existing knowledge and specialise in People Management
Increase your knowledge in employment relationship management, talent management and performance reward
Take the next step up into a more senior people profession role
Successful completion of this course allows for professional membership with CIPD as an Associate Member this establishes credibility as a professional, raises your profile and open doors to new job opportunities.
Please note: This course has multiple start dates throughout the year.
Entry Requirements
There will be an interview process for entry onto this course, the candidate must have their CV and Job description to ensure the candidate is at the correct level to achieve this qualification and to ensure the job role exposes the candidate to suitable opportunities throughout the programme of study.
Ideally applicants will have level 4 or above (Grade C or above) at GCSE, an initial assessment using BKSB will be conducted to identify support needs for English and Maths if appropriate with the delivery team.
Open to applicants aged 18+ years who want to learn about people practice or learning and development practice
Applicants should ideally have the support of their employer for mentoring purposes.
Learning Outcomes
Core units
Organisational performance and culture in practice
Evidenced based practice
Professional behaviours and valuing people
Specialist units
Employment relationship management
Talent management and workforce planning
Reward for performance and contribution
Optional units (choose one)
Well-being at work
Learning and Development
Objective
This qualification will help you gain a deeper understanding of the professional behaviours that lead to organisational success. You will learn how to manage relationships, foster talent, guide to strategic planning and reward performance.
Assessment
You'll hone your people management knowledge, as well as choosing from optional units that you can tailor to your specific interests. You'll focus on real-life scenarios, acquiring the core behaviours derived from the CIPD's new Profession Map, which is based on the cumulative insights of thousands of experts.
Course assessment: There is a minimum of seven summative assessments, aligned to the curriculum; undertaken via a holistic mix of: Written assignments, presentations, self-reflective journals, simulated activities, group work, and professional case studies.
Estimated home study required: A minimum of 7 hours per week is recommended.
Progression
BA (Hons) Business Management
Chartered Manager Degree Apprenticeship
CIPD Level 7 Advanced Diploma in Strategic People Management
CIPD Level 7 Diploma in Strategic Learning and Development
Career Progression
Successful achievement of the CIPD Level 5 Associate Diploma in People Management will allow progression onto the CIPD Level 7 Advanced Diploma in Strategic People Management or the CIPD Level 7 Diploma in Strategic Learning and Development
Fees
Tuition fees are £2950
All students must apply for CIPD student membership and maintain that membership for the duration of the programme. Please apply via the CIPD website for current costs.

Textbook required (not provided by City College Norwich):
Learning and Development practice in the workplace 4th edition. K Beevers, D Hayden and A Rea
Armstrong's handbook of human resource management practice 15th edition. M Armstrong and S Taylor
*additional textbooks may be required depending upon specialist route taken
Latest News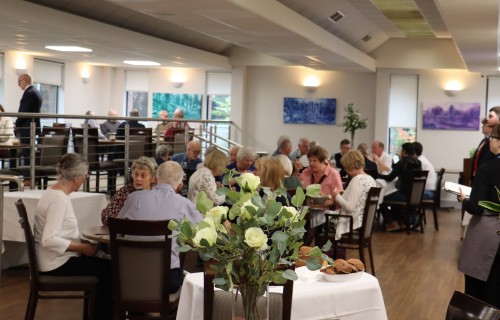 The Debut Restaurant has been awarded a 'Highly Commended' AA College Rosette for the quality of its food and service.
Read more
17th May 2022