Introduction to Crime and Criminology - £70
Level
Leisure

Duration
5 weeks

Start Date
Monday 24th February 2020

Venue
Ipswich Road

Course Code
H0399
Start Date
Monday 24th February 2020, Part Time
Summary
If you are interested in learning about crime, then this multi faceted course is for you.
The course structure is as follows:
Week 1 - What is Crime?
What is crime and how do we define it? How is crime different from deviance? Who sets the boundaries of what is criminal and what isn't? Examine the different types of crime such as terrorism, green and state crime.
Week 2 - Who commits crime and why?
Who is likely to become a criminal based on age, gender, class and ethnicity? Examine different criminology theories about why people commit crime such as subcultural theory the new right.
Week 3 - Responses to Crime
What methods are used by the police and other law enforcement organisations to combat crime? We will examine the different surveillance techniques used such as CCTV and the use of anti-social behaviour orders, cautions and prison.
Week 4 - Criminal Psychology
What psychological explanations can be given for criminal behaviour particularly extreme criminal behaviour such as serial killing, terrorism, paedophilia or rape?
Week 5 - Global Crime
Why do some parts of the world have higher crime rates than others? How do economics, globalisation and inequality relate to these trends? We will look at certain global crimes, cyber-crime, terrorism and drug trafficking.
Week 6 - Crimes in Norfolk
We will look at famous case studies of crimes in Norfolk such as Tony Martin case as well as the general crime trends across the county with the use of crime maps. We will also look at specific criminal trends across the county such as the issue around 'county lines'.
Course Details: Mondays 6-8.30pm (24/02/20 - 30/03/20)
Why Our College?
Specialist teaching staff
Our courses are delivered by in-house expert teaching staff and external specialists
Industry standard facilities
Courses are held at our Ipswich Road campus, ensuring you have access to our cutting edge college facilities
A wide range of courses
We offer a wide range of part time and evening courses
Fees
£70.00

Please note that courses may be cancelled if minimum numbers are not met. Please be aware that if you are no longer able to attend your course you will be offered an alternative date where available, however no refunds are available unless this course is cancelled by City College Norwich.
Book Online for Introduction to Crime and Criminology
Latest News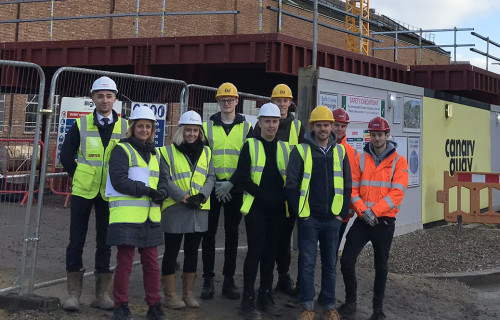 HND Construction and the Built Environment students have visited a major residential development in Norwich.
Read more
20th January 2020