Conversational French (Intermediate Beginners)
Level
Leisure

Duration
2 months

Start Date
Wednesday 30th October 2019

Venue
Ipswich Road

Course Code
H0390
Start Date
Wednesday 30th October 2019, Part Time
Summary
Do you want to develop your conversational skills to speak and understand French in everyday contexts. Explore a wide range of topics relating to the French Culture. This course is aimed at those who have some basic knowledge of French.
The course content includes the following;
Week 1 - Recap on content so far: revision of premiers contacts (presenting yourself and your family, describing local facilities)
Week 2 - En vacances: talking about the weather, months of the year, seasons
Week 3 - Renseignements: withdrawing money at the bank, requesting information on services, simple emails
Week 4 - A table: Recap: ordering in cafes, apologising and complaining, asking questions
Week 5 - Voyages: Asking for travel information, buying tickets, comparing journeys
Week 6 - A l'hotel: making forward arrangements, telephoning, booking into a hotel, finding the best hotel deal
Course details: Wednesdays ( 30/10/19 - 04/12/19)
Time: 6-8pm
Please bring paper or notepad (which will be your vocab book) and a pen.
Why Our College?
Specialist teaching staff
Our courses are delivered by in-house expert teaching staff and external specialists
Industry standard facilities
Courses are held at our Ipswich Road campus, ensuring you have access to our cutting edge college facilities
A wide range of courses
We offer a wide range of part time and evening courses
Entry Requirements
The course is aimed at those who have some basic knowledge of French.
Learning Outcomes
After completing this course you should be able to confidently speak and understand basic French in everyday contexts and on holiday.
Fees
£80.00

Please note that courses may be cancelled if minimum numbers are not met. Please be aware that if you are no longer able to attend your course you will be offered an alternative date where available, however no refunds are available unless this course is cancelled by City College Norwich.
Latest News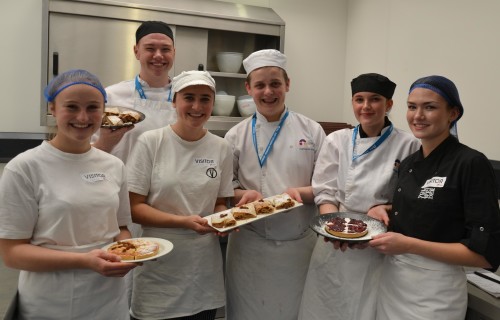 Students and staff from the Hotel School at City College Norwich have welcomed their counterparts from Berufsbildungsschule Winterthur.
Read more
9th October 2019