Beginners Sewing - Make a Christmas Stocking
Level
Leisure

Duration
1 day

Start Date
Tuesday 10th December 2019

Venue
Ipswich Road

Course Code
H0389
Start Date
Tuesday 10th December 2019, Part Time
Summary
If you would like to learn how to make your own festive stocking, then this is the course for you. This is an opportunity to learn to make a simple stocking. During the course you will learn basic sewing techniques by hand and sewing machine. The course is aimed at beginners that would like to explore the craft of sewing and take home their own unique festive stocking.
During this course you will explore how to master the following techniques:
Cutting out fabric
Making seams
Simple quilting
Decorative embroidery
Hems
Application of binding
Course day: Tuesday
Course time: 6-9pm
Course duration: 1 session
Why Our College?
Specialist teaching staff
Our courses are delivered by in-house expert teaching staff and external specialists
Industry standard facilities
Courses are held at our Ipswich Road campus, ensuring you have access to our cutting edge college facilities
A wide range of courses
We offer a wide range of part time and evening courses
Learning Outcomes
At the end of this course you will have gained the confidence to make a festive stocking
Fees
£30.00

Please note that courses may be cancelled if minimum numbers are not met. Please be aware that if you are no longer able to attend your course you will be offered an alternative date where available, however no refunds are available unless this course is cancelled by City College Norwich.
Latest News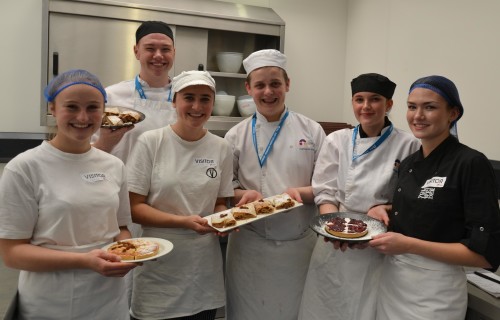 Students and staff from the Hotel School at City College Norwich have welcomed their counterparts from Berufsbildungsschule Winterthur.
Read more
9th October 2019