Basic Dressmaking - Make a dress
Level
Leisure

Duration
2 weeks

Start Date
Friday 16th August 2019

Venue
Ipswich Road

Course Code
H0383
Start Date
Friday 16th August 2019, Part Time
Summary
If you want to make a simple dress and need help, this is the course for you. This is an opportunity to learn to make a simple dress.
The course is aimed at beginners that have attended the basic sewing course or those that have basic sewing skills and want to learn how to make your own dresses.
During the sessions you will make samples of techniques required to make a simple dress. You will explore how to master the following techniques:
- How to select a pattern and fabrics and how to read and use commercial patterns
- Making a toile to test fit
- How to sew darts and shape fabric to fit around a body which includes contour darts and bust darts
- Inserting zips into seams
- Application of binding to armhole or neck edges
- Facings for neck and armholes
- Adding cap sleeves into garments using gathering and easing smoothly into garments
- Hems
- Adding closures, buttons, snaps and hooks and eyes
- Adding elastic to waist and neck and arm edging
This course is over 3 sessions on Fridays 16th, 23rd and 30th August 1-4pm
You will need to buy your fabric, pattern and accessories for each project. The pattern is New Look Pattern 6095 and your fabric requirements will be -
115cm wide fabric 2.6m or
150cm wide fabric 1.4m
Contrast 0.5m all width
Zip x 20 inches
Thread to match
You may need extra fabric if you want a longer dress - look at finished length on pattern 37-38 inches form base of back of neck
Entry Requirements
Attended Basic Sewing or have a basic knowledge of sewing
Learning Outcomes
After completing the course you will have gained the confidence to make a basic straight shift dress using patterns and sharpened techniques for dressmaking/sewing.
Fees
£70.00
Please note that courses may be cancelled if minimum numbers are not met. Please be aware that if you are no longer able to attend your course you will be offered an alternative date where available, however no refunds are available unless this course is cancelled by City College Norwich.
Latest News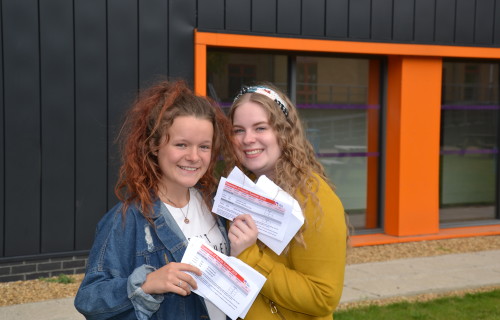 The StartUp Lounge was a hive of activity on A Level results day, as our A Level and AS students came in to pick up their exam results.
Read more
15th August 2019