Social Worker Degree Apprenticeship Standard
Level
Level 6

Duration
4 years

Start Date
January 2020

Venue
Norfolk House, Exchange Street

Course Code
K0001
Start Date
January 2020, Apprenticeship
Summary
The Social Worker Degree Apprenticeship at City College Norwich has been developed solely for Norfolk County Council (NCC) staff and requires the local authority to agree to both fund and support the Apprentice throughout the duration of the programme.
The Social Work Degree Apprenticeship has been designed to support the development of social care practitioners to address a skills gaps and promote opportunities for career progression, in line with government directions. It is a bespoke course, designed to meet the employer's priorities and needs, the Social Work Apprenticeship Standards and other occupational standards (Professional Capabilities Framework (PCF), Knowledge and Skills Statements (KSS), the QAA Benchmark Statement for Social Work, the Health and Care Professionals Council (HCPC) Standards of Proficiency (SoPs) and Social Work England. The course will continue to contribute to the workforce at Norfolk County Council through the development of knowledge and employability skills of their staff.
The Social Worker Degree Apprenticeship requires the apprentice to successfully complete an End Point Assessment, to demonstrate that they have met all the Social Work Apprenticeship Standards and meet the required standard of competency to apply for registration with Social Work England.
To gain the knowledge and skills required for the Apprenticeship, the programme incorporates a BA (Hons) Social Work degree, which is validated by UEA. This apprenticeship programme, including the degree, has been approved by the HCPC (The Health and Care Professions Council) and will be on Social Work England's approved provider list.
Course Duration: 36 months
Why our College?
Outstanding progression
97% of our full time gradates and 100% of our part time graduates are in employment of further study 6 months after completing their degree (Teaching Excellence and Student Outcomes).
This places our College in the top 10% of providers and provides you with excellent routes to get you to where you want to be.
Flexible study options
Most of our courses require no more than two days attendance at college. This means you can continue to work alongside your studies and balance other commitments.
Smaller class sizes
Our smaller class sizes mean you get all the support you need during studies. This is a crucial difference to larger universities and provides you with access to your lecturers when you need them.
Entry Requirements
The local authority will select apprentices from within their workforce. Candidates will be interviewed jointly (including service-users) using the admissions protocol developed by Norfolk County Council and City College Norwich. The assessments are completed jointly with staff from the college and the employer, so that the decision can be made jointly around suitability. Norfolk County Council determine the entry criteria for the programme.
· At least two years' practice experience.
· Level 2 Mathematics and English (GCSE grade C or equivalent).
· Level 3 qualification (96 UCAS points) or equivalent.
The HCPC also require a Social Worker to be able to communicate in English (HCPC Standards of Proficiency 8.8): 'be able to communicate at Level 7 of the International Language Testing System (with no element below 6.5)
Learning Outcomes
This course is offered as part of a modular, credit-based scheme which is comprised of modules of 20 and 30 credits:
Year 1: Level 4 modules comprise:
Higher Learning Skills (20 credits),
Introduction to Social Work (20 credits),
Safe Professional Practice (20 credits),
Psychosocial Perspectives of Social Work Across the Lifespan (20 credits),
The Research Literate Social Worker (20 credits)
Assessment and Risk in Social Work Practice (20 credits).
In addition, to these academic modules, apprentices will undertake underpinning topics covering The Social Worker, Digital Skills, Ethics and Values, Embracing Diversity, Anti-Oppressive practice, and Cultural Competence
Year 2: Level 5 modules comprise:-
Working with Adults (20 credits),
Working with Children and Families (20 credits),
Mental Health Across the Lifespan (20 credits),
Application of Law in Social Work (20 credits),
Effective Interventions (20 credits)
Evidence-Based Decision Making (20 credits).
In addition, to these academic modules, apprentices will undertake underpinning topics covering Domestic Violence, Substance Misuse, Professional Resilience, Learning Disabilities/Autism, Poverty and Social Justice
Year 3: Level 6 modules comprise:-
Working with Complexity (20 credits),
The Social Worker and Service Improvements (20 credits),
Leadership and Supervision (20 credits),
End Point Assessment (EPA) Strand 1 (30 credits)
EPA Strand 2 (30 credits).
In addition, to these academic modules, apprentices will undertake underpinning topics covering Contemporary Issues in Social Work, and preparation for the EPA Gateway.
Alongside the academic modules the apprentices will practice in three different work rotations in Adult and Children's Services settings. There will be two periods of assessed practice undertaken by qualified Practice Educators.
Career Progression
As an Integrated Degree Apprenticeship, the learning outcomes and indicative content have been designed to enable the apprentice to embed academic learning in practice and to complete assignments around workplace scenarios where possible. Transferable employability skills are embedded in the learning outcomes in the modules through the application of analytical thinking, problem solving, communication, and reflective practice. In addition to the generic employability skills threaded throughout, specific modules encourage a particular focus on certain areas. For example, the Introduction to Social Work Practice module enables students to develop a 'digital professional learning network'.
Successful completion of this programme provides eligibility to apply for registration with the Social Work England. It is a legal requirement that anyone who wishes to practice using a title protected by the Health and Social Work Professions Order 2001 is on the SWE Register. For more information, please see the SWE website at https://socialworkengland.org.uk/registration-feedback/ for guidance
Fees
Levy Payer - £23,000
Latest News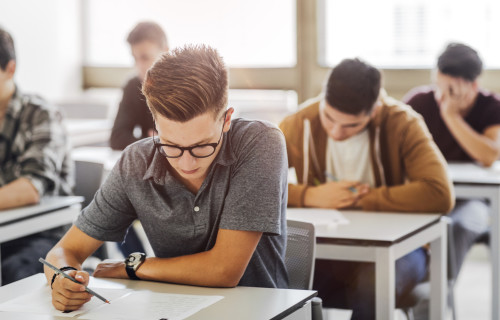 Following the government's announcement about the cancellation of exams, find out what this means for your in terms of qualifications and progression.
Read more
20th March 2020