Art & Design, Foundation Diploma Level 3
Level
Level 3

Duration
1 year

Start Date
September 2022

Venue
CCN-Main Campus

Course Code
A5279
Start Date
September 2022, Full Time
Summary
The UAL Art , Design - Foundation Diploma at City College Norwich is primarily designed for students who have completed A Levels, but need a one-year broad-based Art and Design course to prepare them for university and art school. This pivotal qualification has been designed to encourage exploration, experimentation and risk taking, which will extend the your critical independence and enable you to demonstrate a full understanding of the relevant standards required to achieve progression to higher education.
Students will develop independent ways of working, a greater critical awareness of their own work, and that of others, and also develop an understanding of the career opportunities in creative industries. You will develop a range of practical skills using a variety of media, explored through themed projects and will include 2D, 3D and time-based media. Subjects include; painting, textiles, drawing, printmaking, photography, sculpture and digital art practice. You will be able to research information and develop knowledge of historical and contemporary art practice. As you progress you will be able to develop your ideas, analytical skills and communication skills. In the third stage, you will be working through a self-generated final major project, which will be exhibited in an end of year show.
Follow @CCNCreativeArts on Twitter or @CCNcreative on Instagram for updates and examples of current student work.
Entry Requirements
This unique opportunity is available to students who want to progress onto Higher Education and Art School, but want to spend a year refining and developing their creative expression. Students will have a minimum of 2 full A levels at grade C or above as well as a strong, vibrant and varied portfolio of work that will be presented at an informal interview. Provide a reference.
Learning Outcomes
The Level 3 Diploma in Foundation Studies – Art , Design has been designed to provide students with opportunities to develop the skills, knowledge and understanding required to progress successfully into higher education.
Objective
UAL Awarding Body is currently the UK's largest provider of the Diploma in Art , Design - Foundation Studies (FAD) qualification. Distinction grade at Level 3 provides 112 UCAS points, however what is more important to Higher Education institutes and art schools is that you will be able to provide a mature, varied and substantial portfolio of work to support your application.
Assessment
The Foundation Diploma is portfolio based, with students exploring and developing a wide range of skills and a huge variety of techniques. In the spring/summer term students work on their end point assessment (often referred to as a Final Major project) which will dictate their grade for the academic year. Work is marked at Pass (80 UCAS Points), Merit (96 UCAS Points) and Distinction (112 UCAS Points) at Level 3.
Progression
Our Foundation Diploma students normally progress onto their first choice Higher Education university and art school. Previous students have progressed to Central St Martins, London College of Fashion, Wimbledon College of Arts, NUA and The Glasgow School of Art studying a variety of BA (Hons) degrees including Fine Art, Print , Time-Based Media, Product Design, Sound and Moving Image and Fashion Design.
Career Progression
City College Norwich is a member of the University of the Arts London Progression Partnership to promote the recruitment of talented, creative students from high quality further education institutions to UAL higher education degree level courses. The course team also work with local and national higher education providers to ensure that our students are ready and prepared for their next step. We also work collaboratively with local, national and international artists and creative agencies to provide fantastic experience of work for our students and also to ensure that our courses prepare students well for their future careers in the industry. City College Norwich also has an outstanding Apprenticeship team who can provide advice and guidance for students wishing to follow an Apprenticeship route into the industry.
For those students who choose not to pursue careers within the creative industries the course provides fantastic opportunities to develop collaborative working skills, problem-solving, creative and the higher order evaluative skills demanded by universities and employers
Fees
If you are a UK or home fee status student and aged 16-18 on the 31st August before the start of your course, tuition fees are free. If you are aged 19 and over please contact the Advice Shop. Please check our Finance pages for information on loans, bursaries, fee information and student travel offers that are available. Alternatively please contact the Advice Shop.

All students will need to provide their own basic equipment, with a list provided during induction. Students pay for enrichment trips and educational visits during the academic year. International trips are optional and are at additional cost payable by the student.
Latest News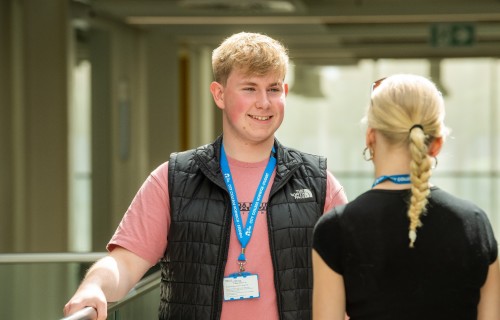 Our College has an active Students' Union, which is here to give a voice to all our students. Here's a brief introduction to the SU and its President, Lewis Pepperell.
Read more
5th September 2022