Software Development Technician Apprenticeship Level 3 Standard
Level
Level 3

Duration
2 years

Start Date
August 2019

Venue
Ipswich Road

Course Code
E0203
Start Date
August 2019, Apprenticeship
Summary
A Software Development Technician typically works as part of a software development team, to build simple software components (whether web, mobile or desktop applications) to be used by other members of the team as part of larger software development projects. They will interpret simple design requirements for discrete components of the project under supervision. The approach will typically include implementing code, which other team members have developed, to produce the required component. The Software Development Technician will also be engaged in testing that the specific component meets its intended functionality.
Course Content includes:
Logic: writes simple code for discrete software components following an appropriate logical approach to agreed standards (web, mobile or desktop applications)
Responds to the business environment and business issues related to software development
Understands the structure of software applications
Understands the end user context for the software development activity.
Problem solving.
You will complete the Level 3 Software Development Technician Apprenticeship Standard.
This Apprenticeship will involve college attendance and off the job training.
You will also develop your knowledge, skills and behaviours.
You need to have an employer to support your Apprenticeship and be employed in a relevant job role.
The typical length of this Apprenticeship course is 18-24 months.
This course has multiple start dates.
Contact our Apprenticeship Team to find out when our next course start date is.
If you already have an employer for your Apprenticeship, or would like more information on how to find an Apprenticeship, please click Apply Now.
If you are an Employer who is looking to recruit an Apprentice or already have someone you would like to enrol onto the Apprenticeship course, please contact our Apprenticeship Team on 01603 773365 or email EmployerPartnerships@CCN.ac.uk to discuss next steps.
Why Our College?
Get paid to train
Apprenticeships provide fantastic career opportunities and allow you to get a qualification and earn money at the same time
Designed for opportunity
94% of apprentices stay in work after finishing an apprenticeship, and 47% have received a promotion
Hands on learning
We work closely with employers to deliver training both on and off the job. In most cases, you'll come into college one day a week, as well as getting planned training and development with a mentor in the workplace
Entry Requirements
Individual employers will set the selection criteria, but this is likely to include 5 GCSEs (especially English, Mathematics and a science or technology subject); other relevant qualifications and experience; or an aptitude test with a focus on IT skills.
In order to enrol onto an Apprenticeship, you need to be employed in a relevant job role and undertake a range of tasks which would enable you to complete the Apprenticeship qualification.
Learning Outcomes
For the full Apprenticeship, candidates will complete:
Software Development Context and Methodologies (for Level 3 Software Development Technician)
Programming (for Level 3 Software Development Technician)
Level 2 Functional Skills in English
Level 2 Functional Skills in Maths
Assessment
Training and assessments are delivered in the workplace and in college. Apprentices will be required to attend college-based sessions as part of their training, whilst also completing off-the-job training in the workplace. You will also complete assessments and observations in the workplace.
You will need to complete Level 2 Maths and English before End Point Assessment.
At the end of the Apprenticeship you will complete an End Point Assessment which will comprise of:
A portfolio – presented towards the end of the apprenticeship, containing evidence from real work projects which have been completed during the apprenticeship, usually towards the end, and which, taken together, cover the totality of the standard, and which is assessed as part of the end point assessment
A project - giving the apprentice the opportunity to undertake a business-related project over a one-week period away from the day to day workplace
A an employer reference
A structured interview with an assessor - exploring what has been presented in the portfolio and the project as well as looking at how it has been produced.
Progression
Software Developer, Developer, Web Developer, Application Developer, Mobile App Developer, Games Developer, Application Support Analyst, Programmer or Higher Education.
Career Progression
Workplace progression or Higher Education.
Fees
Apprenticeship course fees are subject to the age of the apprentice, the payroll of the employer and the number of employees. Course fees are paid by the employer and not the apprentice. Employers who take on an apprentice aged between 16-18 years old, or with an Educational Health Care Plan, will receive an Incentive Payment to help cover their costs. To discuss Apprenticeship course fees, employers should contact the Apprenticeship Team on 0800 328 3616 or email EmployerPartnerships@ccn.ac.uk

For more information on recruiting an apprentice or if you would like to train your existing staff please contact our Apprenticeship Team on 0800 328 3616 or email EmployerPartnerships@ccn.ac.uk
Latest News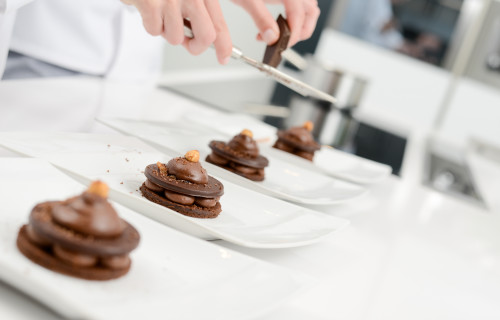 Pastry Chef Ellie, who works at Delia's Canary Catering, reflects on her journey to achieving the Commis Chef Apprenticeship standard.
Read more
5th August 2019