Engineering Technician - Machinist Level 3 Standard
Level
Level 3

Duration
4 years

Start Date
January 2021

Venue
Ipswich Road

Course Code
E0232
Start Date
January 2021, Apprenticeship
Summary
This Apprenticeship is ideal for developing skills and knowledge whilst working within the fast-paced world of Engineering. The following Standard reflects employers' requirements for the skills, knowledge and behaviours expected from someone to be competent in the job role. Engineering Technicians take responsibility for the quality and accuracy of the work they undertake within the limits of their personal authority. They also need to be able to demonstrate a core set of behaviours in order to be competent in their job role, complement wider business strategy and development. This will enable them to support their long term career development.
Course Content includes:
understanding of general engineering/manufacturing mathematical and scientific principles, methods, techniques, graphical expressions, symbols formulae and calculations used by engineering technicians
carrying out the required checks (such as quality, compliance or testing) using the correct procedures, processes and/or equipment and etc.
You will complete the Engineering Technician - Machinist Level 3 Standard
This Apprenticeship will involve college attendance and off the job training.
You will also develop your knowledge, skills and behaviours.
You need to have an employer to support your Apprenticeship and be employed in a relevant job role.
The typical length of this Apprenticeship course is 42 – 48 months.
Contact our Apprenticeship Team to find out when our next course start date is.
If you already have an employer for your Apprenticeship, or would like more information on how to find an Apprenticeship, please click Apply Now.
If you are an Employer who is looking to recruit an Apprentice or already have someone you would like to enrol onto the Apprenticeship course, please contact our Apprenticeship Team on 01603 773365 or email Apprenticeships@ccn.ac.uk to discuss next steps.
Why Our College?
Get paid to train
Apprenticeships provide fantastic career opportunities and allow you to get a qualification and earn money at the same time
Designed for opportunity
94% of apprentices stay in work after finishing an apprenticeship, and 47% have received a promotion
Hands on learning
We work closely with employers to deliver training both on and off the job. In most cases, you'll come into college one day a week, as well as getting planned training and development with a mentor in the workplace
Entry Requirements
Applicants should hold a minimum of 4 GCSEs at grade 4 (C) or above (or the equivalents). These should include: grade 9 – 5 (A* - C) in GCSE English, Maths and Science.
GCSE in Resistant Materials or Engineering qualifications would also be desirable, but not essential.
In order to enrol onto an Apprenticeship, you need to be employed in a relevant job role and undertake a range of tasks which would enable you to complete the Apprenticeship qualification.
Learning Outcomes
For the full Apprenticeship, learners will complete:
Level 3 Engineering Technician Apprenticeship Standard – Machinist Technician
Level 2 Diploma in Advanced Manufacturing Engineering (Foundation Competence)
Level 2 Diploma in Machining (Foundation Knowledge)
Level 3 Diploma or Extended Diploma in Machining (Development Knowledge)
Level 3 Diploma in Advanced Manufacturing & Engineering (Development Competence) – Machinist Technician
Objective
You will learn about your rights and responsibilities as an employee and those of the employer with guidance from your work based assessor.
Assessment
Training and assessments are delivered in the workplace and in college. Apprentices will be required to attend college-based sessions as part of their training, whilst also completing off-the-job training in the workplace. You will also complete assessments and observations in the workplace.
The employer undertakes a Portfolio based Occupational Competence Validation Interview (Viva)
A nominated Professional Engineering Institution (PEI) or Military Independent Assessment Authority (MIAA) undertakes the independent assessment to determine if the apprentice has met the Engineering Technician requirements as defined by the UK-SPEC or relevant Military Professional Competence (MPC) requirements. The PEI/MIAA will also undertake an independent quality assurance of the Employer Viva Interview documentation and checks that the employer approved mandatory qualifications achieved during the on programme phase and checked at Gateway 2 have been achieved and certificate.
Progression
Progression onto a higher level of study or employment.
Career Progression
Career or academic progression may include continuation, development or promotion at work or within this sector and progression into higher education.
Fees
Apprenticeship course fees are subject to the age of the apprentice, the payroll of the employer and the number of employees. Course fees are paid by the employer and not the apprentice. Employers who take on an apprentice aged between 16-18 years old, or with an Educational Health Care Plan, will receive an Incentive Payment to help cover their costs. To discuss Apprenticeship course fees, employers should contact the Apprenticeship Team on 0800 328 3616 or email Apprenticeships@ccn.ac.uk

For more information on recruiting an apprentice or if you would like to train your existing staff please contact our Apprenticeship Team on 0800 328 3616 or email Apprenticeships@ccn.ac.uk
Latest News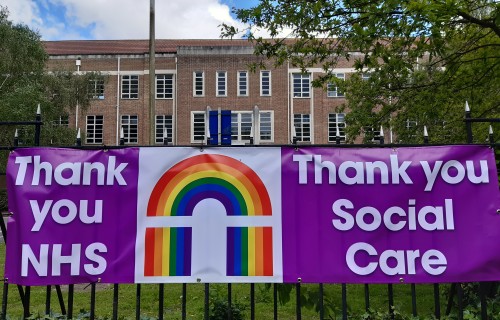 Students from our college have been playing their part in the fight against Covid-19 – to all these students we would simply like to say 'Thank you'.
Read more
19th May 2020