Early Years Educator Apprenticeship Level 3
Level
Level 3

Duration
2 years

Start Date
October 2020

Venue
Ipswich Road

Course Code
E0265
Start Date
October 2020, Apprenticeship
Summary
The intent of this course is to develop the knowledge, skills and behaviours relating to the Early Years Educator Standard and L3 Early Years Educator qualification. This is a core requirement to work in a range of full day care settings, children centres, pre-schools, reception classes and nurseries along with a full DBS check.
It also intends to prepare learners for working in modern day Britain by gaining transferable skills, knowledge & behaviours that will enable them to progress to a Degree in Early Years or Childhood Studies and management roles in the sector.
Course Content includes:
How to promote healthy lifestyles
Managing infection control
How to encourage children to participate in planned activities that reflect the stages of development
Understand legislation relating to the safeguarding, protection and welfare of children
Follow legislation relating to equality, diversity and inclusive practice
You will complete Level 3 Early Years Educator as part of this Apprenticeship.
This Apprenticeship will involve college attendance and off the job training.
You will also develop your knowledge, skills and behaviours.
You need to have an employer to support your Apprenticeship and be employed in a relevant job role.
The typical length of this Apprenticeship course is 21 months.
This course has multiple start dates throughout the year.
Contact our Apprenticeship Team to find out when our next course start date is.
If you already have an employer for your Apprenticeship, or would like more information on how to find an Apprenticeship, please click Apply Now.
If you are an Employer who is looking to recruit an Apprentice or already have someone you would like to enrol onto the Apprenticeship course, please contact our Apprenticeship Team on 01603 773365 or email Apprenticeships@ccn.ac.uk to discuss next steps.
Why Our College?
Get paid to train
Apprenticeships provide fantastic career opportunities and allow you to get a qualification and earn money at the same time
Designed for opportunity
94% of apprentices stay in work after finishing an apprenticeship, and 47% have received a promotion
Hands on learning
We work closely with employers to deliver training both on and off the job. In most cases, you'll come into college one day a week, as well as getting planned training and development with a mentor in the workplace
Entry Requirements
GCSE grades 9 – 5 (A – C) in English and Maths or equivalent Functional Skills qualifications.
If in exceptional circumstances a learner has not achieved English or Maths at Level 2 (4/C or above at GCSE or Functional Skills Level 2), they will have to attend these sessions which will be held on an additional day to their regular college attendance.
Learning Outcomes
Upon successful completion of the course, learners will be awarded with a Level 3 Early Years Educator Apprenticeship Standard, which includes the following;
o Level 3 Early Years Educator Qualification
o Level 3 Award in Paediatric First Aid (RQF)
o Level 2 in English & Maths – these are GATEWAY requirements and Certificates will be needed for evidence.
Objective
You will learn about your rights and responsibilities as an employee and those of the employer with guidance from your work based assessor.
Assessment
The End Point Assessment includes:
o Knowledge Test: assessed by an End Point Assessment Organisation (EPAO), this test will consist of multiple-choice questions on either a computer-based platform or paper based.
o Professional Discussion underpinned by a Portfolio: assessed by an IEPA, it will allow the apprentice to evidence both the knowledge gained and its application through skills and behaviours. The discussion carried out by the IEPA will thoroughly test understanding through open and follow up questions.
Progression
o A learner may choose to pursue further study at a higher level in particular a Foundation Degree in Early Years and top up to a BA in Childhood Studies.
Career Progression
o Continuation, development or promotion at work or within this sector for instance nursery supervisor, nursery manager, pre-school manager/coordinator, families worker
o The skills to further develop a specialism, such as key worker, manager, Forest School co-ordinator or families worker
Fees
Apprenticeship course fees are subject to the age of the apprentice, the payroll of the employer and the number of employees. Course fees are paid by the employer and not the apprentice. Employers who take on an apprentice aged between 16-18 years old, or with an Educational Health Care Plan, will receive an Incentive Payment to help cover their costs. To discuss Apprenticeship course fees, employers should contact the Apprenticeship Team on 0800 328 3616 or email Apprenticeships@ccn.ac.uk

For more information on recruiting an apprentice or if you would like to train your existing staff please contact our Apprenticeship Team on 0800 328 3616 or email Apprenticeships@ccn.ac.uk
Latest News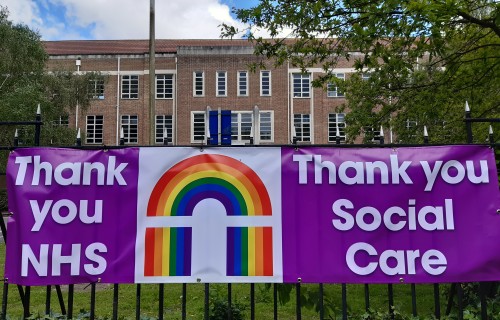 Students from our college have been playing their part in the fight against Covid-19 – to all these students we would simply like to say 'Thank you'.
Read more
19th May 2020