Cyber Security Technologist Apprenticeship Level 4
Level
Level 4

Duration
2 years

Start Date
October 2019

Venue
Ipswich Road

Course Code
E0221
Start Date
October 2019, Apprenticeship
Summary
The primary role of a Cyber Security Technologist is to apply an understanding of cyber threats hazards, risk, controls, measures and mitigations to protect organisations, systems and people. Those focused on the technical side work on areas such as security design & architecture, security testing, investigations & response. Those focused on the risk analysis side focus on areas such as operations, risk, governance & compliance. We have joined forces with Norfolk's local cyber security chapter who are offering a free mentoring service to cyber apprentices to increase skills in this area.

Course Content includes:
• Developing and using a security case
• Design Build and test a network
• Structured and reasoned implementation of security in a network
• Cyber security concepts applied to ICT infrastructure – can describe the fundamental building blocks and typical architectures and identify some common vulnerabilities in networks and systems.
• Cyber defence – describe ways to defend against attack techniques

You will complete the Level 4 Cyber Security Technologist Apprenticeship Standard.

• This Apprenticeship will involve college attendance and off the job training.
• You will also develop your knowledge, skills and behaviours.
• You need to have an employer to support your Apprenticeship and be employed in a relevant job role.
• The typical length of this Apprenticeship course is 24 months.
• This course starts in October 2019.

Contact our Apprenticeship Team to find out when our next course start date is.

If you already have an employer for your Apprenticeship, or would like more information on how to find an Apprenticeship, please click Apply Now.

If you are an Employer who is looking to recruit an Apprentice or already have someone you would like to enrol onto the Apprenticeship course, please contact our Apprenticeship Team on 01603 773365 or email EmployerPartnerships@CCN.ac.uk to discuss next steps.
Entry Requirements
• Individual employers will set the selection criteria, but this is likely to include A Levels; a relevant Level 3 Apprenticeship or other relevant qualifications with a focus on functional Maths.
• In order to enrol onto an Apprenticeship, you need to be employed in a relevant job role and undertake a range of tasks which would enable you to complete the Apprenticeship qualification.
Learning Outcomes
Apprentices must achieve each of the Ofqual-regulated Knowledge Modules, as summarised below:
Core (all the apprentices take this Knowledge Module)
• Knowledge Module 1: Cyber Security Introduction
AND
Option 1 (Technologist): in addition to the core
• Knowledge Module 2: Network and Digital Communications Theory
• Knowledge Module 3: Security Case Development and Design Good Practice Knowledge
• Module 4: Security Technology Building Blocks
• Knowledge Module 5: Employment of Cryptography
Objective
You will learn about your rights and responsibilities as an employee and those of the employer with guidance from your work based assessor.
Assessment
Training and assessments are delivered in the workplace and in college. Apprentices will be required to attend college-based sessions as part of their training, whilst also completing off-the-job training in the workplace. You will also complete assessments and observations in the workplace.

End Point Assessment is via a variety of methods, including:
1. a portfolio – presented towards the end of the apprenticeship, containing evidence from real work projects which have been completed during the apprenticeship, usually towards the end, and which, taken together, cover the totality of the standard, and which is assessed as part of the end point assessment
2. a project - giving the apprentice the opportunity to undertake a business-related project over a one-week period away from the day to day workplace
3. an employer reference
a structured interview with an assessor - exploring what has been presented in the portfolio and the project as well as looking at how it has been produced
Progression
Degree apprenticeship, CPD with relevant professional bodies.
Career Progression
This apprenticeship is recognised for entry to both IISP and BCS Associate Membership and for entry onto the Register of IT Technicians confirming SFIA Level 3 professional competence. Those completing the apprenticeship are eligible to apply for registration.
Fees
Apprenticeship course fees are subject to the age of the apprentice, the payroll of the employer and the number of employees. Course fees are paid by the employer and not the apprentice. Employers who take on an apprentice aged between 16-18 years old, or with an Educational Health Care Plan, will receive an Incentive Payment to help cover their costs. To discuss Apprenticeship course fees, employers should contact the Apprenticeship Team on 0800 328 3616 or email EmployerPartnerships@ccn.ac.uk

For more information on recruiting an apprentice or if you would like to train your existing staff please contact our Apprenticeship Team on 0800 328 3616 or email EmployerPartnerships@ccn.ac.uk
Latest News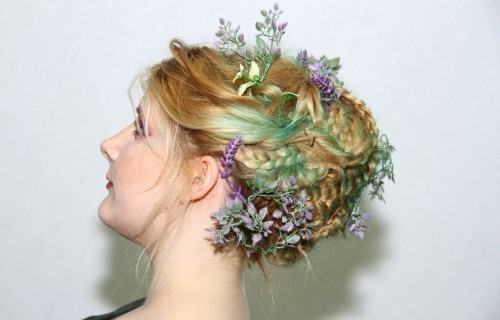 Apprentice Hair Professionals from salons across Norfolk have hosted a spectacular showcase of their talents in City College Norwich's Platform Theatre.
Read more
3rd July 2019