Children, Young People and Families Practitioner Apprenticeship Standard Level 4
Level
Level 3

Duration
2 years

Start Date
January 2021

Venue
Ipswich Road

Course Code
E0267
Start Date
January 2021, Apprenticeship
Summary
To undertake this Standard you must be working with children, young people and their families, carers and other support workers to achieve positive and sustainable change in children's lives. You will need regular supervision with an experienced practitioner to reflect on your practice and be able to evaluate the effectiveness of your methods and actions. Demonstrating a passion to care for children, young people and their families, the knowledge, skills, and behaviours developed through this programme will be invaluable when working alongside other professionals and organisations who share the vision in improving outcomes for children, young people and families.
You will complete Level 3 Diploma in Residential Childcare as part of this Apprenticeship.
This Apprenticeship will involve college attendance and off the job training.
You will also develop your knowledge, skills and behaviours.
You need to have an employer to support your Apprenticeship and be employed in a relevant job role.
The typical length of this Apprenticeship course is 24 months.
Contact our Apprenticeship Team to find out when our next course start date is.
If you already have an employer for your Apprenticeship, or would like more information on how to find an Apprenticeship, please click Apply Now.
If you are an Employer who is looking to recruit an Apprentice or already have someone you would like to enrol onto the Apprenticeship course, please contact our Apprenticeship Team on 01603 773365 or email Apprenticeships@ccn.ac.uk to discuss next steps.
Why Our College?
Get paid to train
Apprenticeships provide fantastic career opportunities and allow you to get a qualification and earn money at the same time
Designed for opportunity
94% of apprentices stay in work after finishing an apprenticeship, and 47% have received a promotion
Hands on learning
We work closely with employers to deliver training both on and off the job. In most cases, you'll come into college one day a week, as well as getting planned training and development with a mentor in the workplace
Entry Requirements
GCSE grades 9 – 4 (A – C) in English and Maths or level 2 Functional Skills qualifications in Maths and English.
If a learner has not yet achieved a Level 2 or equivalent in Maths and or English, we would recommend that they do so prior to starting this programme.
Learning Outcomes
Qualifications
Upon successful completion of the course, learners will be awarded with a Level 4 Children, Young People and Families Practitioner Apprenticeship Standard, which includes the following;
Level 3 Diploma for Residential Childcare
Objective
You will learn about your rights and responsibilities as an employee and those of the employer with guidance from your work based assessor.
Assessment
End Point Assessment
The Apprentice will be ready for End Point Assessment which includes:
Knowledge Test: assessed by an End Point Assessment Organisation (EPAO), this test will consist of multiple-choice questions on a computer-based platform. Provisions can be made for paper-based assessments to be made available if reasonable adjustments require this.
Skills Test: assessed over 1 day by an Independent End Point Assessor (IEPA), this assessment will holistically assess skills, knowledge and behaviours acquired throughout the Apprenticeship.
Oral Questioning: assessed by an IEPA following the skills test, to confirm the learners understanding and to obtain further evidence of knowledge. It will extend and amplify the ability demonstrated in the Skills Test.
Progression
Progression
The impact of this course should support a learner's progression which may include:
Level 5 in Leadership and Management in residential Childcare, or a foundation degree in a related subject I.e. social pedagogy.
Career Progression
At the end of the apprenticeship the high quality of your practice will be making a real difference to those that you work with and prepare them for working in modern day Britain by gaining transferable skills, knowledge & behaviours. You ¿can progress onto L5 in Leadership and Management in residential Childcare or to work in a variety of areas including criminal justice, pastoral work in schools and further education, residential care, youth offending teamwork.
Fees
Apprenticeship course fees are subject to the age of the apprentice, the payroll of the employer and the number of employees. Course fees are paid by the employer and not the apprentice. Employers who take on an apprentice aged between 16-18 years old, or with an Educational Health Care Plan, will receive an Incentive Payment to help cover their costs. To discuss Apprenticeship course fees, employers should contact the Apprenticeship Team on 0800 328 3616 or email Apprenticeships@ccn.ac.uk

For more information on recruiting an apprentice or if you would like to train your existing staff please contact our Apprenticeship Team on 0800 328 3616 or email Apprenticeships@ccn.ac.uk
Latest News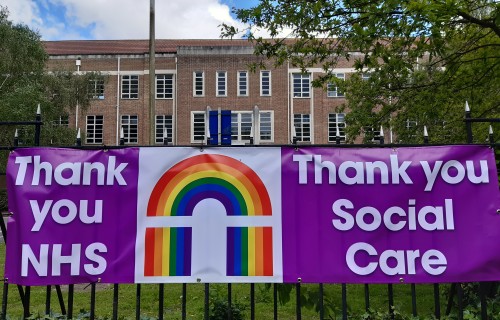 Students from our college have been playing their part in the fight against Covid-19 – to all these students we would simply like to say 'Thank you'.
Read more
19th May 2020