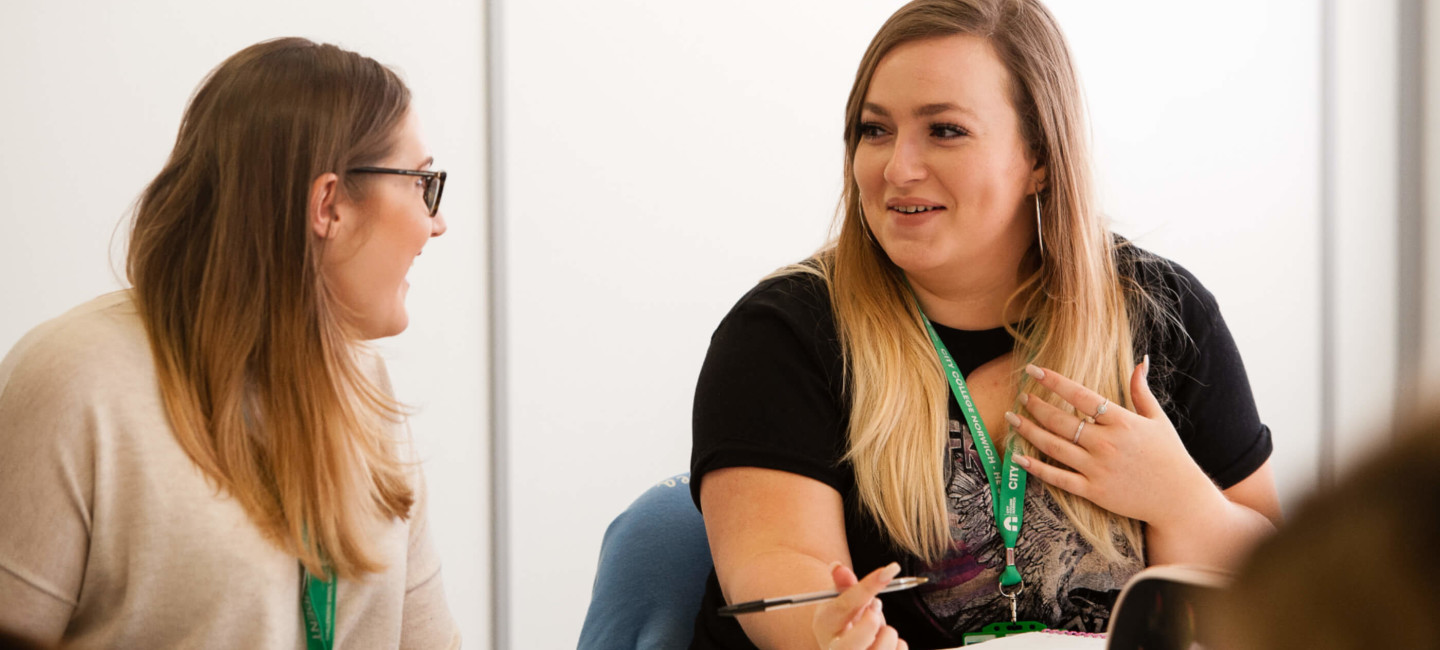 BA (Hons) Psychology with Sociology
Level
Level 6

Duration
3 years

Start Date
September 2021

Venue
Norfolk House, Exchange Street

Course Code
F0047
Summary
This programme provides a grounding in the social sciences of Psychology and Sociology. It is suited to a range of careers where employers are looking for graduates with a wide range of skills and knowledge such as handling data and statistics, critical thinking and synthesising ideas. A bachelor's degree might lead directly into many careers including marketing, advertising and childcare. It is also a vital part of training for work in counselling and psychology related professions.
The Psychology modules explore a wide range of areas and approaches: behaviourism, humanism, psychodynamic approaches, cognitive and biological psychology. Critical thinking is encouraged so students can recognise the strengths and weaknesses of applying the approaches in a range of contexts. The companion Sociology modules focus on how society functions and changes. We will study a range classic and modern sociological perspectives, apply and analyse their usefulness to understanding contemporary social issues such crime, poverty and racism.
All of City College Norwich's Degree programmes are validated by the UEA, meaning that the quality of the awards you get is assured by a world-renowned Higher Education organisation. The UEA is a UK top 15 and world top 200 university.
Teaching is usually over three terms of ten weeks, each with a weekly attendance of two days a week. You will normally study two modules, worth 20 credits, each term (plus a dissertation worth 40 credits in the third year). Teaching will involve lectures, small group sessions or seminars and tutorials.
UCAS Code C8L3
Entry Requirements
We attract students from varied backgrounds and encourage them to reach their full potential. A minimum of 80 tariff points is usually required but we have no standard offer as we take into account your reference, motivation and commitment to the course, as well as any projected or actual A level grades or other qualifications. We welcome students from Access Diplomas and applicants may be invited to interview. Please note that you must apply for this course through UCAS.
Applications from students whose first language is not English are welcome. For International students we require evidence of proficiency in English (including writing, speaking, listening and reading), the required minimum is: IELTS Academic (SELT) 6.0 overall (minimum 5.5 in all components). Please contact the Advice shop for advice and guidance. International candidates are also actively encouraged to access the International Students webpage
Assessment
All modules are assessed at the end of the term and some modules have additional mid-term assignments. We use various assessment methods, including examinations, essays, reports, presentations, portfolios, dissertations and projects.
Progression
Graduates of this course might wish to go on to further study which could include MA or PhD research.
Career Progression
Graduates might seek to follow a career in social services, education, youth work, mental health, psychology, the probation service, general management or human resources.
Latest News
  Dear Student/Apprentice, As I sit here writing about the Summer Term it is snowing; just another one of those unpredictable things that 2021 is throwing at us! I'm really pleased that from…
Read more
7th April 2021