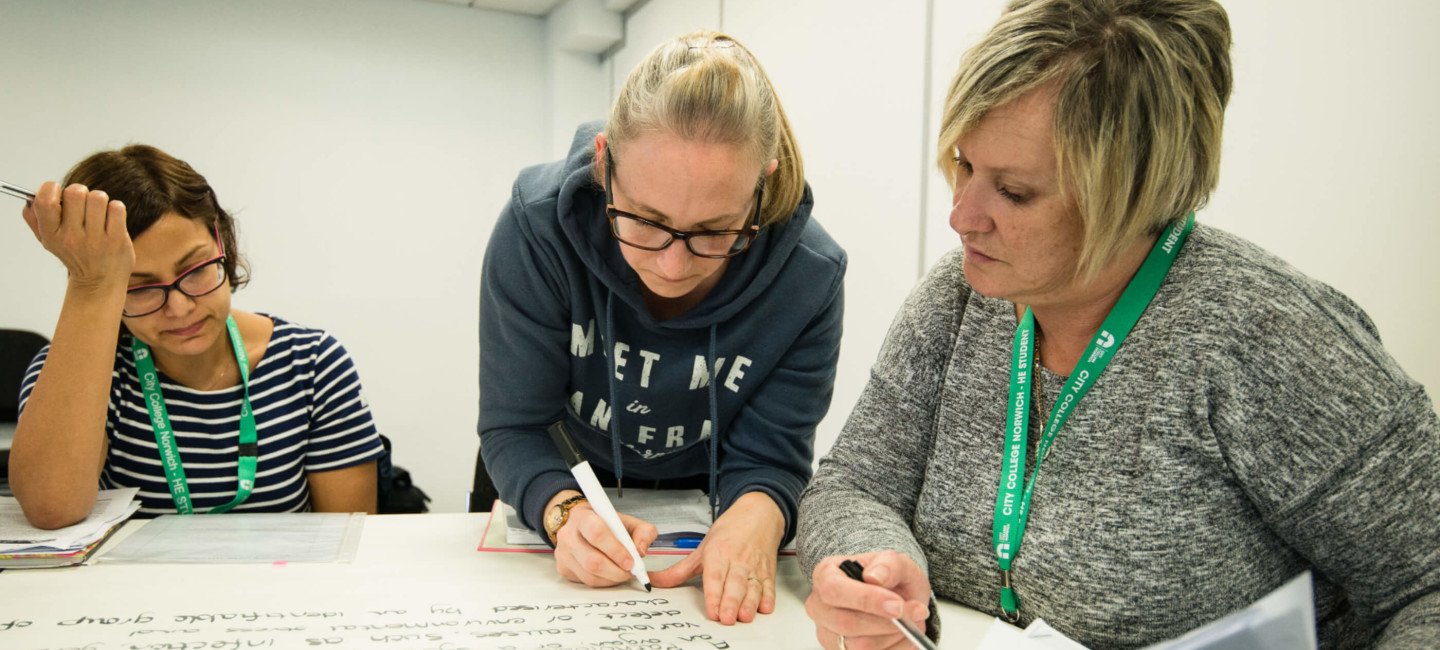 BA (Hons) Leadership in the Public Sector
Level
Level 6

Duration
3 years

Start Date
September 2021

Venue
Norfolk House, Exchange Street

Course Code
F0051
Summary
This programme has been specifically developed with the help of senior Public Sector officials in Norfolk and Suffolk and with the assistance of the UEA Partnership and is designed for students who are keen to pursue a career in the Public Sector as a manager, and specifically as a Leader. All modules contribute to a holistic understanding of Public Sector management and build on each other over the 3 years of study.
All of City College Norwich's Degree programmes are validated by the UEA, meaning that the quality of the awards you get is assured by a world renowned Higher Education organisation.
The course is delivered over 2 days a week through a mix of lectures, seminars, practical sessions, tutorials and some self-directed specific study. There is an emphasis on employability skills which means this is a vocational programme and will also enable you to both embed your learning in the workplace as well as reflect on work practice in an academic and theoretical context. Each year you will study for 120 Academic Credits. These Credits are split into 20 Credits per module in the first and second years and into 20, 30 and 40 Credit Modules in your final year. This will total the 360 Credits required for a BA (Hons) degree.
This programme also prepares you for study at Masters level and this has been a very successful progression route for students.
UCAS Code N203
Entry Requirements
Applicants should have a relevant Level 3 Diploma or NVQ Level 3 or equivalent A levels. We expect you above all to have the commitment and enthusiasm to be successful and all applicants are offered an interview. We welcome applications from mature (21+) students who have experience in practice or other suitable qualifications.
Applications from students whose first language is not English are welcome. For International students we require evidence of proficiency in English (including writing, speaking, listening and reading), the required minimum is: IELTS Academic (SELT) 6.0 overall (minimum 5.5 in all components). Please contact the Advice shop for advice and guidance. International candidates are also actively encouraged to access the International Students webpage.
Learning Outcomes
The 6 Subjects/Modules in the first year are:
Law, Higher Learning Skills, Ethics, Mental Health in the Work Place, Introduction to Leadership and Management in the Public Sector and Democracy and Politics.
The 6 Subjects/Modules in the second year are:
Research Skills for the Public Sector, Preparation for Work and Employability, Crime and Criminology, Globalisation and Security, Development of Leadership and Management skills within the Public Sector and Professional Studies and Outdoor Application.
The 4 Subjects/Modules in the third year are:
Dissertation, Individual Leadership and Management Skills within the Public Sector, Contemporary Issues and Professional Development and Mentoring
Assessment
The course will include a variety of assessment methods including essays, case studies, presentations, projects, portfolios, exams and report writing.
There is a residential week in Scotland in the second year of study and this has been based at Glenmore Lodge in the Cairngorms for the last 10 years. This week is for a Formative Assessment to take place for the 'Professional Studies and Outdoor Application' Module and will cost the Student in the region of £400. (no extra technical equipment needs to be bought).
Progression
Previous students seeking to further develop their academic knowledge have progressed onto Masters degree courses at a wide range of UK universities.
Career Progression
This well-recognised qualification will assist you in finding career opportunities in the Public Sector, Local Government or the Police and Armed Forces. However, the skills developed are also transferable to non-Public Sector organisations and previous students have been very successful in this employment sector. If you are in work, it will enhance your ability to contribute effectively to your organisation and thus the possibility of progression into and through supervisory and management roles.
Fees
£8,000 per year
Plus approximately £400 for a second year Residential (costs may fluctuate)
Latest News
  Dear Student/Apprentice, As I sit here writing about the Summer Term it is snowing; just another one of those unpredictable things that 2021 is throwing at us! I'm really pleased that from…
Read more
7th April 2021