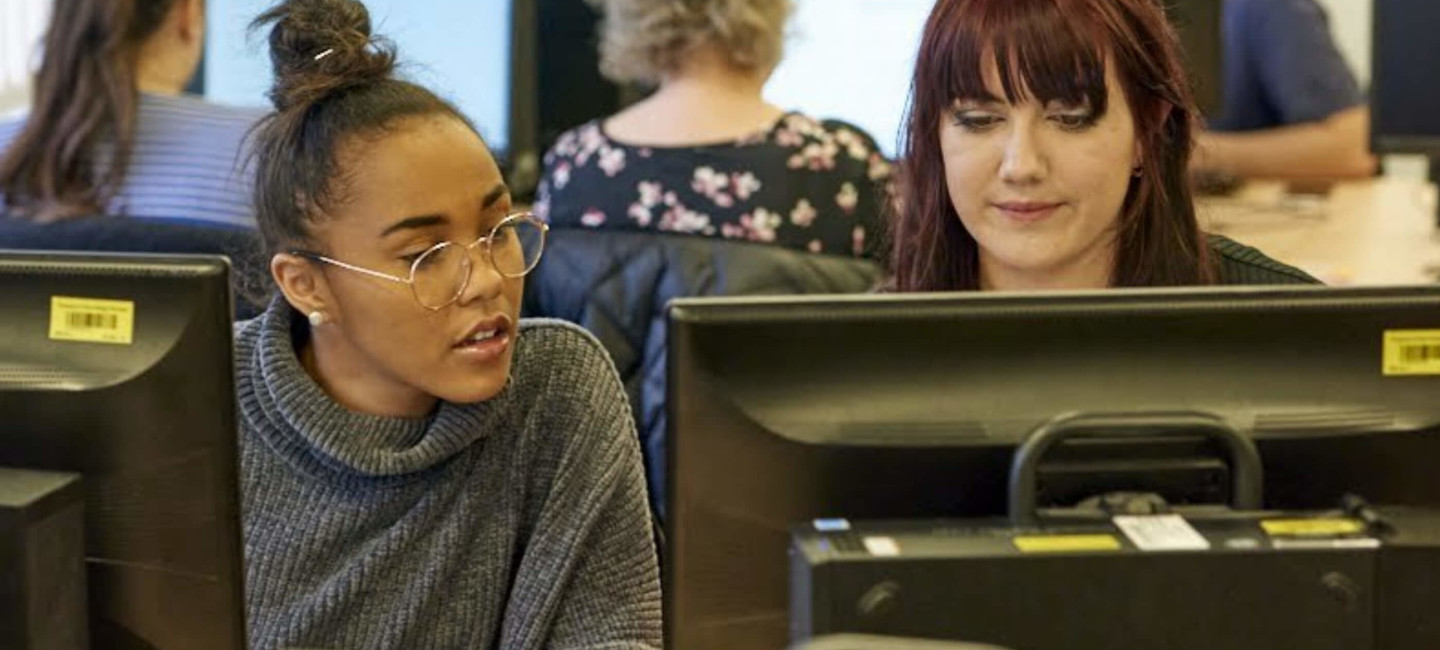 Access to Higher Education: Humanities and Social Sciences
Level
Level 3

Duration
1 year

Start Date
September 2021

Venue
Ipswich Road

Course Code
A2565
Start Date
September 2021, Full Time
Summary
You will be able to choose three main subjects from the following list:
Cultural studies: Cultural Studies is an interdisciplinary subject that marries together the concerns of English literature, Sociology, History, Media and Film studies. Units studied with this course include: The Moving Image, Representing Youth Subcultures and Representing Ethnicity in Contemporary Culture.
English: This subject covers a broad range of literature, varied in style, period and subject matter. You will be introduced to the skills of close reading and to the procedures of literary analysis. Units studied with this course include: Children's Literature, Prose Fiction and Poetry in Context and Drama Text.
History: The history units will provide you with the skills necessary to investigate the social, economic, and political factors which shape specific historical contexts. Units studied with this course include: Historical Sources, The British Empire and Period Study.
Psychology: Psychology is a social science concerned with the study of human experience. You will study abnormal Psychology, issues surrounding Conformity and Obedience and have a good grounding in the theoretical and methodological. Units studied with this course include: Perspectives in Psychology, Abnormal Psychology and Conformity and Obedience.
Sociology: Sociology is the study of individuals and groups within Society. Units studied with this course include: Introduction to Sociological Theories and Studies in the Sociology of Inequality. This subject focuses upon debates and issues concerning contemporary global society.
Government & Politics: Government & Politics helps develops an interest in the UK and domestic political issues. Units studied with this course include: Democracy, Political Philosophy and Global Politics.
Why Our College?
Developed with employers and progression in mind
All courses have been developed with employers and progression in mind, and many are part of the New Anglia Local Enterprise Partnership's 10 priority sectors
Widely recognised by Universities
Access to Higher Education courses are widely recognised by UK universities and colleges, 24,000 Access to HE students are accepted at over 140 universities every year
Financial Support
City College Norwich offers flexible payment plans to help you spread the cost of fees. You can apply for an Advanced Learner Loan and bursaries are available to support childcare and travel costs
Entry Requirements
Access to Higher Education prepares adults without traditional qualifications such as A Levels for study at university. This diploma is widely recognised by UK universities and Colleges. You will be given the opportunity to develop not only academic knowledge in your chosen subjects but also broader study skills to help you succeed at university. This course is suitable for students aged 19 or over.
Acceptance onto the Access programme is conditional on you:
Providing evidence of achievement in English Language and Mathematics at GCSE grade A* - C or Grade 4 and above.
A satisfactory reference.
Applications from students whose first language is not English are welcome. We require evidence of proficiency in English (including writing, speaking, listening and reading), the required minimum is; IELTS (SELT); 6.0 overall (minimum 5.5 in all components) International candidates are also actively encouraged to access the International Students webpage.
If you do not currently hold the correct GCSE entry requirements, or do not specify them on your application, it will be automatically transferred to the Adult Literacy/Numeracy department. If you are working towards GCSEs this year in readiness for September, please let us know this when you apply as you will still be invited in for an interview.
Selection to discuss your suitability for the course and whether the course is right for you is by interview and evidence of your GCSE qualifications. As part of this process you may be required to complete online assessments and submit a short piece of writing. Advice can be given about alternative ways forward if necessary.
Please research Higher Education requirements very carefully. A STRONG COMMITMENT IS NEEDED AS THE COURSE IS VERY INTENSIVE.
Assessment
The Access to Higher Education Diploma in Humanities and Social Sciences, as validated by CAVA, is a qualification which prepares students aged 19 years and over, without relevant qualifications, for study at degree level.
You will be supported throughout the course by a personal tutor who will also give you guidance in applying for Higher Education courses. All students study a core of communications, research and study skills. You will be awarded credits on completion of each units with a pass, merit or distinction grade. All credits are awarded are awarded at level 3 which broadly equates to A-level study. Assessment is continuous over the whole year and is based on a number of set pieces of work such as essays, projects, presentations and examinations.
The course will be delivered over 2.5 days a week. Depending on the subjects studied and will be classroom based. Lecturers will use a variety of teaching methods to prepare students for degree level study.
Progression
The Access to Higher Education Diploma in Humanities and Social Sciences is widely recognised by UK universities. If you are planning to study a degree course at a specific university, it would be useful to contact them to check that the Access Course you have chosen is in an appropriate subject area and is recognised by the university or college. Please be aware that university entry criteria can change at any time.
At City College Norwich we offer Degrees such as BA (Hons) English, BA (Hons) English with Social Sciences, BA (Hons) Psychology with Sociology. In 2018 students progressed to UEA, Brighton, Goldsmiths, Anglia Ruskin University, SOAS, University of Cardiff, University of Newcastle, University of Bristol, University of Manchester and University of Cambridge.
Career Progression
After completion many students progress into the following careers; Criminology, Psychology, Creative Writing, History, Museum Curation, Archaeology, Teaching, Law and Media.
Fees
Please contact the Advice Shop for information on fees and financial support which may be available. We recommend you also check our Finance pages for further information including student travel offers.
Why Our College?
Developed with employers and progression in mind
All courses have been developed with employers and progression in mind, and many are part of the New Anglia Local Enterprise Partnership's 10 priority sectors
Widely recognised by Universities
Access to Higher Education courses are widely recognised by UK universities and colleges, 24,000 Access to HE students are accepted at over 140 universities every year
Financial Support
City College Norwich offers flexible payment plans to help you spread the cost of fees. You can apply for an Advanced Learner Loan and bursaries are available to support childcare and travel costs
Latest News
  Dear Student/Apprentice, As I sit here writing about the Summer Term it is snowing; just another one of those unpredictable things that 2021 is throwing at us! I'm really pleased that from…
Read more
7th April 2021