Access to Higher Education: Science for Health Practitioners
Level
Level 3

Duration
1 year

Start Date
September 2019

Venue
Ipswich Road

Course Code
A0005
Start Date
September 2019, Full Time
Summary
The Access to Higher Education Diploma in Science for Health Practitioners, as validated by CAVA, is a qualification which prepares students aged 19 years and over, without appropriate qualifications, for study at degree level. The Access programme will qualify you to study a wide range of nursing and other health-based degrees, including physiotherapy, midwifery, mental health nursing, occupational therapy and paramedic science, as well as degrees in the natural sciences. The programme is modular and will be delivered over 2.5 days a week. It covers relevant aspects of science, with an emphasis on practical work. There are four units of biology, covering the structure and function of the cell, genetics, biochemistry, growth and development, and evolution/homeostasis.
There are two units of chemistry; which cover basic chemical concepts, biochemistry and the relevance of chemistry to human health in the modern world. These chemistry units include basic concepts of the nature of matter, laboratory skills and how to manipulate matter in the modern world. This is taught from a strongly practical angle and complements the biology units. Further units in this course will cover human physiology, research skills, introductory maths for science, general science and a range of applied statistical and data handling techniques. All are designed to support the science units of the course. In Health studies, you will investigate the nature of health and disease and relate to topical health issues.
Why Our College?
Developed with employers and progression in mind
All courses have been developed with employers and progression in mind, and many are part of the New Anglia Local Enterprise Partnership's 10 priority sectors
Widely recognised by Universities
Access to Higher Education courses are widely recognised by UK universities and colleges, 24,000 Access to HE students are accepted at over 140 universities every year
Financial Support
City College Norwich offers flexible payment plans to help you spread the cost of fees. You can apply for an Advanced Learner Loan and bursaries are available to support childcare and travel costs
Entry Requirements
This course is suitable for students aged 19 or over. All applicants must have evidence of achievement in English Language and Mathematics at GCSE grade A* - C or grade 4 and above. If you do not currently hold these or do not specify them on your application it will be automatically transferred to our adult GCSE programme, for the appropriate subject. If you are working towards GCSEs this year in readiness for September please let us know this when you apply. Please note that we are not able to accept Adult Numeracy, Adult Literacy, Key Skills or Functional Skills in lieu of GCSEs. The course does not assume any previous knowledge of the science subjects that are covered. Selection is by interview to discuss your suitability for the course and whether the course is right for you. As part of this process you may be required to complete online assessments and submit a short piece of writing to check you are at the right level to start the course. Advice can be given about alternative ways forward if necessary. Applications from students whose first language is not English are welcome. We require evidence of proficiency in English (including writing, speaking, listening and reading), the required minimum is: • IELTS (SELT): 6.0 overall (minimum 5.5 in all components) International candidates are also actively encouraged to access the International Students webpage.
Assessment
You will be supported throughout the course by a personal tutor who will also give you guidance in applying for Higher Education courses. All students study a core of communications, research and study skills. You will be awarded credits on completion of each units with a Pass, Merit or Distinction grade. All credits are awarded are awarded at level 3 which broadly equates to A-level study. Assessment is continuous over the whole year and is based on a number of set pieces of work such as essays, projects, presentations and examinations.
Progression
The Access to Higher Education Diploma in Science for Health Practitioners is widely recognised by UK universities. However, we advise that if you are hoping to go on to do a degree course at a specific university, it would be useful to contact the university, to check that the Diploma you have chosen is in an appropriate subject area and is recognised by the university or college.
For example, if you were wishing to pursue an UEA Physiotherapy degree, their entry requirements of certain GCSEs are at grade B and above.
Many students choose to continue their studies locally but Access students also move to other areas of the country.
Career Progression
After undergraduate progression many students gain employment in a scientific environment such as a medical laboratory, or in a health-related profession such as nursing.
Fees
Please contact the Advice Shop for information on fees and financial support which may be available. We recommend you also check our Finance pages for further information including student travel offers.
Latest News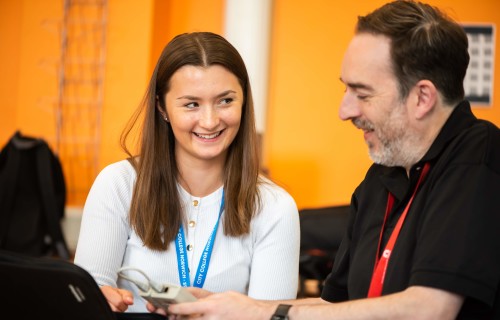 Not secured a place at College for this September? Come to one of our enrolment open days and get yourself sorted.
Read more
22nd August 2019