Level
Level 3

Duration
2 years

Start Date
September 2021

Venue
Ipswich Road

Course Code
SA057
Start Date
September 2021, Full Time
Summary
Practical work begins with a structured course, in which drawing, and painting are covered extensively using a range of materials such as inks, charcoal, watercolours, acrylics and oil paint. You will then move on to printmaking and explore dry point, collagraph and relief techniques such as lino cuts. Basic sculptural methods using card and wire follow, and then a range of collage and mixed media techniques are explored.
Each year there is also a visual arts trip abroad to a city renowned for its artistic heritage. Recent destinations have included Paris and New York. In Paris, students experienced an outstanding exhibition of women artists at the Pompidou Centre and also a magnificent collection of post-impressionist art at The Musée D'Orsay.
The trip to New York included The Museum of Modern Art, The Metropolitan Museum, The Guggenheim Museum, The International Museum of Photography, The Rockefeller Centre and visits to The Statue of Liberty, The Empire State Building, and Grand Central Station.
Each June there is an annual Visual Arts Show, where Art, Photography and Textiles students show their best work in a gallery-style environment, which is open to the public.
To be successful on the course, you will need to have an interest in art and in the world around you and be able to work independently and with enthusiasm. You should also enjoy visiting galleries and exhibitions.
Why Our College?
Top 25%
nationally for progress made by students in A Level achievement
ALPS Key Stage 5 progress data 2018
Student success
We have a consistently high A Level pass rate. In 2018, 70% of our students achieved A*-C.
More than A Levels
Your time at our sixth form is about much more than gaining a qualification. You will be treated as an adult and an individual, supported to explore your passions and interests.  
Entry Requirements
Applicants should have a minimum of a grade 4 in a GCSE Art-based subject (Art, Graphics, Photography or Textiles) OR a suitable portfolio of work.
Applicants should also have a minimum of six GCSEs at grades 9-4.
Assessment
Assessment is through a range of practical work including experiments contained in a work journal, finished pieces of coursework and a response to a theme set by the exam board. Students also complete a written personal study.
Progression
An A Level in Art can lead to related courses at a college, art school or university.
Career Progression
Students may go on to a very wide range of careers in art and design and other creative industries.
Fees
If you are a UK or home fee status student and aged 16-18 on the 31st August before the start of your course, tuition fees are free. If you are aged 19 and over please contact the Advice Shop
Latest News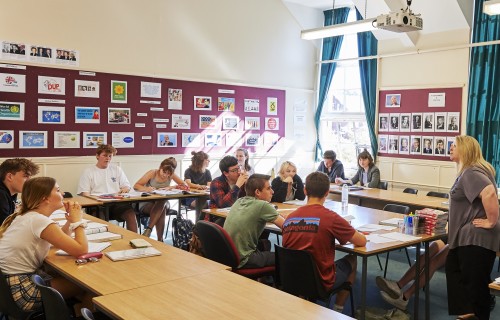 If you are thinking about re-taking an A Level, we can help.
Read more
19th August 2020